'The Last Kingdom': Mark Rowley (Finan) Shared an Interesting Video on the Set
The hit series The Last Kingdom may be over after season 5, but there's still one more season to go before it's all really over. Production is currently happening in Hungary, and fans have been able to see an abundance of content from actors together or on the set. Fans recently were treated to a video shared by Mark Rowley, who plays Finan.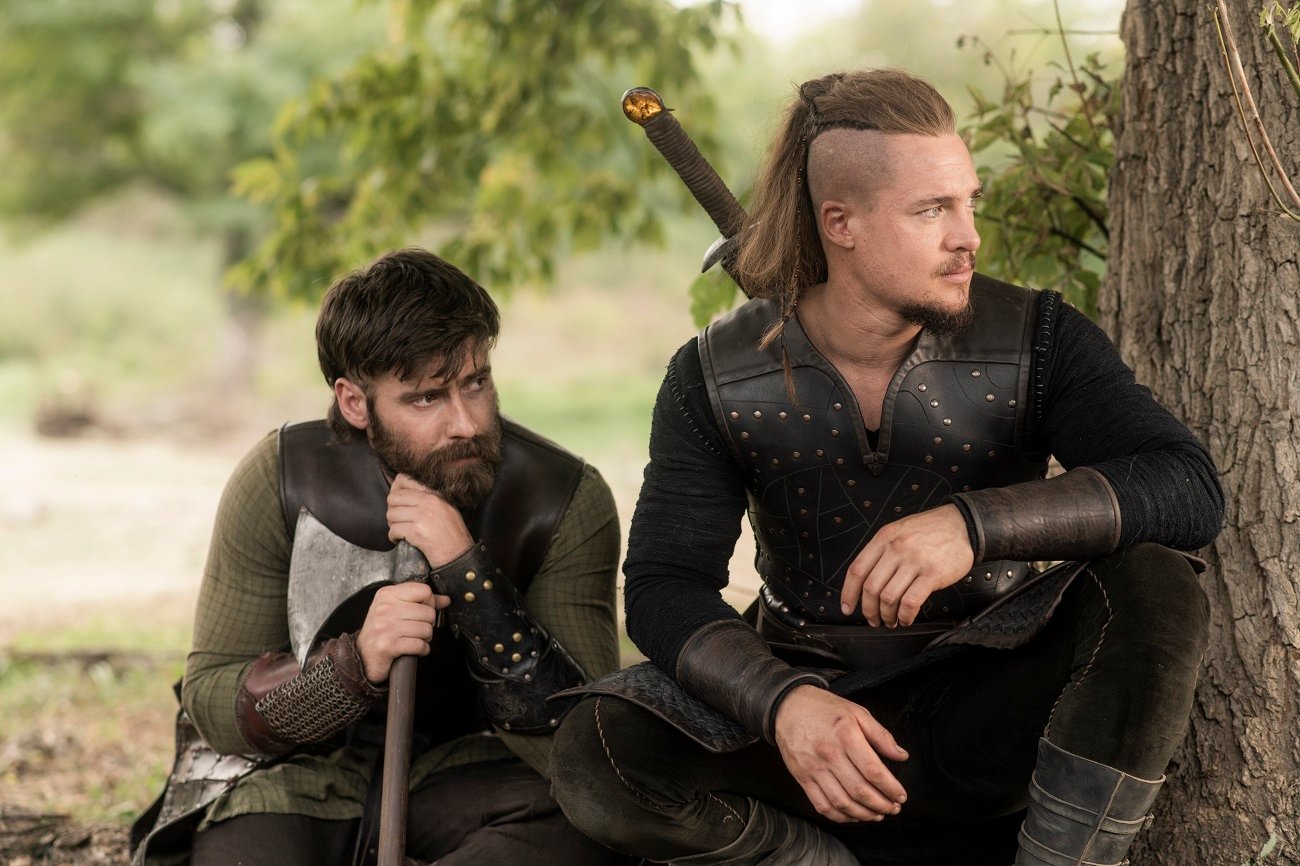 Finan in 'The Last Kingdom'
Mark Rowley plays Finan in the series. The character is a warrior who is originally from Ireland. He's a good friend to Uhtred (Alexander Dreymon), and he's constantly by his side serving him. They were slaves when they first crossed paths, but they are eventually freed. They've been through a lot over the years, and their friendship has only grown stronger.
Mark Rowley (Finan) shared an interesting video on the set of 'The Last Kingdom'
RELATED: 'The Last Kingdom': Why Fans 'Feel Bad' for Uhtred in Season 4
Rowley recently shared a video of himself walking in front of his trailer, which says, "7. Finan" on it. He's wearing regular clothes at first along with sunglasses and a mask as he grabs the railing of the trailer. Someone behind the camera says, "Mark, we've only got 10 minutes. You're needed on set."
Rowley, who seems annoyed, takes off his mask and snaps his fingers, and suddenly he's dressed as Finan with what looks like blood on his face and neck.
"Happy?" he asks, putting his arms out, and then he walks away.
Rowley captioned the post saying, "Last day getting ready… #thelastkingdom." Rowley tagged the video at Wessex as well. It sounds like Rowley's filming is almost over as he says it's the "last day getting ready." That's good news for fans, who can't wait for season 5 to drop. He also shared the video to his Instagram Story as well.
Stephanie Martini, who plays Eadith, recently shared a post on Instagram mentioning a "wrap party." She also wrote, "TLK5 done 💗" in the caption, which is exciting news and could mean the series is finishing things up as far as filming goes.
Rowley shared an image with Arnas Fedaravicius (Sihtric) on horses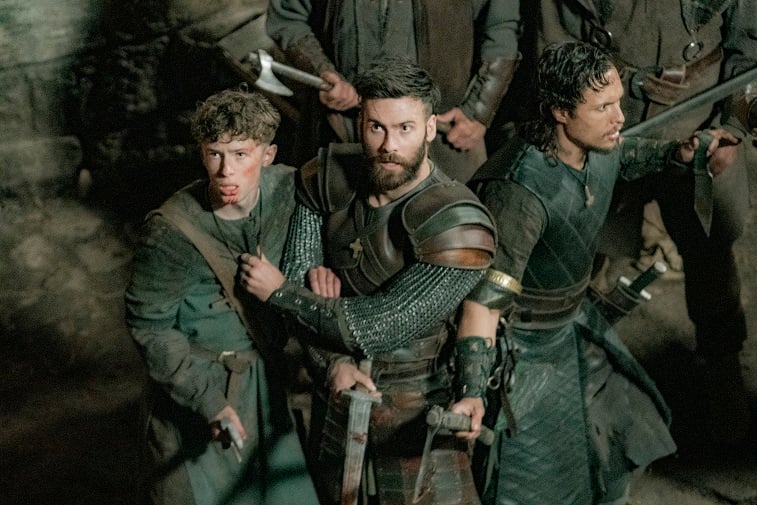 On March 17, Rowley shared an image on Instagram of himself and Arnas Fedaravicius, who plays Sihtric, on horses. Sihtric is the son of Kjartan (Alexandre Willaume), born out of wedlock. He's a warrior sworn to Uhtred, and alongside Finan, the three are as close as can be.
In the post, the actors are dressed as their on-screen counterparts. Finan crosses his arms while holding the reins of his horse as he looks off. Sihtric is by his side on his own horse as the two are captured in the shot while outside with a bright blue sky and greenery around them.
Rowley tagged Fedaravicius in the post and included a funny caption as well. Rowley captioned the post: "Waiting in line to get our takeaway pints of Guinness to celebrate #stpatricksday 🇮🇪
Finan: 'Que lines won't exist in 1100 years from now!'
Sihtric: 'If only we could fly over to Dublin on a big bird like structure.'
Finan: 'I had a dream about that. They called it a plane…'
Sihtric: 'That will never happen! Next you will be saying we can move around in metal machines generated by energy from the sun'… #pubchat #season4."
Fans can surely appreciate posts like the ones Mark Rowley shared. Hopefully, we'll get official confirmation of the series being done with filming soon.