'The Last Kingdom': Ruby Hartley Reveals What She Admires Most About Uhtred's Daughter Stiorra
In season 4 of 'The Last Kingdom', fans are finally introduced to Uhtred's two oldest children, Stiorra and Young Uhtred.
In season 4 of The Last Kingdom, fans are finally introduced to Uhtred's (Alexander Dreymon) two oldest children, Stiorra (Ruby Hartley) and Young Uhtred (Finn Elliot). They all share an interesting connection with each other, but Stiorra is clearly Uhtred's daughter in every way. She has the same independence and zest for life that her father does.
Stiorra is Uhtred's daughter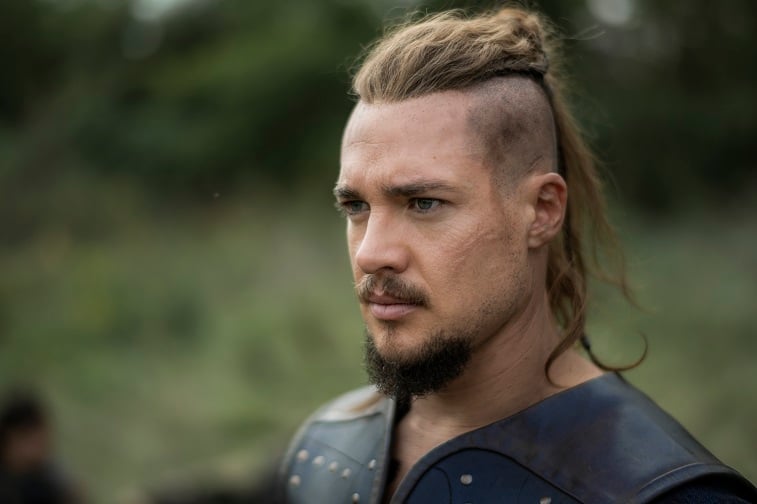 Fans are first introduced to Stiorra in season 4 as a teenager living on Aethelflaed's (Mille Brady) estate. She craves more from life and she has a desire for new adventures. She eventually goes with her father, but where she ends up is surprising. Stiorra is abducted by Haesten (Jeppe Beck Laursen) when she is with her father on the road, along with Aelswith (Eliza Butterworth) and Aethelstan.
Stiorra gets taken to Winchester where she meets Sigtryggr (Eysteinn Sigurðarson). He wants her to go with him, and it's a stipulation during the negotiations in order for him to leave Wessex with his army. Uhtred has no choice but to let his daughter go with Sigtryggr, and she seems eager for this new adventure.
Ruby Hartley reveals what she admires most about Uhtred's daughter Stiorra
Ruby Hartley, who plays Stiorra, spoke with Winter Is Coming about working on the hit Netflix series. She mentions there was obvious "pressure" at being the daughter of Uhtred. It came with some "high expectations," but Hartley certainly played the part well. It's almost hard to believe they aren't actually related, especially since Stiorra looks so much like Gisela (Peri Baumeister).
"I think there was definitely some pressure because Uhtred really is the center of the whole show and is such an iconic character, so I was aware people would therefore have pretty high expectations for Stiorra," Hartley said. "But she's such an independent character that I kind of forgot about that as filming went on."
There are many things to love about Uhtred's daughter who is so much like him. Hartley says she really admires Stiorra's "independence" that radiates off of her. She also craves more from life than to live in a tiny town with her father. She has so much more to do and she knows she is being called to go off with Sigtryggr in season 4.
"I really love and admire so much about Stiorra but I think the main thing would be that independence she has," Hartley continued. "I love that she knows her own mind and isn't afraid to do what she wants to do, whether it's downing beer with Finan or standing up to Brida."
Will we see Stiorra in season 5?
Although season 5 of The Last Kingdom has not yet been confirmed at the time of publication, there's a good bet that if it is renewed, we'll see more of Stiorra. She is starting her life with the Danes and Sigtryggr, and the last viewers see of her, she's excited about this new chapter in her life. Fans hope to see more from Stiorra in the future.
Stiorra is definitely Uhtred's daughter in every way. Hopefully we'll see more of her in The Last Kingdom.