'The Last Kingdom': Ruby Hartley (Stiorra) Just Shared a Unique Image of Mark Rowley (Finan)
Many fans of the hit series The Last Kingdom have already heard the news, but the series will come to a conclusion after season 5. It's a hard situation for fans to come to terms with, but one good thing is that the series is currently back in production in Hungary. It's an exciting prospect for fans who are eager for season 5 to premiere. 
Ruby Hartley, who plays Stiorra, recently shared an image of Mark Rowley, who plays Finan.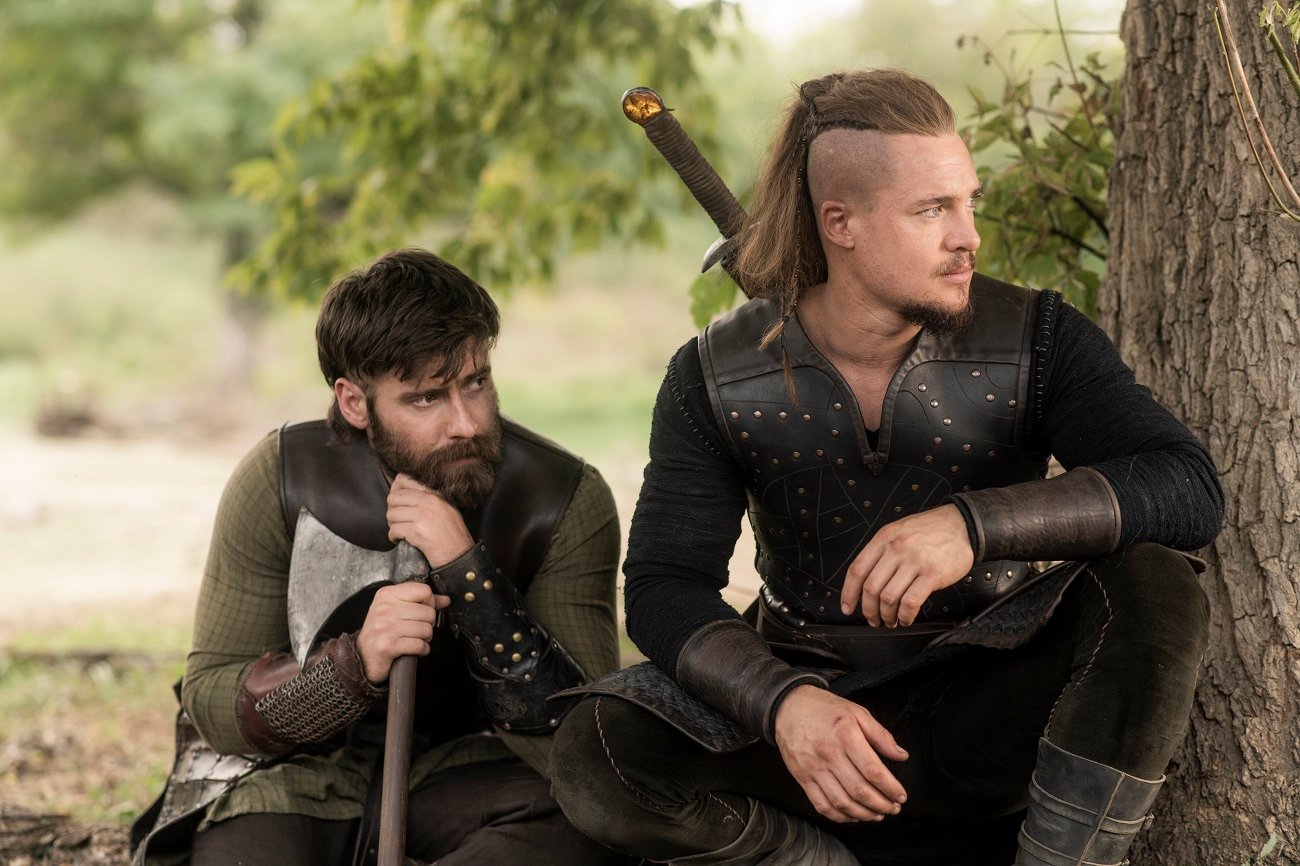 Ruby Hartley (Stiorra) just shared a unique image of Mark Rowley (Finan)
As production is currently happening, fans have recently been treated to media from their favorite actors from the show together and on set. Ruby Hartley, who plays Stiorra, recently shared an image of Mark Rowley, who plays Finan, on her Instagram Story.
On June 14, 2021, Hartley shared an image of Rowley dressed as Finan. He's wearing sunglasses and a face mask, which is below his chin. He has a thumbs up with one hand while his mouth is slightly open, and his teeth are showing, as he is smiling in the photo. He's leaning over, and he has a cup in his other hand. He seems to be in front of a device that's placed on a chair, presumably one that makes coffee based on Hartley's text included in the photo.
"Finan's doing really well with his barista training," Hartley wrote. "Needs to work on his oat milk frothing though." She tagged Rowley in the post as well.
There are also cups in a bag on the chair, and bottles of something underneath. In front of Rowley is what looks like a tarp.
Rowley shared the post on his Instagram Story too. He added the words, "Destiny is all café bar." He even included an emoji of coffee in a cup, writing: "Manager and owner:" while tagging Hartley's account.
Stiorra and Finan in 'The Last Kingdom'
Stiorra and Finan are fan-favorite characters in The Last Kingdom. Stiorra is the daughter of the main character, Uhtred (Alexander Dreymon), and his late wife, Lady Gisela (Peri Baumeister). She leaves Winchester with Sigtryggr (Eysteinn Sigurðarson), a Dane who took the city, as one of the conditions for him leaving. Stiorra goes willingly to Daneland with him, although at first, she's technically a hostage.
Finan is a warrior originally from Ireland. He and Uhtred were slaves when they first crossed paths, but they are eventually freed. They go through a lot together over the years. Together with Sihtric (Arnas Fedaravicius), Finan and Uhtred are all good friends that always seem to be by each other's sides to fight or laugh.
Fans will hopefully get to see even more images of their favorite actors in The Last Kingdom now that production is happening in Hungary. Will it be enough to tide fans over until season 5 drops? We'll have to see how things play out from here.