'The Last Kingdom' Season 4: Emily Cox (Brida) Shares a Hilarious Behind-The-Scenes Photo With Alexander Dreymon (Uhtred)
Fans of The Last Kingdom can't wait for the new season to premiere. In just a few days, season 4 will arrive on Netflix and fans will be able to binge it all the way through. Members of the cast have been sharing behind-the-scenes images to tide fans over. Read on to learn about what Emily Cox, who plays Brida, recently posted.
'The Last Kingdom' season 4 premieres this month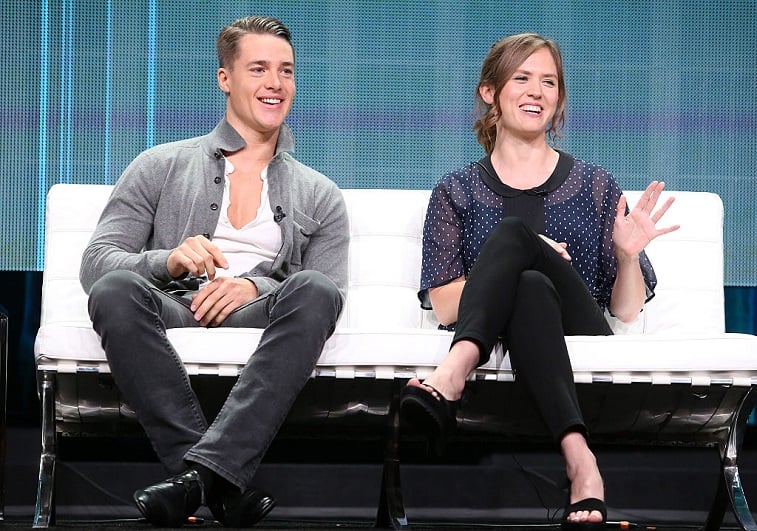 Season 4 of The Last Kingdom will be here in just a few days. It drops on Netflix on Sunday, April 26. Fans can't wait to check back in with Uhtred (Alexander Dreymon) and all their other favorite Saxons and Danes.
Emily Cox recently shared a behind-the-scenes photo with Alexander Dreymon
Who doesn't love some Brida (Emily Cox) in their lives? She recently shared a hilarious photo on her social media account of Uhtred (Dreymon) and Cnut (Magnus Bruun) alongside their stunt doubles. Brida is in the middle with Uhtred and Cnut on either side of her with their own stunt doubles.
"Who is who🙃😉??? #thelastkingdom #season4 #netflix #April26th #uhtred #brida #cnut #stuntdoubles," the post is captioned.
Cnut and Lady Aelswith commented on the post
Bruun, who plays Cnut, commented on the picture with: "I think I'm in this picture but I'm not sure… 🦊."
Eliza Butterworth, who plays Lady Aelswith, also took the time to comment on the hilarious behind-the-scenes image. "Ahhhhhhh this is the most stunning picture of you guys!!! ♥️😱♥️," she wrote.
Fans weigh in on the image
Fans couldn't be more thrilled with the hilarious post and they took to the comments to express themselves. Fans are more than ready for a new season to premiere.
"I'm so excited for the new season!! 😭❤ Brida is one of my favorites in the show," an Instagram user commented.
Numerous other fans thanked Brida for the awesome post. "Great photo thank you for sharing your experience on TLK with us fans," the fan wrote.
One fan says they are "ready" for season 4. "Wow! I missed you Brida and Uhtred and all TLK family! 😍 Been waiting for this season, and I am ready! 😉," they said.
Another says that smiles like the ones in the photo can make the day better. "Oh my!!! How great is this photo? Smiles like these make anyone's day better, with quarantine or without it! Thanks for sharing! See you Sunday," another fan wrote.
Everyone seems ready for this all-new season that can't seem to get here fast enough for fans. "Love it. I'm so excited for the new season," a fan said.
One fan loves that Brida doesn't seem to have a stunt double because she's "irreplaceable." "But only one Brida. Irreplaceable," they wrote.
Fans of The Last Kingdom are just days away from seeing all their favorite characters again. Check back for the latest information on the new season. We'll be watching right along with you on Sunday.