'The Last Kingdom': See Finan and Sihtric's Looks in Season 5
Director Jon East of 'The Last Kingdom' recently shared some images of both Finan and Sihtric's looks in season 5.
The hit series The Last Kingdom has finished filming in Hungary. The next season will be the last, which is hard for some fans to come to terms with. At least there's one more season to go before it's all really over.
Fans have recently been treated to content from the actors together and on set. Even Jon East, a director for the series who has directed episodes in previous seasons and who will also direct in season 5, recently shared some images of Finan (Mark Rowley) and Sihtric (Arnas Fedaravicius), which shows their looks in season 5.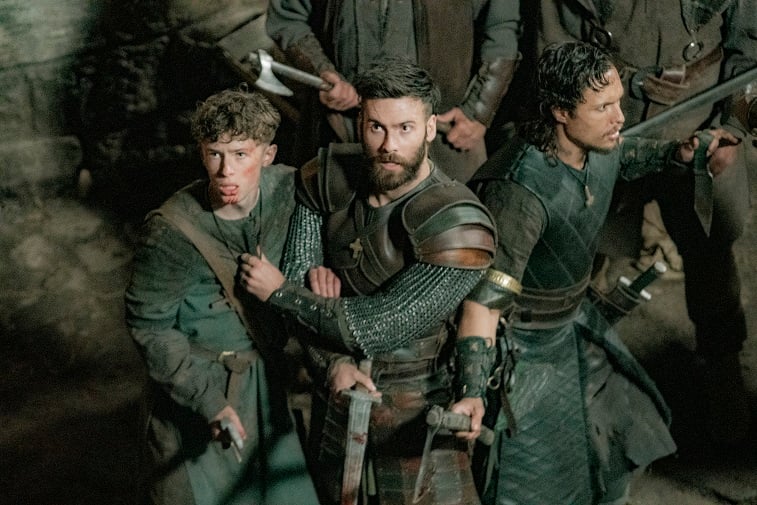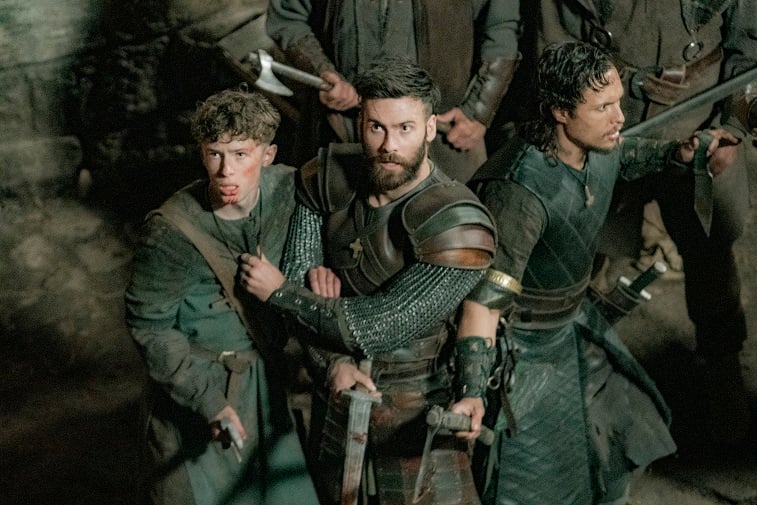 Finan and Sihtric in 'The Last Kingdom'
Finan and Sihtric are both great friends together with Uhtred (Alexander Dreymon), the main character. They are constantly by his side through it all, which is great for fans to see.
Finan is a warrior that is originally from Ireland. He was a slave with Uhtred when they first crossed paths, but they are eventually freed.
Sihtric is the son of Kjartan (Alexandre Willaume) born out of wedlock. Finan and Sihtric's friendship with Uhtred is critical to the show, and they've been through so much together over the years.
See Finan and Sihtric's looks in season 5 of 'The Last Kingdom'
On June 13, 2021, Jon East shared some images on Instagram of Finan and Sihtric, which shows their looks for season 5. Both actors are lying down on some wooden boards, and the camera is at an angle, so it isn't the most direct shot. Fedaravicius can be seen with his hands laced together as he wears his usual warrior attire. There are cuffs on his arms and over his elbows, as well as fur outlining his ensemble on his shoulders. His hair is braided as well.
East captioned the post: "Sihtric!!! The rather marvelous Arnas Fedaravicius. ❤️⚔️🎭🎬🎥TLK5."
Next up is an image on Instagram with a look at Finan lying on some wooden boards as well. He has his hands resting over his stomach with his warrior attire on. His ensemble is green and brown, and there is chainmail on his shoulder areas. His head looks off to the side in the image.
East captioned the post of Rowley as Finan: "Finan! The rather splendid Mark Rowley! ❤️🎭⚔️🎬🎥TLK5."
Jon East recently shared an image of Brida (Emily Cox) on a horse with an umbrella
This isn't the only photos Jon East has shared recently. On June 25, he shared an image on Instagram of Emily Cox dressed as Brida while on top of a horse. In one hand she holds an umbrella, and in her other hand, she holds the reins of a horse that she sits atop. The image is from the side, and lush greenery can be seen on the ground and in the background. Other people can also be seen in the shot, as well as red tents in the background along with smoke.
Jon East captioned the post: "Brida with a brolly! ☂️⚔️ The wonderful Emily Cox just before shooting a scene for ep3 of TLK2 in 2016, (which I seem to recall we eventually cut for pacing reasons, as is often the case with all TV dramas)."
It's always nice to see photos like these of our favorite characters and actors. We'll have to see what else is shared before the series premieres its final season.