'The Last Kingdom': Timothy Innes (King Edward) Shared a Photo of Himself on Set
Fans of The Last Kingdom will be happy to know that the series is back in production in Hungary for season 5. Despite the exciting news, many viewers already know that season 5 will be the final season of the series. Although it's a sad turn of events, there is still one season to go before it's all really over.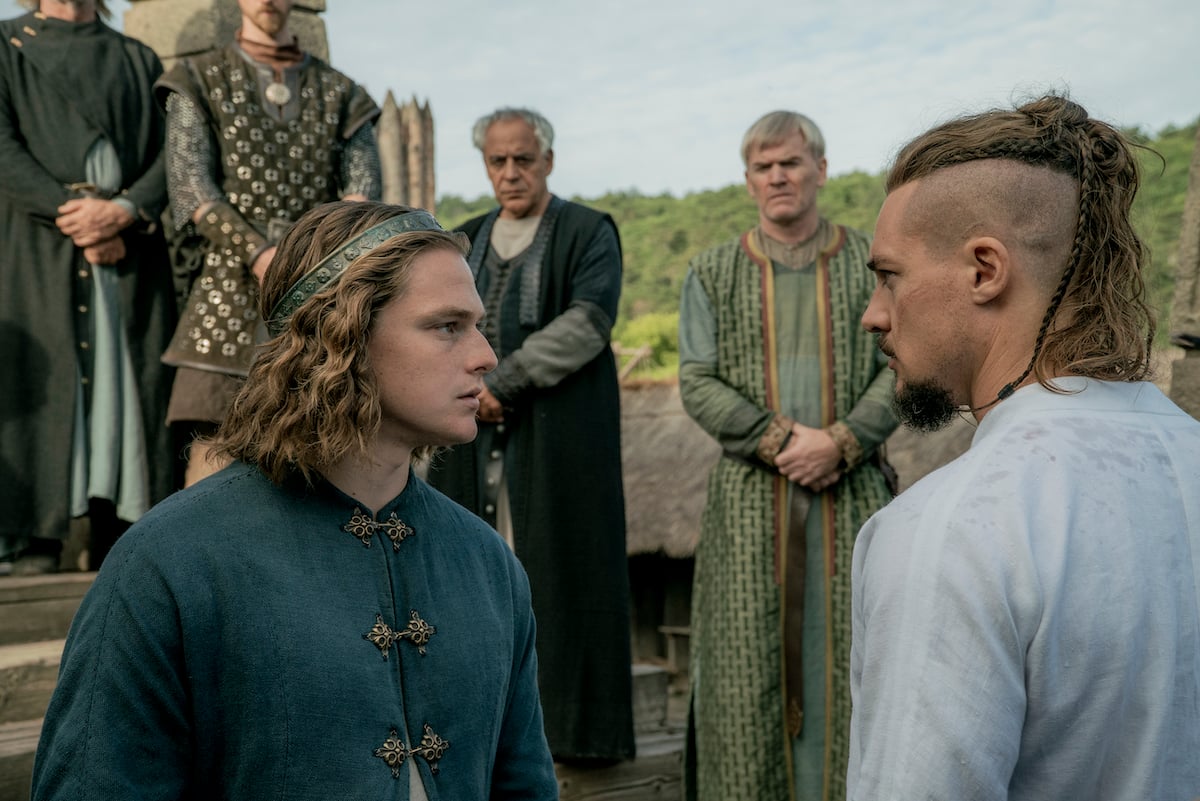 Timothy Innes (King Edward) shared a photo of himself on set
Since production is happening, fans have been treated to a number of images of our favorite actors from the show together as well as media from the actors on set. Recently, Timothy Innes, an actor who plays King Edward of Wessex, recently shared an image of himself on Instagram while on set.
Fans will recall that King Edward is the son of King Alfred (David Dawson). He's trying to find his place as King after his father, but it's a challenging and hard situation for him.
On May 22, 2021, Innes shared an image of himself. In the photo, Innes is seated inside his trailer with the door open. The trailer says, "4. Edward" on the side of it. He's dressed as King Edward complete with his crown. He also wears sunglasses and has his hands laced together with an arm resting on his leg.
Innes gave credit to the person who took the photo by tagging them in the image and giving them credit in the caption as well. He also wrote: "Ladies and gentlemen, the weekend… #thelastkingdom #season5." Over 2,200 people liked the photo, while over 50 people commented on it.
Cavan Clerkin (Father Pyrlig) just shared an image on set too
Cavan Clerkin plays Father Pyrlig in the series. He recently shared a black and white image on Instagram on June 11 while on set as well. He's dressed as Father Pyrlig with a coat on in the photo, and Clerkin can be seen sitting on the steps of a trailer in front of a door. On the trailer, it appears to say, "Sihtric" on it.
Fans will recall that Father Pyrlig is a priest who was once a warrior as well. He is loyal to Wessex, and to both King Alfred in his time and King Edward as well.
Clerkin captioned the photo while tagging Arnas Fedaravicius, who plays Sihtric. "Eight hours, sat in the freezing cold, praying for a glimpse of @arnasfederman." He also shared a camera emoji, tagging Stefanie Martini, who plays Eadith, giving her credit for taking the photo. Over 700 people liked the photo, and over 30 commented on it.
Sihtric is played by Arnas Fedaravicius, and he's the son of Kjartan (Alexandre Willaume), born out of wedlock. He's a good friend to Uhtred, and he's a warrior sworn to him.
Fans can surely appreciate posts like this of our favorite actors on the set of The Last Kingdom. Hopefully, fans will be treated to plenty more images before season 5 finally premieres. At least the media will help tide fans over for the time being.