'The Last Kingdom': What Would Alexander Dreymon Do If He Wasn't an Actor? The Answer May Surprise You
It's hard to imagine 'The Last Kingdom' without the impressive Alexander Dreymon playing Uhtred. What would he do if he wasn't an actor?
It's hard to imagine The Last Kingdom without the impressive Alexander Dreymon playing Uhtred. He was recently asked on The Official Last Kingdom Podcast if he wasn't an actor what he would be. Read on to learn the surprising answer.
Alexander Dreymon is the strong-willed Uhtred of Bebbanburg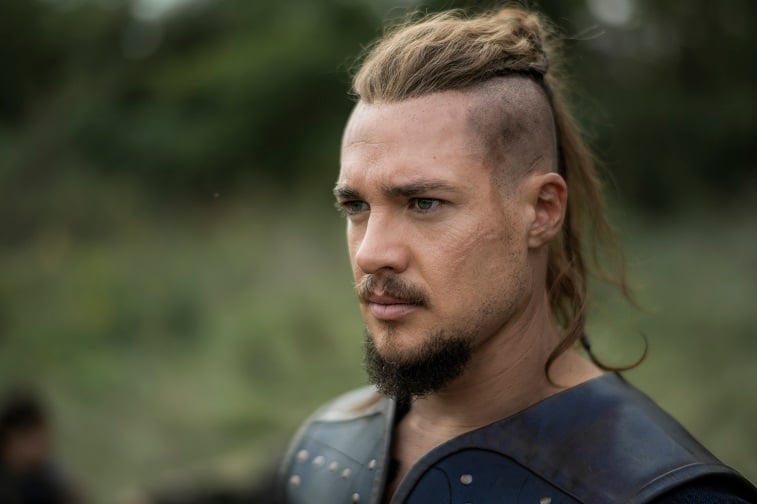 Dreymon plays Uhtred, the main character in the hit series The Last Kingdom. He's a Saxon boy when he's taken to live a life with the Danes. He's accepted as one of them, and over time, it becomes difficult for Uhtred to know which side to choose. It causes all sorts of internal conflict for him. On one hand, the Vikings raised him, on the other, he's a Saxon by birth. This pull in either direction leads Uhtred on all sorts of adventures.
What would Alexander Dreymon do if he wasn't an actor?
Dreymon sat down with his co-stars Mark Rowley, who plays Finan, and Arnas Fedaravicius, who plays Sihtric for the podcast. They are Uhtred's closest companions on his journeys through the years. The episode also includes a video version of the chat and it was posted on the official social media accounts for the series so everyone could see.
In episode 3 of the podcast, Fedaravicius asked Dreymon what he would be if he hadn't been an actor and the answer couldn't be further from his current occupation. "The only thing that I ever thought about seriously apart from acting was architecture," Dreymon revealed.
"I can see that, you're very visual," Rowley agreed.
Rowley's answer is hilarious. He says he would be a baker. "Food tester, or like a baker, because I love cakes," Rowley said. Dreymon comments that Rowley would be bigger if he was a baker.
Fedaravicius said he'd either be a singer or a fighter, such as in boxing. "You'd be a very good fighter I know that," Dreymon mentioned.
Uhtred, Finan, and Sihtric are great friends in 'The Last Kingdom'
It's hard to imagine any of these impressive actors doing anything else but playing their roles in The Last Kingdom. Uhtred and Finan meet while being held as slaves. When they are rescued, they are from there on inseparable. They are more like brothers than friends. Sihtric becomes bonded with Uhtred when he asks to serve him and the rest is history.
Uhtred wouldn't be the man he is without Finan and Sihtric by his side. They are always there to keep the other men in line and make sure Uhtred's word is abided by. Uhtred has clearly bonded with Finan and Sihtric who have become his adoptive family over the years.
Finan convinces Uhtred to keep going after the loss of Father Beocca (Ian Hart) in a failed attempt to take back Bebbanburg. He keeps the men focused while Uhtred grieves, and he's even there for a shoulder to cry on when Uhtred needs that as well.
It's difficult to imagine what the series would be like without Uhtred, Finan, and Sihtric being played by these talented actors. Thankfully, they all went into acting to become a part of such an important series.