'The Last Kingdom': Why Fans 'Feel Bad' for Uhtred in Season 4
In season 4, Uhtred is dealing with a lot in the series 'The Last Kingdom'. Nothing seems to work out for him and fans definitely noticed.
In season 4, Uhtred (Alexander Dreymon) is dealing with a lot in the series The Last Kingdom. Nothing seems to work out for him and fans definitely noticed. Read on to learn what they're saying about Uhtred's bad luck in the new season. There are spoilers ahead.
Uhtred attempts to take back Bebbanburg, but it doesn't go as planned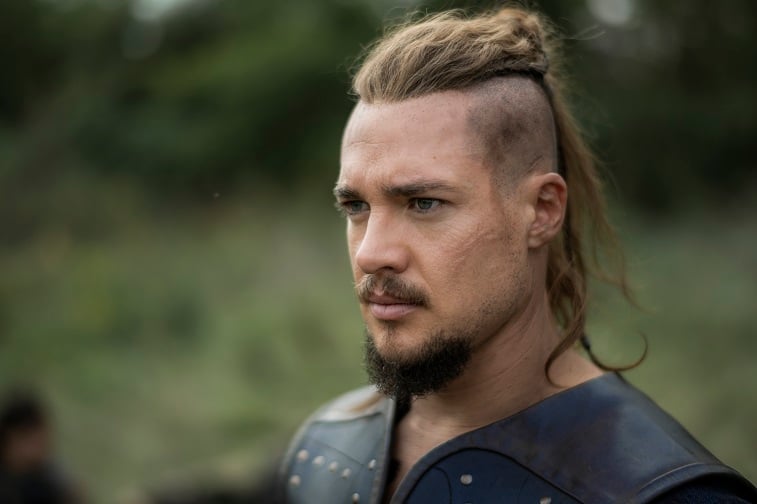 Uhtred is originally a Saxon from Bebbanburg when he is taken as a child by the Danes and raised as one of their own. Now an adult, Uhtred chooses to take back his native home of Bebbanburg. However, he doesn't expect that his Uncle Aelfric (Joseph Millson) would be assisted by his son Wihtgar (Ossian Perret). When Uhtred gets inside, he loses Father Beocca (Ian Hart) in the turmoil. He barely makes it out of there alive himself, and he's more than devastated at the loss of Beocca, who was like a father to him.
He finds love with Aethelflaed, but it doesn't last
In season 4, fans learn that Uhtred and Aethelflaed (Millie Brady) are secretly together. Aethelflaed is still married to Aethelred (Toby Regbo), that is until he receives a serious head injury and his own adviser kills him. Uhtred is then chosen as the leader of Mercia, which Aethelflaed doesn't think is a good idea. It causes conflict between them. Uhtred abdicates in favor of Aethelflaed who makes a vow to remain chaste while she is the ruler of Mercia. Uhtred and Aethelflaed are forced to give up their relationship and it's another blow for Uhtred.
Uhtred loses his daughter to Sigtryggr
That isn't even the worst of it. Uhtred ends up losing his daughter, Stiorra (Ruby Hartley) when she agrees to go with Sigtryggr (Eysteinn Sigurðarson), a powerful Dane. What makes it even worse is that Aethelflaed herself was part of the negotiations and she agreed to the stipulation. Uhtred is forced to watch his daughter walk away and start a new life without him. Although she goes willingly, Uhtred is still upset by the turn of events.
Fans 'feel bad' for Uhtred in season 4 and it's clear to see why
A fan recently took to Reddit to discuss Uhtred's bad luck. It's hard not to "feel bad" for him, especially in the new season. "Can't help but feel bad for Uhtred," the post is captioned. "Poor guy loses everything this season. His home (for the second time), Father Beocca, being (temporary) ruler of Mercia, Lady Aethelflaed (when she chooses to remain chaste), and his daughter running off into the sunset with Sigtryggr."
Fans seem to agree that Uhtred had a hard time in the newest season. Aethelflaed is supposed to love him and she just willingly gives up his daughter like a bargaining chip, just like her daughter and herself have been used before.
"His own lover agreed to give his daughter to the man who conquered and ran a siege on Winchester," a Reddit user said. "This bothers me so much because she was the one who pretty much destabilized Mercia because she didn't want to give up her daughter."
Another fan agrees that Uhtred gets the short end of the stick. "Yep, he got ****** over this season. It was ridiculous," said a fan.
Uhtred goes through a lot in season 4 and it's hard to watch him take blow after blow with literally nothing good happening for him.