'The Last Kingdom': Why Fans Still Praise David Dawson's Portrayal of King Alfred the Great
The Last Kingdom would be a lot different had it not had a wonderful portrayal of King Alfred the Great by David Dawson. Although Alfred dies in season 3, he's still a major part of the series, especially in the new season where everyone keeps comparing Edward (Timothy Innes) to his larger than life father.
King Alfred the Great left his mark in the series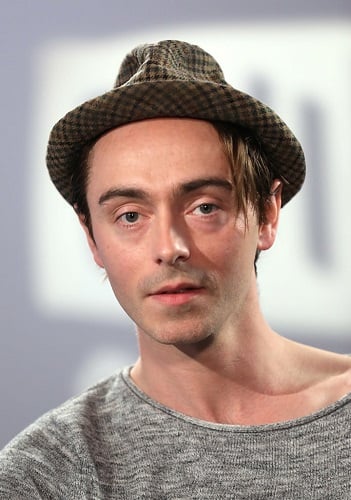 In season 3, Alfred dies and pure devastation breaks out. He was someone who would take over a scene and make you keep your eyes on him until he was done speaking. Numerous fans still take the time to praise David Dawson's performance as King Alfred on Reddit.
King Edward is trying to be his father in season 4, but it's an impossible task. Fans know that Alfred can't be replaced in The Last Kingdom.
Why fans still praise David Dawson's portrayal of King Alfred
If Alfred is dead and gone, then why are fans still talking about it? That's an easy answer. Fans of The Last Kingdom are known to do some rewatching when it comes to the older seasons. It's nice to relive the great moments in the series, especially when it comes to Dawson's performance as King Alfred the Great.
Fans have come to appreciate Dawson even more after rewatching the series over again. He's a brilliant actor that really adds a lot of depth to his character and to those around him. With each rewatch, fans seem to have a new appreciation for the actor and the part of King Alfred.
"Just rewatched TLK for the fifth time. And I never really appreciated how incredible an actor David Dawson is. He brought life to season 3 more than any other character," a Reddit user wrote.
RELATED: 'The Last Kingdom': Fans Are Worried Season 4 Won't Be as Good Without King Alfred
Fans agree that Alfred's 'presence' is missed
In season 4, Alfred's son, Edward, is trying to be like his father. Everyone is constantly comparing him to his father and it's a big struggle for him. Alfred was a "force" on the show and fans miss him in the new season. His son is a pale comparison to him and fans know it.
"He was an absolute force in this show from the first time on-screen to the last. You really miss his presence in season 4," another fan said.
Numerous characters mentioned Alfred in the new season. "'The king's absence is felt' was constantly mentioned by the characters, even the writers knew they couldn't fill Dawson's shoes," a viewer of the series wrote on Reddit.
David Dawson as King Alfred defines the series
Although Alfred is gone, his presence is still felt in the new season and that's a spectacular thing. Fans are even going back and rewatching the series to experience Dawson as Alfred all over again. The character is so unique and unlike any other on television.
"Utterly amazing portrayal of a dynamic character. They could have easily made him a trope one way or another, but I loved how he was a very human ruler," a fan said.
Dawson as Alfred brought "life to the show" to hear one fan tell it. "He is so underrated and such a spectacular actor. He played Alfred so well it really did bring life to the show," another fan wrote.
One fan doesn't think anyone else could have portrayed the character as well as David Dawson did. "He's so good, he was the perfect Alfred, and I cannot believe anybody could've done a better job than him," a fan admits.
Fans are still talking about David Dawson's portrayal of the legendary King Alfred in The Last Kingdom.