The Late Beatles Song That Featured Paul McCartney on 'Prepared Piano'
If you were looking for experimental music from The Beatles, you'd probably look to John Lennon first. After all, Lennon was behind the sound collage that was "Revolution 9" and another wild song the band rejected during the White Album (1968) sessions.
But Paul McCartney had gotten out in front of John in this regard. When Paul led the band through the free-form "Carnival of Light" in '67, he'd long been experimenting with avant-garde music. (According to Ian MacDonald, Paul worked on tape loops and musique concrete as early as '65.)
By the time The Beatles got near the end of the line, Paul felt ready to bring "prepared piano" to a Fab Four track. In this case, it involved altering strings to get a metallic effect. When George Harrison asked for a different piano sound on "For You Blue," Paul got to work.
Paul worked out a 'prepared piano' part on 'For You Blue'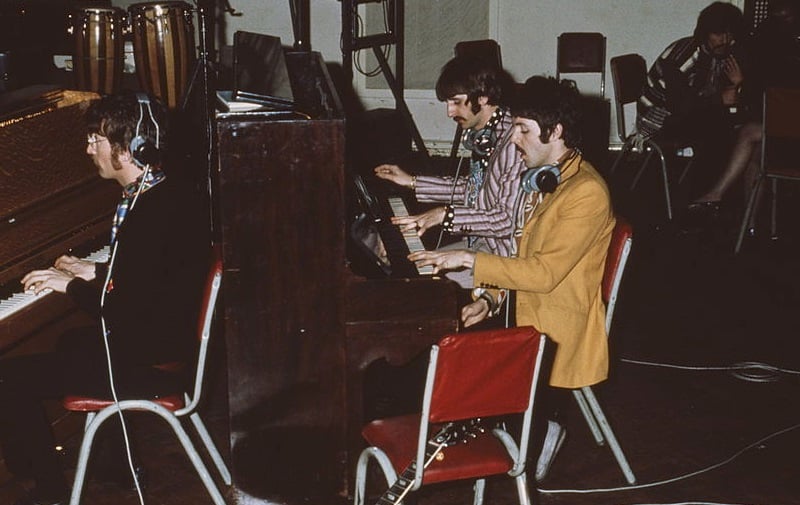 As Beatles albums go, Let It Be stands as the one letdown from the Fab Four's incredible late run. After the groundbreaking Sgt. Pepper's, the double White Album, and Abbey Road, you can see why many consider Let It Be little more than a contractual obligation for all parties.
Among unfinished sketches ("Dig It"), already-released songs ("Across the Universe," "Get Back"), and tracks featuring bold Phil Spector overdubs ("The Long and Winding Road"), fans found originals by George that were nothing compared to the music on his brilliant solo album.
However, you do hear some interesting sounds on "For You Blue," a song buried near the end of Let It Be. That list includes prepared piano, which John Cage pioneered the use of and involves placed objects on the instrument's strings (i.e., under a piano's cover).
Though composers have used metal objects to achieve a different effect, Paul took a simpler approach. According to engineers who worked on Let It Be, Paul got his "fuzzy, metallic sound" by actually sticking a piece of paper on the strings. John's slide guitar also stands out on the song.
John's guitar solo got a call-out from George mid-song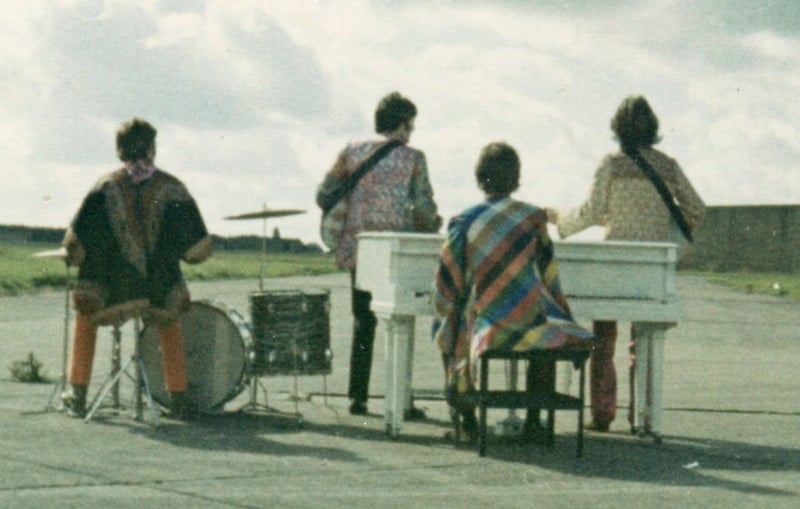 The other noteworthy part of "For You Blue," George's simple 12-bar blues, has to be John's slide guitar. For whatever reason, John played a lap steel guitar on this track. In at least one telling, he used a shotgun shell to fret the notes.
Judging by George's vocals, he seemed to be enjoying John's work here (or at least the concept). "Go Johnny, go," he calls out, not seriously, at one point. Later, he shouts out the "King of Slide Guitar" himself. "Elmore James got nothing on this, baby," George says with a laugh.
Since Paul only played piano on "For You Blue," the notes in the lower register must come from John. But before the song's end you get to hear plenty of Paul's prepared piano. To George, it worked out fine for his song that followed "the normal twelve-bar principles — except that it's happy-go-lucky!"
Also see: Why The Beatles Didn't Really Change the Lyrics When Ringo Sang 'Boys'