'The Mandalorian': Ahsoka Sparks Interest in 'The Clone Wars'
The Mandalorian has already received a lot of fan buzz since its premiere on Disney+. And the recent appearance of Ahsoka Tano, who first appeared in Star Wars: The Clone Wars, is breaking the internet. Star Wars fans are excited to see the powerful female character outside of animation and working alongside Din Djarin.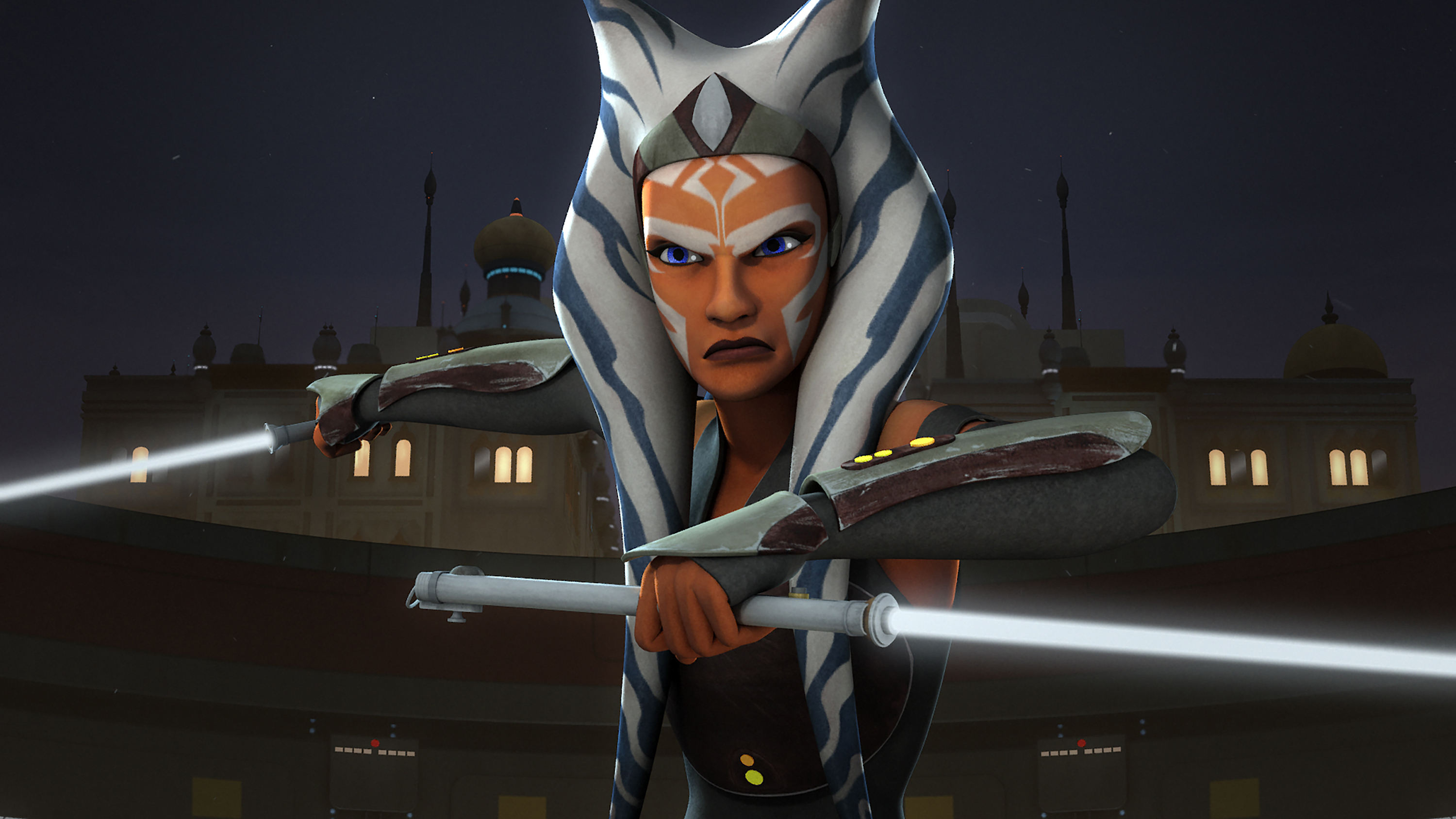 In fact, it is because of fans that Rosario Dawson received the role of Ahsoka Tano. "It first came from fans online," she told Vanity Fair. "Someone tweeted me and fan-cast me. I retweeted back, and I was like, 'Absolutely, yes please' and '#AhsokaLives.'" Since her recent debut in The Mandalorian Season 2, her character Ahsoka has sparked renewed interest in The Clone Wars.
What to know about Ahsoka Tano
George Lucas created Ahsoka Tano in the 2000s to help Anakin Skywalker grow up.
"[With Ahsoka] I wanted to develop a character who would help Anakin settle down," Lucas said at a press conference in 2008, according to io9. "He's a wild child after [Attack of the Clones]. He and Obi-Wan don't get along. So we wanted to look at how Anakin and Ahsoka become friends, partners, a team."
Ahsoka was introduced as a Padawan apprentice to Anakin Skywalker, who nicknamed her Snips. It was an interesting time, as Anakin was known for being reckless and Ahsoka was dedicated to her Jedi training. This caused a rift between the two characters initially, but their relationship would build into something more meaningful after their first mission, as Ahsoka softened Anakin up a bit.
Ashley Eckstein, the first actor to bring Ahsoka to life as her voiceover in the animated The Clone Wars series, explained to Showbiz Cheat Sheet: "Ahsoka came in as a Padawan. She had so much to learn. But where Ahsoka teaches Anakin, is Ahsoka is a hybrid of all of the Jedi that she learns from."
Ahsoka Tano matured in 'Star Wars: The Clone Wars'
RELATED: What Is Ahsoka's Age? Here's a Look at Her Ages Throughout Her 'Star Wars' Appearances
Following her introduction in 2008, fans have had the pleasure of witnessing Ahsoka grow in age and maturity through Star Wars: The Clone Wars and Rebels. This isn't incredibly common for Star Wars characters. She started as a snippy and immature 14-year-old girl assigned to be Anakin's Padawan by Yoda. By season 3, Ahsoka got an outfit makeover, which supervising director Dave Filoni told IGN in 2010 was a symbol of her change.
"She's been changed by the things she's seen and done, and now we're seeing that reflected in her look," he said. "In this episode ["Heroes on Both Sides"], we see a significant step for her emotional development, in addition to her aesthetic development." Her outfit changes to a top with cutouts in the front and back, matching leggings, and a switch to wielding two lightsabers.
The final scene with Anakin in season 7 offers another glimpse at Ahsoka's growth since her first appearance in The Clone Wars. One of Anakin's most significant bonds is with Ahsoka, and there's a lot to be said about their final scene together.
"She's actually trying to signal to him: things are different, like I respect you, but things just aren't going to be the same," Filoni explained to Nerdist on why Ahsoka was a bit distant with her former master whereas Anakin thought their relationship would stay the same.
'The Mandalorian' Season 2 has revived interest in the animated series
Ahsoka made her first appearance in season 2 of Disney+'s hit series, The Mandalorian, and it has revived viewer interest in the 2008 animated TV series. Ahsoka has experience dealing with Mandalorians, including fighting them and working with them. This fact, as well as overall interest in her character and fans' eagerness in gaining a better understanding (or refresher) of the show, has led viewers to seek out the animated series The Clone Wars.
In fact, the TV series has seen a few spikes since The Mandalorian release. According to The Verge, "When The Mandalorian first came out in November 2019, Clone Wars saw its first massive spike. Interest remained high until the second spike in spring 2020, when the seventh season of Clone Wars was released on Disney+. It dropped after that, but the show saw a third spike accompanying The Mandalorian's second season premiere in October. It's been trending high ever since, according to the analytics firm."