'The Mandalorian': Fans Who Think Sasha Banks Is Sabine Are 'Setting Themselves Up for Disappointment'
Both fans of Star Wars and WWE are excited for the upcoming premiere of The Mandalorian's Season 2 thanks to Sasha Banks' surprise appearance.
Both fans of Star Wars and WWE are excited for the upcoming premiere of The Mandalorian's Season 2.
Along with bringing back everyone's favorite bounty hunter, the show will also feature WWE superstar Sasha Banks in an undisclosed role. Fans online have begun speculating over who she may be playing. Some seem to think she'll be playing a character named Sabine Wren that's been featured in a past Star Wars TV show.
Others think that's far-fetched, and warn Star Wars fans not to get their hopes up. So what's the real story behind Banks' character? 
Will Sasha Banks appear in 'The Mandalorian'?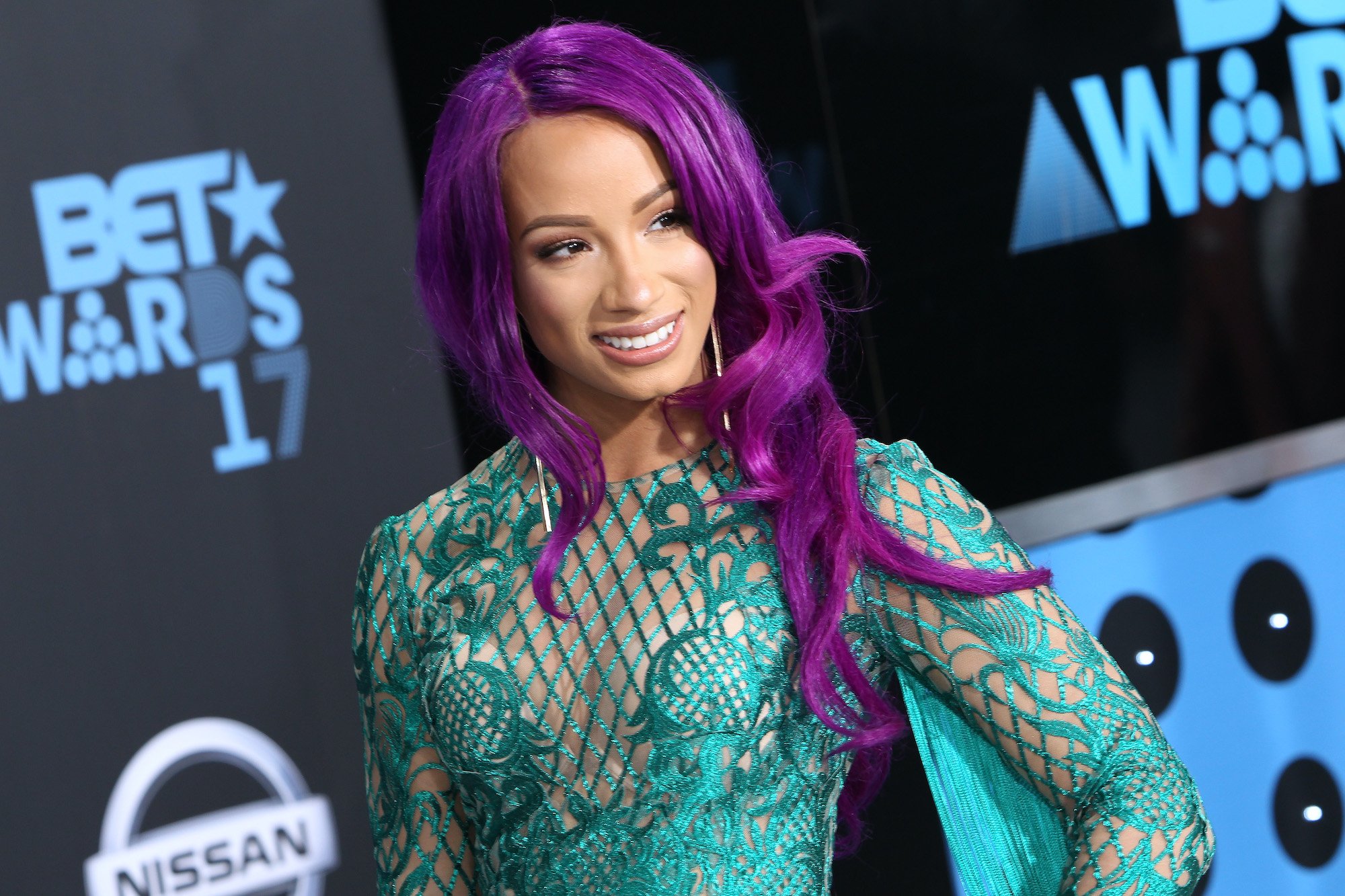 According to Bleacher Report, Banks will reportedly appear in Season 2 of the hit Disney+ series. Eagle-eyed fans who saw the Season 2 trailer likely caught a quick glimpse of Banks in a split-second, blink-and-you'll-miss-it appearance.
It's an interesting combination — Banks doesn't have any acting experience in a big franchise like Star Wars. It will expose her to an entirely new audience, as she's well known to WWE fans but not quite a household name yet otherwise.
That's not to say this won't be a star-making turn. She's shown great athletic ability as a WWE superstar, but also has shown even better work on the mic with her promos. There's no reason to think she won't be great in this role based on her acting chops in her current gig. 
This doesn't answer the question of who she'll be playing. While that hasn't yet been revealed, some fans speculate she'll be playing a character named Sabine Wren. 
Who is Sabine Wren? 
According to Wookieepedia, Sabine Wren was a character from the TV series Rebels. She was a Mandalorian and a key figure in the early stages of the rebellion against the Galactic Empire.
In her travels, she came into possession of the ancient Mandalorian artifact known as the Darksaber. That's believed to be the weapon that Moff Gideon wielded in the Season 1 finale of The Mandalorian. 
Sabine was a fan-favorite character, and bringing her back into this particular part of the Star Wars universe lines up with some other rumored aspects of season two.
For example, Sabine is friends with Ahsoka Tano during Rebels, and that character is also believed to be a part of this season of The Mandalorian. There's also the issue of the main character. Bringing another Mandalorian character onto this show makes all the sense in the world. 
So is that who Banks is portraying? 
Why fans who think Sasha Banks is Sabine are "setting themselves up for disappointment"
A Reddit thread dedicated to discussing this very subject had fans debating whether Banks is Sabine. One poster expressed disbelief that this would be the case, saying: 
"Sasha Banks 100% is not Sabine. People need to pump the breaks on this. They're setting themselves up for disappointment when it turns out to be somebody else."
For Star Wars fans, it's a lose-lose proposition. If they hype up the appearance as if Banks playing Sabine is a foregone conclusion, they'll be disappointed when it's not true.
If she is playing the character, they've hyped it up so much at this point that they're almost spoiling the surprise for themselves. A better approach would be to enter into the show with an open mind. 
Trying to attach characters from other Star Wars stories is exactly the type of narrow-minded storytelling that The Mandalorian avoided in season one. Outside a few scant references to characters, places, or things from the original trilogy, this show told its own story.
Fans who got caught up trying to come up with theories on how it tied to the original trilogy or the sequels were probably disappointed. But wasn't the show good enough on its own? 
Not every piece of Star Wars media needs to connect. The Mandalorian is great because it tells a singular, independent story. 
Fans would be well-served to trust the show's creators to give Banks a great character, whoever that character may be. Whether it's someone the audience knows or not, it's certain to be compelling.