'The Mandalorian': Giancarlo Esposito Felt 'Ill-Equipped' to Play Moff Gideon
Giancarlo Esposito is an astounding actor. Before entering the Star Wars universe, Esposito was known for the role of Gus Fring in the AMC series Breaking Bad and its prequel, Better Call Saul. Now, Esposito is widely known for his villainous character in The Mandalorian — Moff Gideon.
Esposito spoke with IMDb about how he prepared to play Moff Gideon in The Mandalorian Season 2.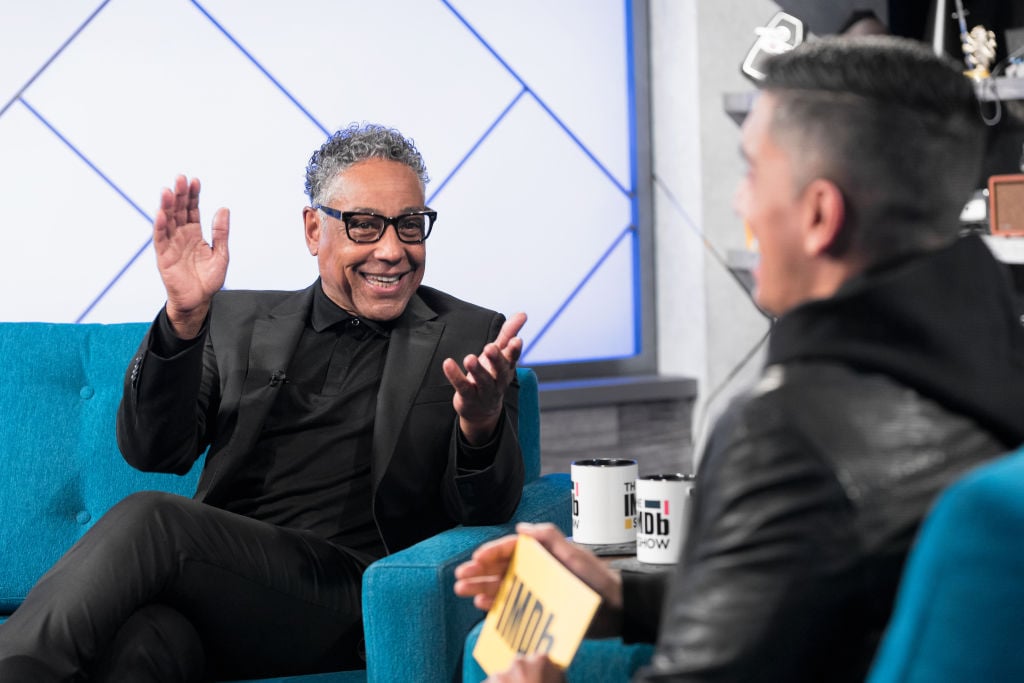 Giancarlo Esposito channeled Darth Vader to play Moff Gideon
As a big fan of the Star Wars franchise, Esposito said he felt "ill-equipped to play [Moff Gideon]." Jon Favreau wrote the role specifically for Esposito, so it wasn't like he could have denied the opportunity.
In preparing for the role of Moff Gideon, Esposito explained how James Earl Jones' Darth Vader impacted Esposito as a young actor. "Who was inside that helmet? Who was inside that costume?" Giancarlo said, explaining how he channeled Darth Vader when he approached this new villainous role. "[Vader] could be part of who Moff Gideon is, but guess what — I don't have to wear the helmet."
Esposito joked about how Moff might walk around with a certain level of confidence — with a sense that his subordinates feared him and knowing women found him attractive. This helped capture the confidence Moff Gideon gives off in The Mandalorian. "I started to really think about who he could be and [have] taken my newfound villainous thinking to a new level because I wanted Moff to be someone who you might think could save the universe." Very little is seen of Moff in season 1, so it's difficult hard to say whether or not what his motivations are fueled by. Esposito expertly channeled such a level of quiet confidence, Moff Gideon seemed to be a villain somehow worthy of our trust.
That duality is something Esposito has captured in the role of Gus Fring. In the Breaking Bad and its prequel spinoff, Gus Fring lead a dual life. On the one hand, he operated a fast food restaurant and volunteered in his community. On the other, he was one of the higher-ups in a Mexican drug cartel and operated with the mindset of "kill or be killed."
Giancarlo Esposito on being the sole owner of the Darksaber
At the end of The Mandalorian Season 1, the famed Darksaber was revealed. As the sole weapon of it's kind, how the Darksaber came to be in Moff Gideon's possession is of great interest to fans. Esposito said he did his best to respect the responsibility of owning such a lightsaber with an understanding of how coveted his weapon is.
RELATED: 'The Mandalorian' Has a 'Wonderful Advantage' Over 'Star Wars' Movies, Mark Hamill Said
Related post url: 
When asked how well he did handling the weapon, Esposito said, "I'm decent." He continued: "You have to respect the power of it. The energy of it."
Despite all of his practice, Esposito said he broke three Darksabers filming season 2 of The Mandalorian. "It's long dude! I bopped myself three times [during filming]!" As for Moff Gideon's weapons skills in season 2, Esposito teased that there would be a few fight scenes "that are going to really excite" fans.
When to expect 'The Mandalorian' Season 2
Star Wars fans were eager for more after the first season of The Mandalorian premiered in November 2019 on the Disney+ streaming platform. It didn't come as a shock when Favreau announced another season of the series. "Season 2 of #TheMandalorian coming Fall 2020," the director tweeted.
The exact release date of season 2 is still unknown, but fans have plenty of time to rewatch season 1 before October rolls around.