'The Mandalorian': Gina Carano Thought She Was Playing a Completely Different Character
Gina Carano stands at 5 feet 8 inches tall. And she thought she was going to play a Wookie?
The actor who played Chewbacca, the late Peter Mayhew towered over his fellow cast members – and indeed over most people, standing at 7 feet and 2 inches. Because of Mayhew's height, Wookiees in general were made tall.
Yet when Carano got the call to appear in The Mandalorian, she didn't think would get the role she got as a mercenary named Cara Dune. 
Who is Gina Carano?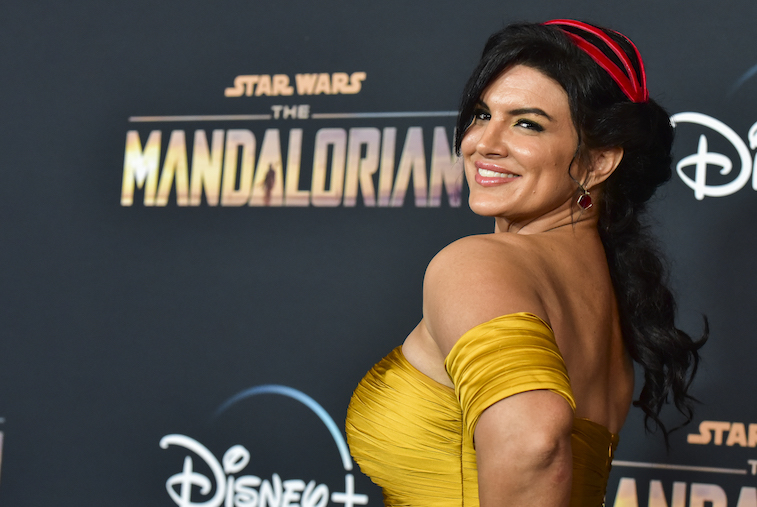 Carano, 37, first made her name as a mixed martial arts fighter, competing in the organizations Strikeforce and EliteXC. She won 7 of 8 matches and became one of the most prominent figures in the sport between 2006 and 2009. After her sole loss to Cristiane Justino, in 2009, she has not fought another match.
Carano transitioned to movies and TV, appearing in Ring Girls in 2005 while she was still competing. Since that was a documentary about mixed martial arts, it wasn't really a stretch, but her first fictional film was the direct-to-video feature Blood and Bone with Michael Jai White. Then a big Hollywood name came calling.
Steven Soderbergh, whose credits include Sex Lies and Videotape, Erin Brockovich, Traffic and the Oceans series of the 2000s, cast Carano as the lead in his 2011 movie Haywire, about a black-ops specialist betrayed by her employers.
Having gotten the attention of the movie world, Carano made the leap into franchises two years later, starring in Fast & Furious 6. She later appeared as Angel Dust in the first Deadpool. She was cast in The Mandalorian last year. 
Why did Carano think she was playing a Wookie?
Perhaps because she's known primarily for her physicality, Carano didn't think she would be seen. She told Vanity Fair, "I was ready to put on the fur outfit and be the female version of that. That's what I thought. I was surprised to find that I was one of the few people that you were actually going to see her face—and in a lot of scenes, sometimes the only face, which is pretty incredible."
Carano's Cara Dune helped the Mandalorian protect a village from an invading force that was using an Imperial Walker. She's very much of a piece with the Mandalorian, being tough and obviously skilled in a fight. However, she chooses not to join up with him by the end of the episode.
Her comment about being "sometimes the only face" is telling because in most of her Mandalorian scenes, she's acting opposite people with faces quite visible. Screen Rant speculates this is because in future episodes, she'll appear opposite some even more colorful characters. The Vanity Fair piece confirms that she'll be back for Season 2. 
Carano has some famous friends in her corner
As it turns out, showrunner Jon Favreau wrote the part of Cara Dune with Carano in mind and didn't audition anyone else for the part. The job was hers if she wanted it.
Although Favreau is known for directing, having most recently made the CGI version of The Lion King, he has not directed any episodes so far. 
The director of Carano's episode was Bryce Dallas Howard, the actress known for The Help and Jurassic World, among many other credits. Her family has a long association with Lucasfilm, with her father Ron acting for George Lucas in American Graffiti, and later directing Willow (for which Lucas wrote the story) and Solo.
Carano credits Howard for guiding her to a strong performance, saying, "She was really fascinated. She plays certain types of characters on film, and she looks at my character, and it's the complete opposite of the character she gets to play. She's like, 'I get to live through you. I get to live through Cara, and I get to live and see what I would want to do.'"