'The Mandalorian': Some Fans Think Gina Carano Needs to Go — Not Just Because of Her Controversial Tweets
Since its debut in 1977, Star Wars has captured a significant audience and fandom appreciation. It was a mind-blowing breakthrough in science fiction with timeless captivation among viewers of all ages. It has since branched into several successful spinoffs and adaptations, including The Mandalorian. Unfortunately for Mandalorian actor Gina Carano, conversations surrounding her role as Cara Dune are less than praiseworthy.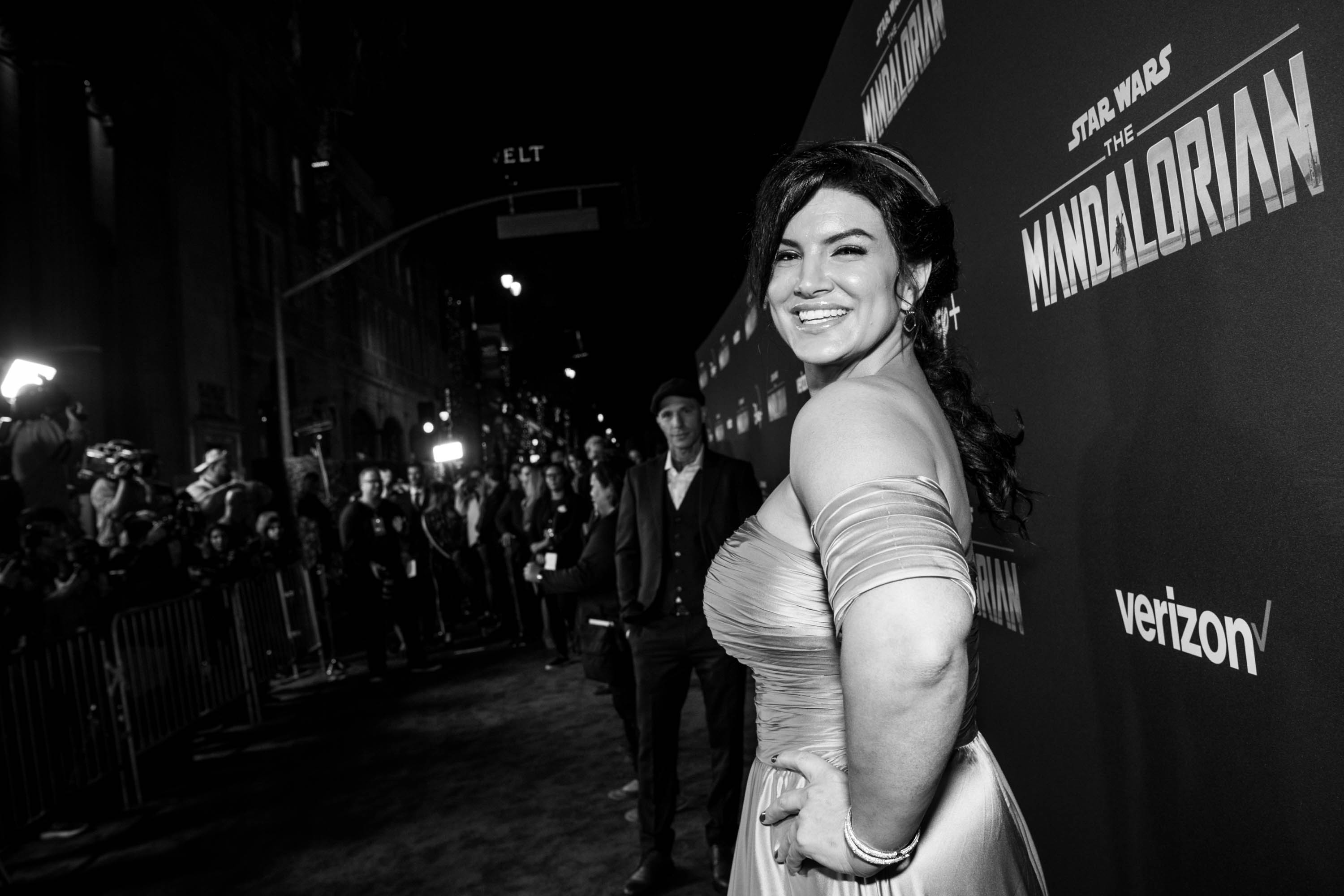 Fans have mixed feelings about Gina Carano's acting and her character
The Mandalorian has a great selection of strong female characters, such as the well-received role, The Armorer. Cara Dune was introduced in the same season as a bold and strong female character partnering with Din Djarin. Yet fan reviews aren't as positive as Carano or producers might have hoped.
Some fans on Reddit are pushing for her character to be scrapped, with one saying that "in a show and franchise with many compelling female leads, her character comes off as a flat 'strong female' stereotype that isn't necessary in a show with multiple solid female characters."
Another fan responded by saying that while they think Carano is bad at acting, "her fight scenes are incredible. They somehow overshadow the fact there isn't much flesh to the bone when it comes to her character."
RELATED: 'The Mandalorian' Could Convince People to Hate the Sequel Trilogy Less
The controversy surrounding Gina Carano's tweets
Her acting isn't the only thing in question right now. Carano's social media history is not a particularly positive one, according to many Twitter fans. In fact, she's come under fire for many reasons, including posting a Nazi picture and urging businesses to open during the pandemic.
Another recent social media move from Carano was viewed by some as mocking and potentially transphobic behavior. Amid many Twitter users showing support for the LGBTQ community by including their pronouns in their bios, Carano chose to fill in "Beep/bop/boop" instead.
While this caused some fans to call for her removal from The Mandalorian, others came to her defense. "She used a pic of R2D2!!" one person commented on her tweet. "I can put 2 and 2 together. Haha Seriously, anyone with common sense knows you weren't attacking anyone. All Love."
Ultimately Carano explained to Twitter users that "Beep/bop/boop has zero to do with mocking trans people." She chalked up the entire "misunderstanding" to miscommunication and "the bullying mentality of the mob that has taken over the voices of many genuine causes."
Will she stay, or will she go?
There's no saying for sure what will happen with Carano's role on The Mandalorian. Cara Dune can either blossom into a more in-depth character throughout the coming seasons, or we might see a terrible fate on screen. And there's always the potential that fan opinion could influence the writers.
One fan responded to Carano's explanation tweet by saying, "Was Gina always this horrible? I guess I should have stayed a fan of hers from afar [because] up close she's a pretty horrible human." Another took a more compassionate stance by responding, "AWESOME! The people yelling the most about bullying are truly showing they're [some] of the BEST BULLIES! Stay on the Fight, Gina! I got your back!"
Fans will have to stay tuned in to The Mandalorian to see how Cara Dune's story unfolds.