'The Marvelous Mrs. Maisel': Jane Lynch Says 'I Understand Her' About Sophie Lennon
Jane Lynch reflected on her character, Sophie Lennon on 'The Marvelous Mrs. Maisel' and how women in comedy are still dealing with it being a 'man's game.'
Even though The Marvelous Mrs. Maisel was set in the 1950s and 1960s, actor Jane Lynch, who plays Sophie Lennon understands the challenges women still face as comedians.
The series follows the burgeoning standup comedy career of Miriam "Midge" Maisel and the hurdles she encounters as a female comic in the male-driven world of comedy. Even though strides have been made, Lynch whose career spans more than 30 years, said women comedians battle some of the same issues that plague Midge and Sophie.
Comedy is still a 'man's game'
Sophie is somewhat of a grande dame on The Marvelous Mrs. Maisel. She knows the business and had to develop a thick skin. "What Sophie was dealing with, as it continues to be the deal really, is that it's a man's game," she told The Guardian. "In order to break through, you had to have material that spoke to men because the club owners were men, the TV producers, the late-night hosts."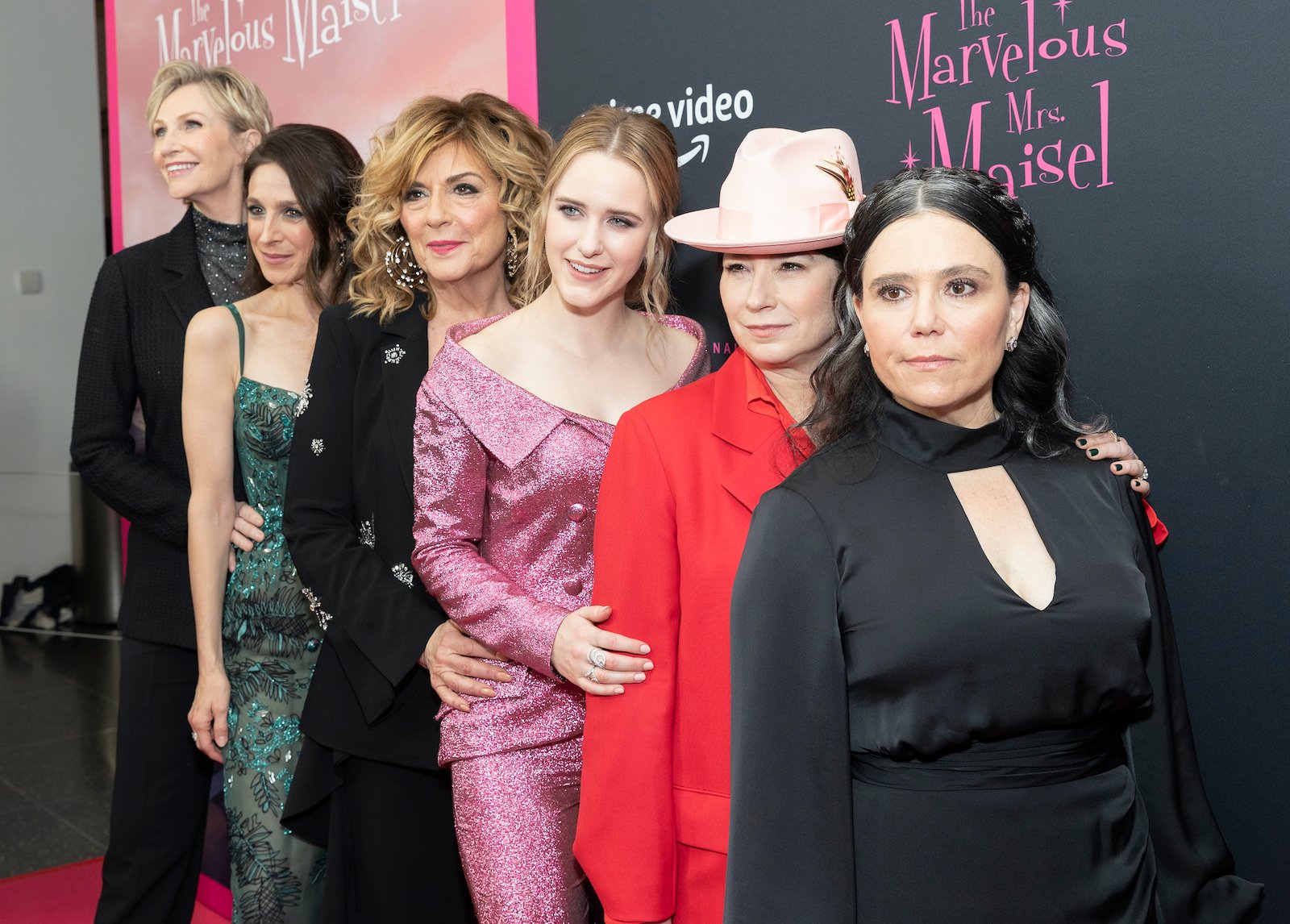 Lynch isn't a standup comedian but is in tune with how female standups are still trying to shatter the glass ceiling in comedy.
"Any time you look at a comedy club, the headliners are guys," she observed. "Every once in a while, they might throw a woman in there. It's harder to work your way up as a woman and, like anything else where you're trying to break a mold, you have to be exceptional."
Jane Lynch can identify with her 'Mrs. Maisel' character Sophie Lennon
Sophie spiraled after her big Broadway show. Lynch understands how her character walks a line of embracing her talents while being worried about being typecast. "I understand her," she said about Sophie. "She is really talented and smart but insecure, and is so afraid of being found out."
Lynch said Sophie worries about being stuck in some of the same roles, "even though it's made her rich and made her a star. She wants to do more, like so many of us in the acting profession: 'Don't typecast me. I'm more than just this.'"
She laughed when asked if she feels the same way about her own career. "Oh, not at all," she said. "I'll do the same thing over and over again. I don't care. I love it."
Sophie 'wants to be the star'
Lynch described Sophie as someone who wants to be a star and lives her life accordingly. "The insecurity manifests itself in her, but of course, it's always right there just below the surface," she told Metro in 2019. "She wants to be the star, she wants to be elevated and lifted above everybody else — that's her hustle. She wants to be held up as royalty. If she could, she would travel on a satin pillow all day long with her footmen carrying her."
Lynch offered an example from The Marvelous Mrs. Maisel. "She always has her butler right by her, she never greets anybody at the door, she has them brought into her room, and then she makes an entrance," she shared.
"Stand-up is still almost completely male-dominated, there are some women stand-ups out there, but it's still very hard for a woman to break into," she said. But added that women in television comedy moved forward.
"A lot of that has to do with the number of platforms that there are, but I credit the guys as much as I credit the women, we're turning around a ship that has been going in one direction to go in another direction," she said. "It looks like we're going the right way now. I'm sure there will be bumps, and I'm sure there will be rough seas ahead, but we'll get through it all."
The Marvelous Mrs. Maisel Season 4 premieres on Feb. 18 on Amazon Prime.