'The Marvelous Mrs. Maisel': Midge's 'Revenge' Will Be a Casserole Served Cold
Revenge. That's what Miriam "Midge" Maisel desires in the opener of The Marvelous Mrs. Maisel Season 4 after being discarded by Shy Baldwin moments before she was supposed to jet off on tour with the crooner.
The first episode of season 4 shows a darker side of Midge who can no longer accept being collateral damage in a man's world. She was tossed aside by Shy after her the audience roared at her jokes that seemingly outed him on stage at the Apollo. And now she's back to hustling for comedy gigs, most of the top spots taken by dry, predictable rubber-stamped men.
So she wants revenge. And she's not playing anymore.
Midge craves and wants revenge
"Rumble on the Wonder Wheel" opens with Midge on stage. The audience laughs hysterically as cameras capture her silhouette as she stops to catch her breath. She takes a drag of her cigarette. "Revenge," she says.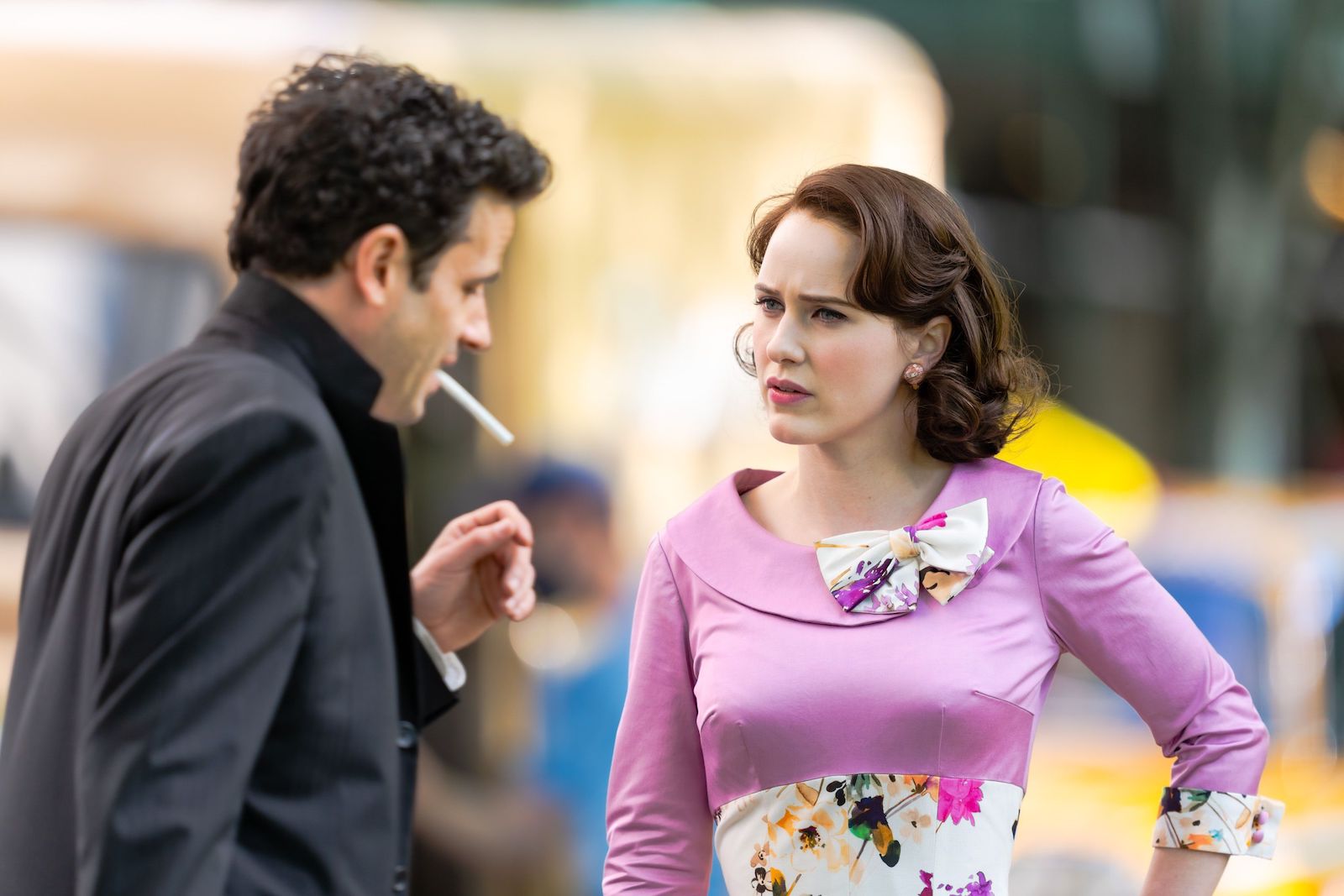 "Revenge, I want it," she continues. "Oh do I want it. I need it, I crave it. I am completely consumed by the need for it. Revenge. You know how there are times in your life when things seem to be going great. And then suddenly, you round the corner and bam! Someone steps in and f***s it the f*** up. You never saw it coming because you were too busy being happy. And I know that's life. S*** happens. You should be a bigger man and just let it go. Well, I'm a woman, so f*** that."
She's been fueled by humiliation
Indeed, Midge goes through a grieving process, mourning what could have been on the road with Shy. She eventually comes clean to her family that she isn't in Europe but sleeping at the bar. So how's Midge coping? In the words of Dorinda Medley from The Real Housewives of New York City: "Not well b****."
"Not well is an understatement! She's been fueled by fury, humiliation, and desperation There's no way to go but up, and that leads to a lot of good comedy. For the first time, Midge is questioning who she wants to be. She wants to skip traditional steps like being an opening act and to carve her own brand new path," Rachel Brosnahan, who plays Miriam "Midge" Maisel told TV Insider.
Change is coming to 'The Marvelous Mrs. Maisel'
The series enters a new decade, the 1960s, and Brosnahan said change is a-coming. But the changes Midge experiences could be reflected in what the world is facing today. "So many of us are experiencing a push-pull between the lives that we led before [the pandemic] and the ways we were comfortable and secure, and also the way we see a new future for ourselves that we couldn't have imagined," she said.
"I think that's something that people will really relate to in this season," she added. "She bought her old apartment back and her parents move in with her, so in some ways, she's reverting back to an old life. But in a lot of ways, she's pushing ahead and forging a brand new one."
She added, "Midge is on team Midge this year; she's totally married to her career." Midge is also only doing to do gigs where she can be free to say what she wants.
Executive producer Daniel Palladino said viewers will go on this journey with Midge to see "how Midge reacts to such a jarring episode," he told TV Insider. Creator/executive producer Amy Sherman-Palladino said Midge wants "flat-out revenge. Now it's like, 'I'm going to take back what was taken from me.'"
The Marvelous Mrs. Maisel Season 4 debuted on Friday, Feb. 18 on Amazon Prime.