'The Marvelous Mrs. Maisel': Rachel Brosnahan Calls This Cast Member 'A Monstrosity of a Talent'
There are plenty of reasons for fans of The Marvelous Mrs. Maisel to fall in love with the show. Between the gorgeous costumes, impeccable writing, and beautiful cinematography, there's always something to be fascinated with. Of course, the incredibly talented cast also makes the show what it is. Season after season, The Marvelous Mrs. Maisel proves that it boasts one of the most dynamic ensemble casts on television.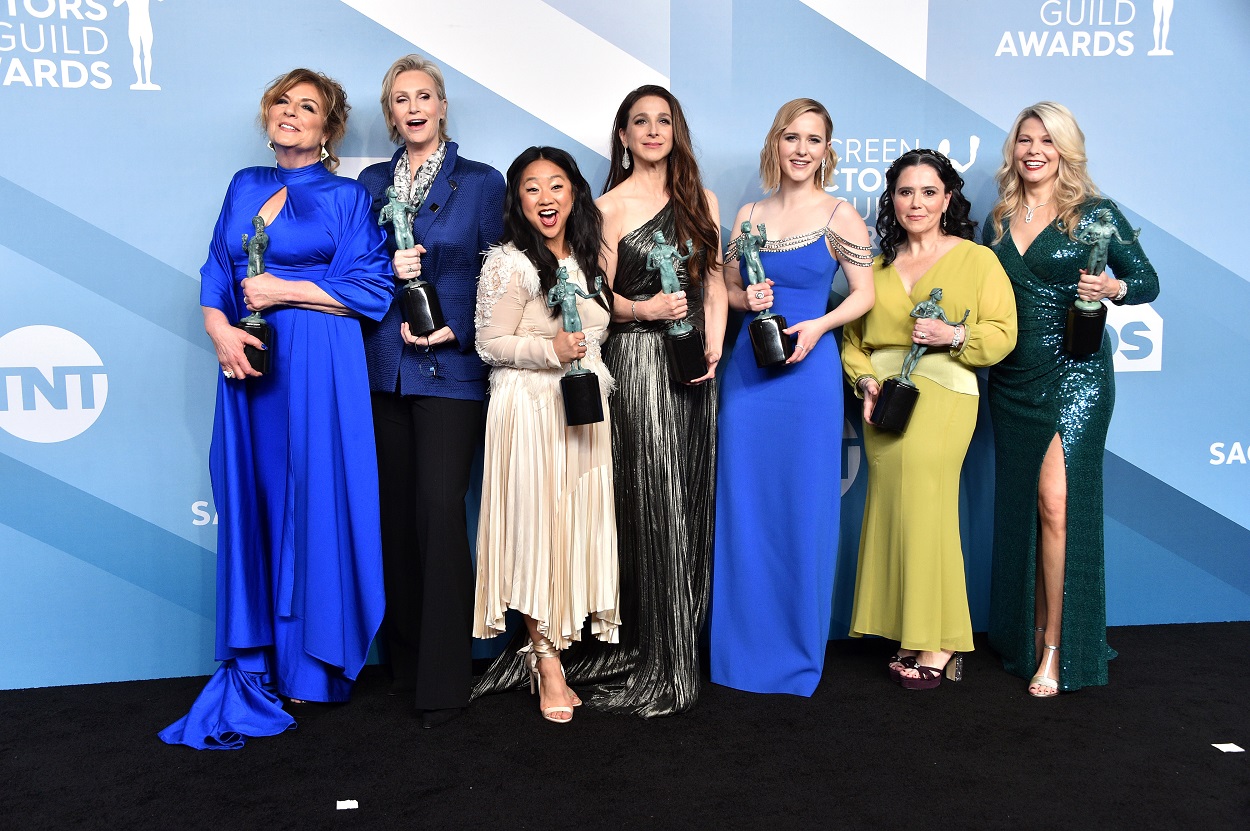 One of the things that makes the cast of The Marvelous Mrs. Maisel so strong is the chemistry between the actors, both on the screen and off the screen. In an interview with Gold Derby, Rachel Brosnahan (who plays Midge) spoke candidly about her fellow co-star, Alex Borstein (who plays Susie) and how their unique chemistry lends itself to such a compelling character dynamic.
Rachel Brosnahan on her connection with Alex Borstein
"Alex and I read once together and we had this immediate and very strange chemistry that I think works so well for Susie and Midge," The Marvelous Mrs. Maisel star shared about early auditions for the show. "We are so different but love each other very, very much. I have so much respect for Alex as a person, as an actor, as a mother. I'm so in awe of the way that she moves through the world and it makes absolutely no sense and yet it works completely on and off-camera."
Brosnahan is especially enamored with the way that Borstein is able to take something mundane and ordinary and turn it into something that is hilarious and extraordinary. "Comedy is just in her bones," Brosnahan shared about her fellow The Marvelous Mrs. Maisel castmate. "She can make something that wouldn't be funny to anyone else on paper so funny that the whole crew is trying to stifle laughter while she's shooting it. She's a monstrosity of a talent."
How Susie and Midge's relationship has deepened on 'The Marvelous Mrs. Maisel'
It's obvious that Brosnahan enjoys working closely with Borstein on The Marvelous Mrs. Maisel. She also has enjoyed watching the relationship between their characters deepen. Susie and Midge certainly have a relationship that is multifaceted. They're friends, yes, but also business partners, confidantes, and travel buddies also. In fact, as their relationship continues to develop, it's clear that they're more like family than anything else.
Brosnahan also opened up about how she personally views the relationship between Susie and Midge. "Alex [Borstein] early on lovingly dubbed their relationship a 'womance' and that feels would be true to me," the star of The Marvelous Mrs. Maisel shared. "But it's also deepening. You know, they need each other. And by the end of Season 3, a difficult lesson that they've both learned in different ways is that they are each the only person that they can trust in this moment, in this business," the actor added.
Brosnahan is looking forward to Season 4 of 'The Marvelous Mrs. Maisel'
The actor continued on to add that she's interested in seeing how the relationship between Susie and Midge will grow in season four of The Marvelous Mrs. Maisel. "They have a very intimate relationship, definitely," Brosnahan shared. "They've seen the ugliest sides of each other and not many other people in either of their lives have seen that. So I'm looking forward to seeing how their relationship continues to develop and how we learn more about Susie moving forward."