'The Mary Tyler Moore Show': Why Ted Knight Almost Quit in Season 3
The Mary Tyler Moore Show became one of television's most popular sitcoms when it premiered 1970. With star Mary Tyler Moore at the helm, along with co-stars Ed Asner (Lou Grant), Ted Knight (Ted Baxter), Gavin MacLeod (Murray Slaughter), Valerie Harper (Rhoda Morgenstern), Betty White (Sue Ann Nivens), and Cloris Leachman (Phyllis Lindstrom), series was considered Must-See TV during its seven-season run.
With Knight's character playing a hilariously buffoonish anchor man, the actor began having his doubts on how portraying the dimwitted newsman would affect his reputation.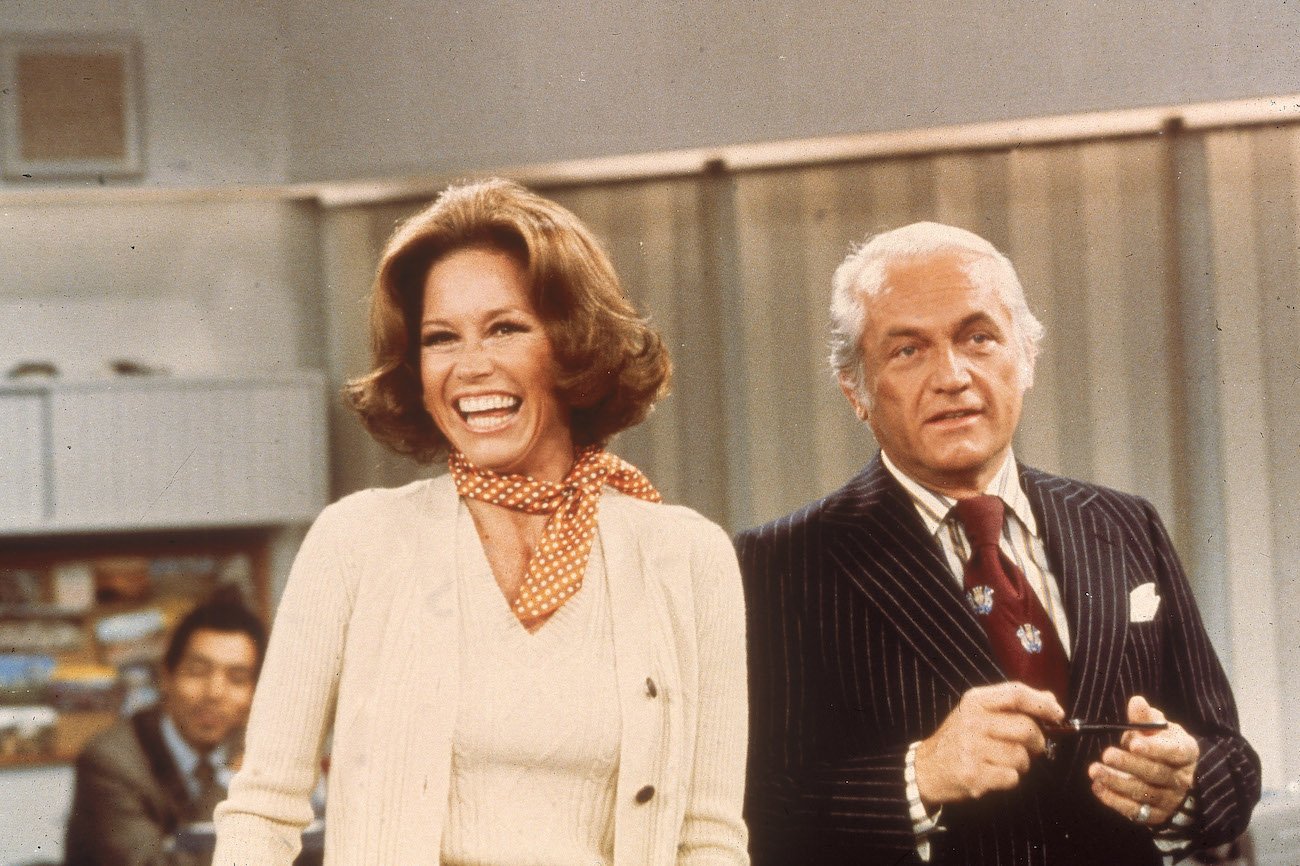 Ted Baxter wasn't a typical journalist
The role of WJM's lead newsman Ted Baxter got plenty of laughs from audiences. Known for being vain, self-serving, and ignorant, the on-air journalist was often the butt of jokes on The Mary Tyler Moore Show. Still, Knight's portrayal of Ted Baxter was so brilliant, he brought home two Emmys for Best Supporting Actor in a Comedy Series.
Yet Knight soon felt the vanity and stupidity of his character would negatively impact his career. In her memoir After All, Moore recalled the actor visiting show producer Allan Burns in season 3 with great concerns over his role.
"[Knight] entered, as Allan remembers it, with an expression of pain on his face," Moore wrote. "He stood there wordlessly, extended both arms in a helpless gesture… slowly shook his head from side to side, unable to speak."
RELATED: 'The Mary Tyler Moore Show': Cloris Leachman or Mary Tyler Moore — Who Won More Emmys?
Ted Knight didn't want to be viewed as stupid
According to Moore, when Burns asked Knight what was troubling him, he broke down in tears.
"Ted flung his arms around Allan's neck and sobbed, 'I can't do it anymore,'" Moore revealed. "'I can't play Ted Baxter. Everybody thinks I'm stupid and I'm not. I'm an intelligent, well-read man, and everyone treats me like I'm a schmuck.'"
Knight was so distressed, he was contemplating ending his tenure on the sitcom despite its success.
"His tears were real," Moore wrote. "Who knows what tipped him over the edge at that moment, but Ted was actually considering leaving the show, he felt so humiliated by what he saw as character takeover."
'Mary Tyler Moore' producer gave Ted Knight a pep talk
Burns was able to help Knight realize the talent he possessed, which brought the character of Ted Baxter to life.
"With all modesty, Allan recalls delivering an inspired talk," Moore explained, "using examples of the great comedians throughout time whose intellect and soul brilliantly shone through the clowns they'd created, and whose contributions to the hallowed halls of laugher inspire reverence for their commitment."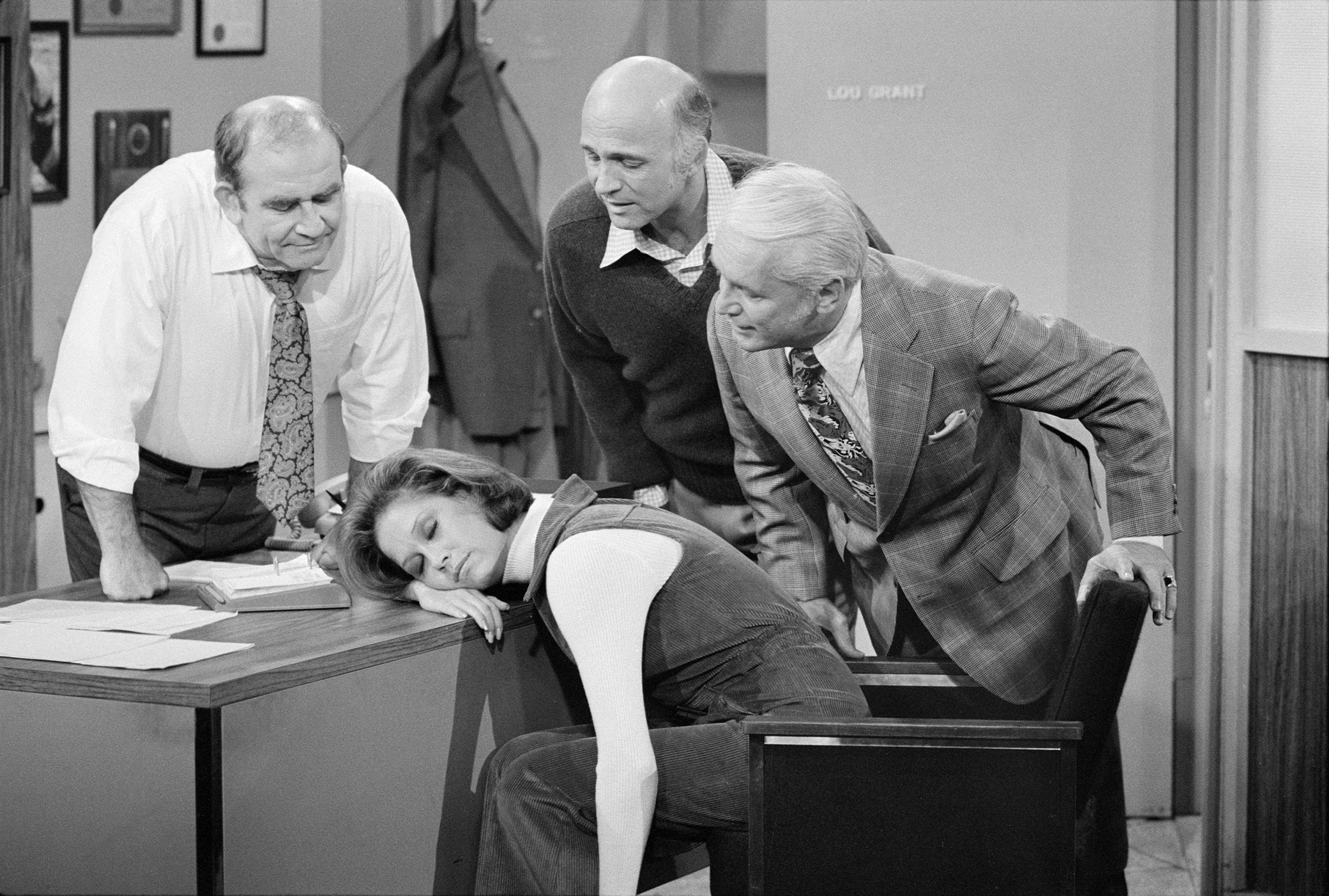 RELATED: What Was Cloris Leachman's Net Worth at the Time of Her Death?
The words of wisdom from Burns were enough to prompt Knight to reconsider… despite another member of the production team ruining the moment with a classic blunder.
"Ted was ready to go out there for the Gipper," Moore recalled. "Co-producer Jim Brooks walks in, slapped Ted on the back saying, 'Ah, Ted, Ted, Ted, the world's favorite schmuck.'"
Despite Brooks' foot-in-mouth moment, Knight remained on The Mary Tyler Moore Show until the series ended in 1977.