'The Menu': The Real Chef Who Inspired Ralph Fiennes Killer Chef
Last year's hit movie The Menu played in theaters from Thanksgiving through Christmas feasts. In the darkly comic thriller, Chef Julian Slowik (Ralph Fiennes) prepares a multi-course meal personalized to expose his guest's crimes and petty offenses. Fiennes is an actor but a real Michelin-rated chef inspired his character.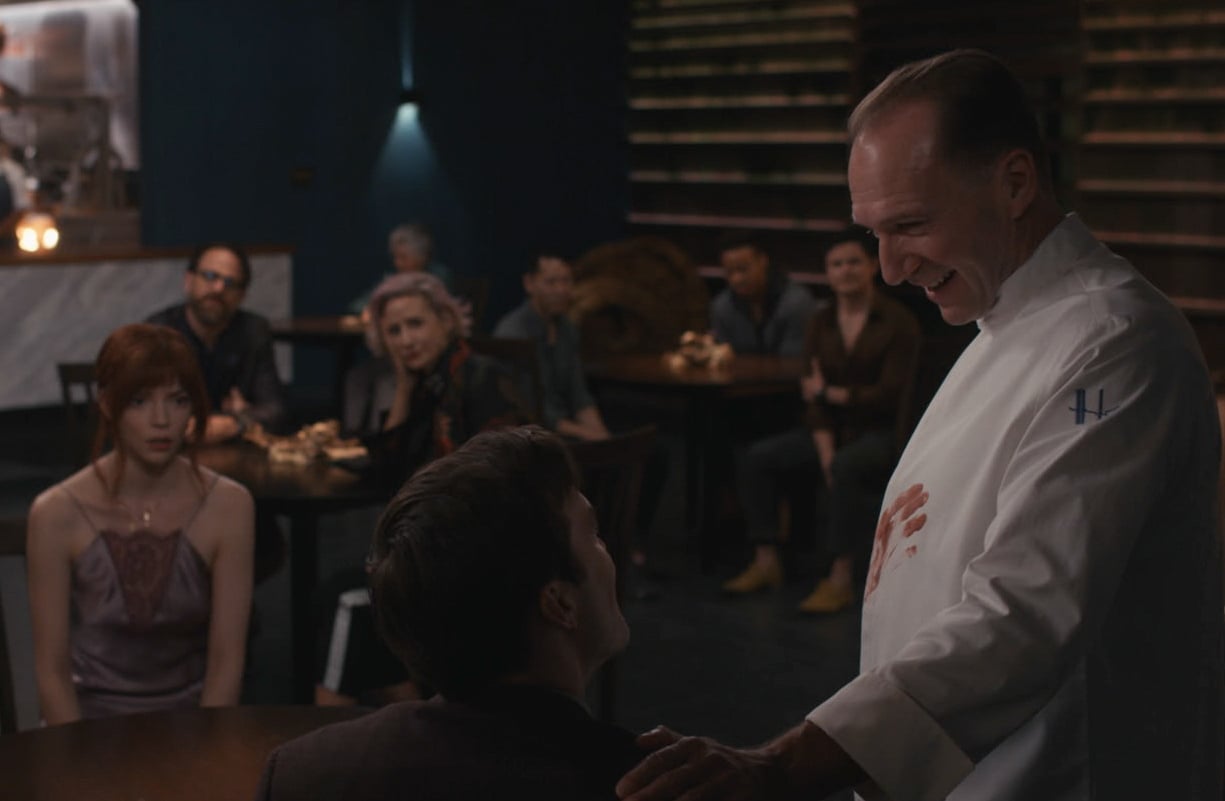 The Menu is now on HBO Max and digital retailers, and will be on Blu-ray and DVD Jan. 17. The bonus features highlight the real chef who designed Chef Slowik's scathing meals in The Menu.
Dominique Crenn was the real chef behind 'The Menu' 
Director Mark Mylod brought in Dominique Crenn to be the real chef behind The Menu.
"The philosophy of Slowik came from conversations with Dominique Crenn who eventually would come on to design the menu for us," Mylod said. "Dominique Crenn is this extraordinary artist, literally one of the best chefs in the world. In fact the first woman in America to win three Michelin stars."
Crenn understood how Chef Slowik's menu illuminated his character in the film.
"It was important to also get a sense of who he was as a chef so his food tells a story of who he is," Crenn said. "So it was trying to connect the food with also a part of him."
Ralph Fiennes shadowed Dominique Crenn
Behind the scenes footage shows Fiennes and Crenn in the kitchen. Fiennes elaborated on what he learned from Crenn for The Menu.
"I spent a day and a half with her where she talked more about the demeanor of the chef, the demeanor of the chef in the kitchen," Fiennes said. "I saw Chef's Table about Dominique Crenn and was completely taken with her and her whole vibe and spirit. Then Mark said, 'Oh, she's going to design all the food.'"
Mylod directed Crenn just like he would direct all the actors on Succession or in The Menu.
"We specifically wanted Chef Slowik's creations to have an emotional coldness, to be beautiful but somewhat dead," Mylod said. "That enabled Dominique, in creating the menu, to not create a Dominique Crenn menu but to create a Chef Slowik menu, to play the role."
Crenn confirmed she gave a performance through the food she designed for The Menu.
"All the dishes we are creating has been challenging at times but extremely interesting for me to take me away from what I'm doing every day," Crenn said. "But also to create something I've never created before. So I'm having fun here."
3 other chefs helped Dominique Crenn
Just like a real kitchen, Crenn didn't cook The Menu alone. She brought help with her to the set.
"She brought with her Juan Contreras, her right hand person and head sous chef along with a local brilliant Savannah chef from Georgia, John Benhase, our advisors and key to authenticity," Mylod said. 
Mylod also hired food stylist Kendall Gensler to physically make the menu camera ready. 
"She and her team were extraordinary in actually prepping the food daily that was safe for consumption for everybody, that was delivered at the right time onto set so it was still hot or steaming, or delivering that food in a way that gave us that high end food look," Mylod said. 
Gensler said preparing food for a movie was a little different than a real-life restaurant.
"I not only produce all of the dishes but in this instance, we had to capture Domonique's dishes," Gensler said. "They were submitted to us, but also you have to retrofit them so that they work within the confines of camera, lights, etc."