The Message The Beatles Were Sending on the 'Abbey Road' Album Cover
If you listen to a certain corner of the internet (it began offline long ago, actually), you'll hear some interesting theories about The Beatles. We present a taste of those in the italics below.
There's only one thing you need to know about Paul McCartney: He's dead. In November 1966, he blew his mind out in a car. The following year, his replacement, named William, took over on Sgt. Pepper's. (Billy Shears is just another way of saying, "Billy's here.")
It's obvious. Otherwise, why would Paul wear a black carnation in Magical Mystery Tour while his bandmates wore red ones? And why would he be barefoot on the cover of Abbey Road? That's a clear sign he's dead. (George Harrison is obviously the gravedigger; Ringo is the undertaker.)
We won't even touch the part of Paul holding a cigarette in his right hand on the album cover. Everyone knows he was left-handed, and thus would only hold cigarettes in his left hand.
But in all seriousness, the "Paul is dead" conspiracy theory somehow continues on 50 years later, and the cover of Abbey Road fanned its flames. The Beatles, on the other hand, didn't plan to send any message at all with the cover.
Paul said he went barefoot because he 'didn't feel like wearing shoes'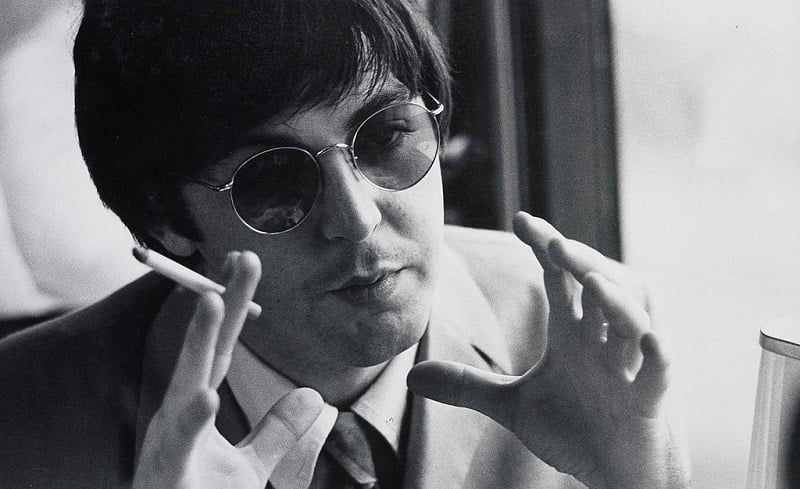 Though caught off-guard at first, Paul was having fun with the conspiracy in a 1974 Rolling Stone interview. "Someone from the office rang me up and said, 'Look, Paul, you're dead. And I said, 'Oh, I don't agree with that.' And they said, 'Look, it's a big thing breaking in America. You're dead.'"
Paul also addressed the theory that his bare feet were a sign. "You know, so what? Barefoot, nice warm day, I didn't feel like wearing shoes. So I went around to the photo session and showed me bare feet." (Photos of Paul in sandals also exist from that same shoot.)
As for the right-hand cigarette hold, you can see from the photo above — taken June 1, 1966 — that Paul held cigarettes in that hand even before the date of his supposed death. Indeed, it's normal for smokers to use a different hand.
To get to the root of these various theories, you have to go to a Detroit WKNR radio station, where a caller turned DJ Russ Gibb onto the conspiracy in October '69. When John Lennon wanted to respond a few weeks later, he called the same station.
John scoffed at the idea his suit was 'religious'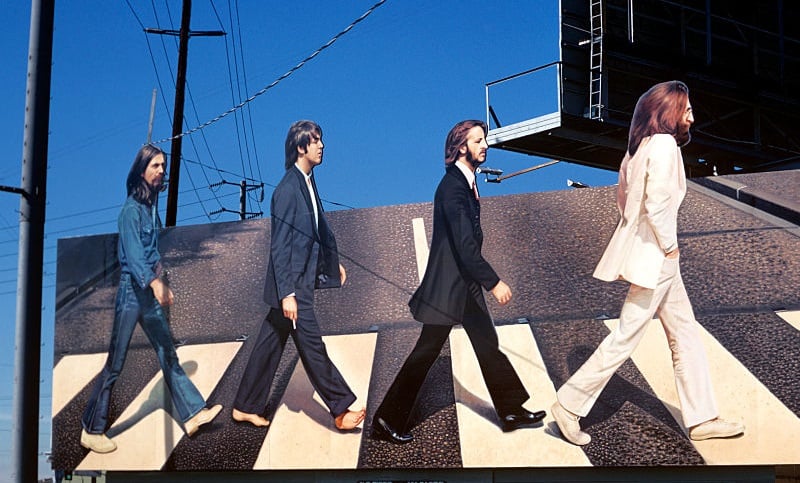 No one could get exasperated quite like John Lennon, and he definitely didn't disappoint on the subject of the Abbey Road cover and Paul's "death." John went straight to the source, calling the Detroit station from whence the theories had come.
"It's the most stupid rumor I've ever heard," John said. In fact, it was so idiotic he thought the folks behind his "bigger than Jesus" controversy were at it again. As for his white "preacher's" suit, John seemed insulted (mostly from a fashion standpoint).
"They said I was wearing a white religious suit. I mean, did Humphrey Bogart wear a white religious suit?" he asked. "All I've got is a nice Humphrey Bogart suit."
But maybe the best theory revolved around the license plate of the Volkswagen Beetle in the background (LMW 28IF). The "28IF" was supposed to represent Paul's age had he lived. There was just one catch: Paul's birthday was in June '42. He wouldn't be 28 until the summer of 1970 — some nine months after the release of Abbey Road.
Also see: The George Harrison Song The Beatles Thought Wasn't Good Enough for 'Sgt. Pepper'