The Monster 'Led Zeppelin IV' Riff That Didn't Come From Jimmy Page
Jimmy Page came up with more classic Led Zeppelin riffs than you can count. But this monster lick from the 4th album came from John Paul Jones.
What was Jimmy Page's finest hour with Led Zeppelin? Whichever way you lean, it's as fun a debate as a classic rock fan can have. Focusing strictly on songwriting and arrangement, tracks like "Kashmir," "Ten Years Gone," and "Achilles Last Stand" would deserve every vote they got.
If you wanted to focus on guitar solos and/or a song's epic sweep, we'd love to see the argument against "Stairway to Heaven," the signature track from Led Zeppelin IV. But we haven't even gotten to a debate about Page's best guitar riffs. That requires a whole separate discussion.
While arguing over that one, you'd undoubtedly see the "Kashmir" (and "Stairway") pop up again. Meanwhile, the utterly menacing "Heartbreaker" and ridiculous groove of "Whole Lotta Love" would rack up tons of votes.
You'd also hear tons of Zep fans going with "Black Dog," the powerhouse opener to IV. However, in a discussion of Page's best riffs, you couldn't vote for "Black Dog." John Paul Jones wrote that one.
John Paul Jones wrote the monumental 'Black Dog' riff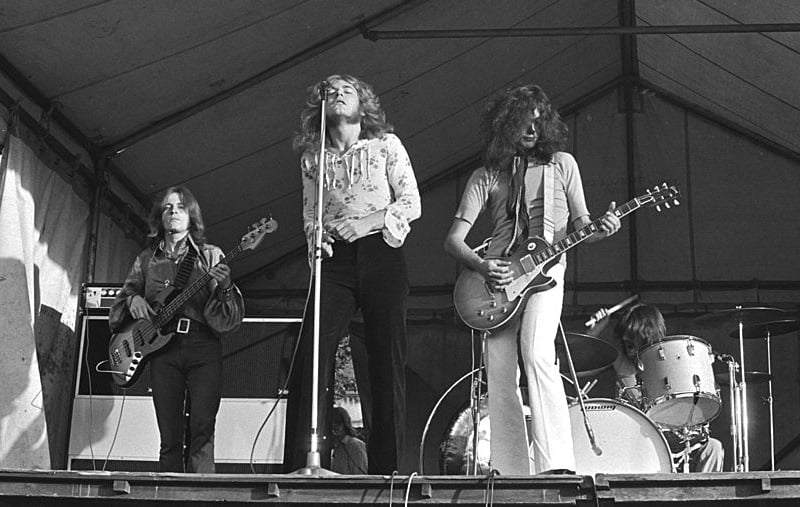 When you check the credits to "Black Dog," you'll see Page, Jones, and Robert Plant all taking a slice. As usual, Plant's contribution came in the lyrics. Page came up with call-and-response section, the bridge, and the other parts.
But the riff belongs to Jones. As he remembers it, he was coming back on a train from a rehearsal at Page's house when he got the idea. Since he wasn't in a studio, Jones pulled out a piece of paper and wrote it down using a simple notation system he learned from his dad.
What makes "Black Dog" so powerful is the circular nature of the riff, and that comes from Jones using multiple time signatures before it's done. If that sounds difficult, it was — even for the first-rate musicians Jones had with him in the studio.
In Led Zeppelin: All the Songs, the authors quote Jones's explanations for the complexity. "I wanted to try an electric blues with a rolling bass part," he said. "But it couldn't be too simple." Tasked with controlling the various times with a drumbeat, John Bonham finally solved the problem by drumming 4/4 all the way.
Jones wrote the riff after hearing a famous Howlin' Wolf song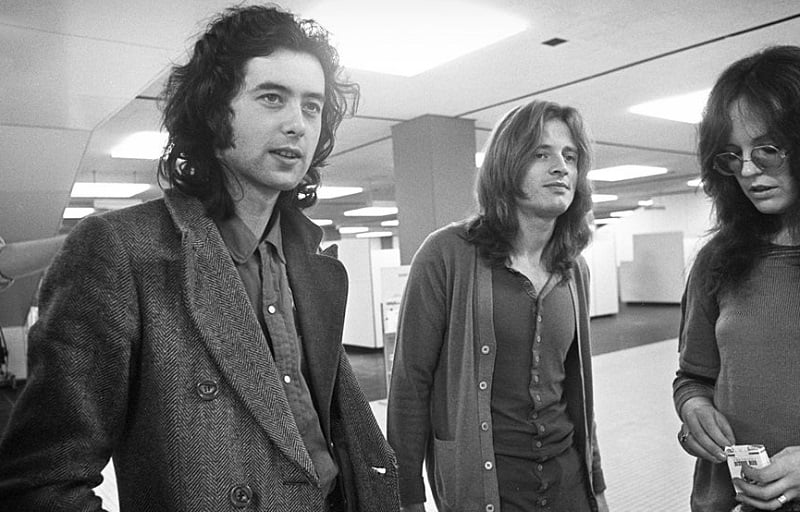 Over the years, Led Zeppelin has been accused of theft (mostly, a lack of attribution) and downright plagiarism. But you'd have a hard time matching the "Black Dog" riff to the song Jones said inspired it circa 1970. They don't sound alike at all.
Jones said Howlin' Wolf's "Smokestack Lightning" made him want a circular riff of his own. (Clearly, he succeeded.) With Page wearing so many hats during the production of Led Zeppelin IV (and most other albums), Jones's contribution was huge.
"We were always trying to encourage him to come up with bits and pieces, so to speak," Page is quoted saying in All the Songs. "Because that's what they usually were — he never came up with a complete song or anything." While that may be so, most fans will take what Jones gave them on "Black Dog."
Also see: What Surprised Mick Jagger About Led Zeppelin's 'Presence' Album