'The Morning Show': Julianna Margulies Says She and Jennifer Aniston Had 'This Is Crazy' Moments on the Set of Season 2
Julianna Margulies' The Morning Show debut is here. She's among the new faces to join season 2. Making her first appearance in the Oct. 1 episode titled "Laura" after her character Laura Peterson, Margulies admits she and co-star Jennifer Aniston shared some 'this is crazy' moments about their careers on set. 
[Spoiler alert: This article contains spoilers from The Morning Show Season 2 Episode 3: "Laura"]
Julianna Margulies and Jennifer Aniston became TV stars in the '90s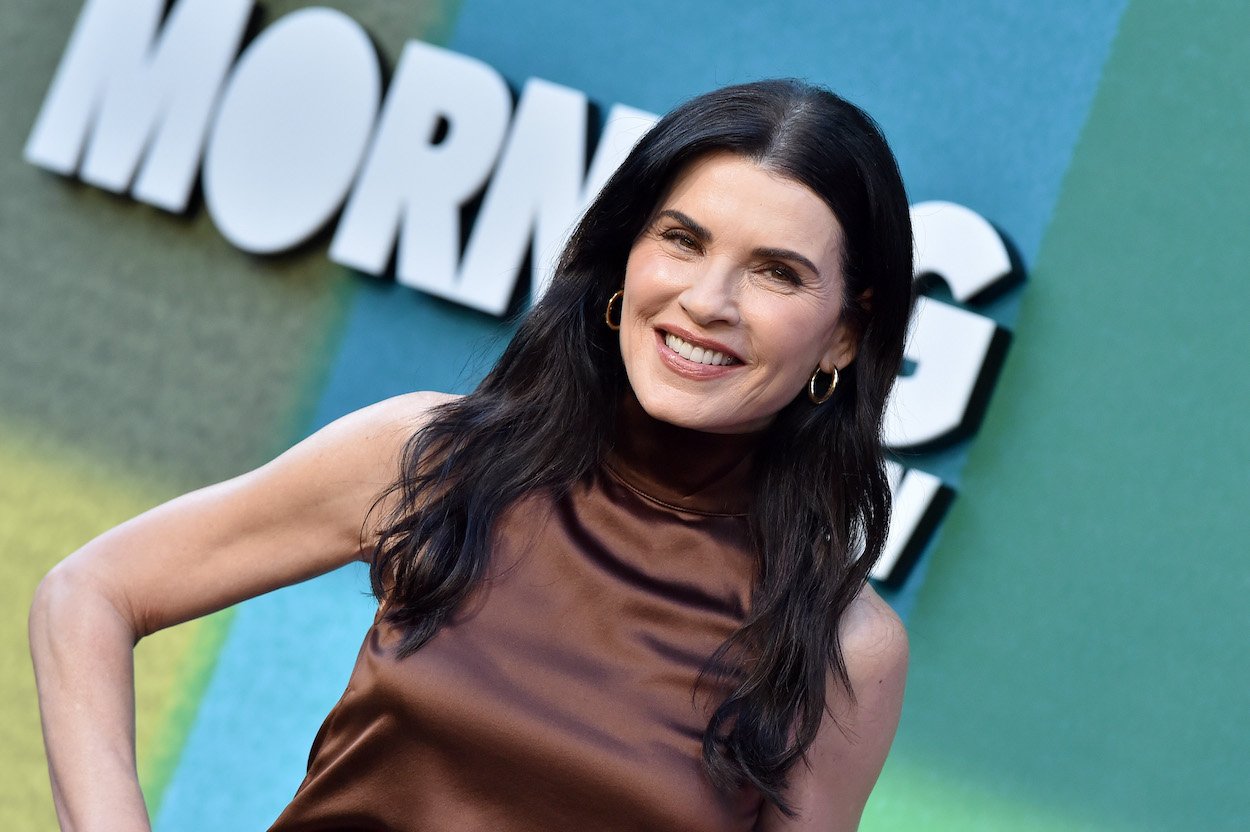 The Morning Show isn't Margulies' or Aniston's first time on the small screen. In fact, far from it. The two actors have TV careers spanning decades. Both rose to fame on hit shows in the '90s. 
Margulies played Carol Hathaway on ER, the hit medical drama from NBC. The now-55-year-old starred on the show from 1994-2000 before returning for one episode in 2009, according to IMDb. As for Aniston, she rose to fame as Rachel Greene on another popular NBC program, Friends. 
Speaking to the Pilot TV podcast in September 2021, Margulies recalled how she and Aniston experienced becoming TV stars together. 
"Jen and I came out [of the gate] on television literally on the same studio lot. We were one airplane hangar away from each other shooting our shows," Margulies said, per Empire. "Same night, Thursday night TV, and we were part of 'Must-see TV', which I guess was the golden age of [network] television – that was, like, the moment."
Julianna Margulies says she and Jennifer Aniston reflected on their careers on the set of 'The Morning Show' Season 2
Speaking about the "resurgence" of TV, The Good Wife alum reflected on how far she and Aniston have come since their days on ER and Friends. 
"We came out of the gate exactly at the same time, with the same amount of viewership. It was crazy, we were getting 40 million viewers a week," she said. "They were the number one sitcom, we were the number one drama, every week, for years."
Now it's 2021 and the two are starring in an Apple original series together, a fact that isn't lost on either of them, according to Margulies. 
"So then to be sitting there interviewing her 20-some odd years later, and both of us going, 'Are you- this is crazy.' If we had looked into a magic ball where we were sitting then, to where we are now? Never in a million years," she said.
Julianna Margulies 'The Morning Show' character interviews Jennifer Aniston's Alex Levy and Reese Witherspoon's Bradley Jackson
So who is Margulies' Morning Show character? Peterson is a star UBA anchor with her own hour-long news program. She's brought in to interview Alex Levy (Aniston) and Bradley Jackson (Reese Witherspoon) ahead of their return as co-anchors.
However, it's clear from the start that Levy doesn't trust Peterson. Aniston's character warns Jackson to choose her words carefully during her own one-on-one interview with Peterson. What unfolds is two very different interviews. Levy gets upset after she's asked about Mitch Kessler (Steve Carell) whereas Jackson's interview is much more friendly. 
Watch The Morning Show Season 2 on Apple TV+. A new episode drops every Friday at 12 a.m. PT, or 3 a.m. ET on Apple's streaming service.