'The Morning Show': Mark Duplass Loves Working With Jennifer Aniston
The Morning Show is back for season 2 and Apple TV+ has already released the first two episodes. Many fan-favorite actors from season 1 have returned to their characters. Mark Duplass plays Chip Black, the former executive producer of UBA's The Morning Show. At the end of season 1, UBA fired Chip. Luckily, Duplass still came back for The Morning Show Season 2. Duplass was happy to return, especially since he got to work with Jennifer Aniston again.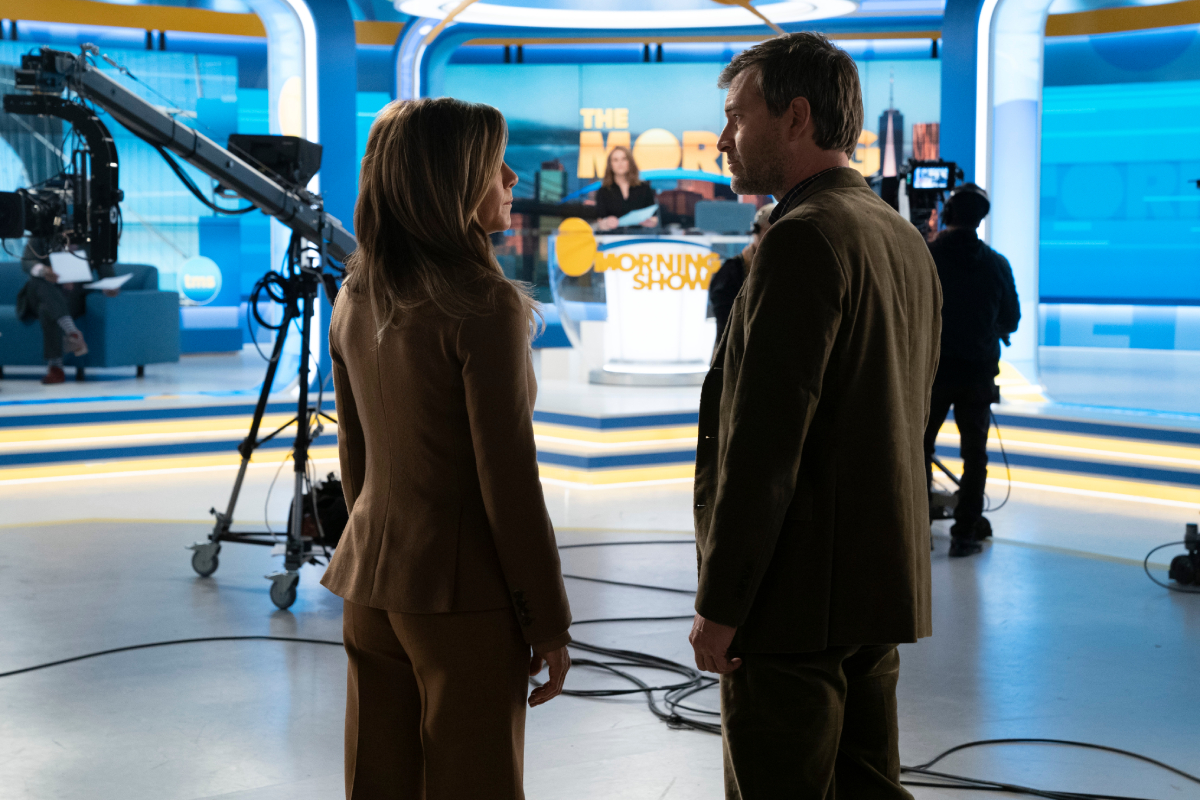 Chip Black was fired in 'The Morning Show' Season 1
Chip is the executive producer of The Morning Show in season 1, and he definitely has a lot on his plate. His relationship with Aniston's character Alex Levy is a complicated one. "There's this intimacy that when you watch the first half of the season, you think, 'Geez, you guys are really sh**ty to each other,'" Duplass told ET. "Toward the back half of the season, I think you can start to see what a beautiful relationship they have."
Unfortunately, that doesn't stop Alex from betraying Chip in the season 1 finale. She makes a deal with Fred Micklen, knowing that Chip getting fired will be collateral damage. When Chip lost his job, Duplass felt a moment of anxiety about whether he would return for The Morning Show Season 2.
"You know I'm an actor and when you see that your character gets fired from their job there's the insecurity that goes, 'Are they trying to get rid of me?' Did I say something bad?'" Duplass told Collider Interviews. But they quickly let me know that there was an agenda for season 2 with Chip. In the most recent episode, Alex asked Chip to return to The Morning Show as her producer.
Mark Duplass loves working with Jennifer Aniston
A large part of the reason Chip and Alex's chemistry works so well on-screen is that Duplass and Aniston really enjoy working together. "I just love her so much," Duplass said of Aniston to Collider Interviews. "I think that part of why the Chip and Alex dynamic is what it is and why they leaned into it so much is because Jenn and I do love working together and we had that chemistry. The writers decided to lean into that for season 2."
It's not clear yet what Chip returning to The Morning Show will mean for him. Alex has shown that she doesn't always have Chip's best interest at heart. Sometimes their relationship is downright toxic. Fortunately Duplass and Aniston's feelings for each other shine through.
"I think the reason why there is a sense of humor, a sense of levity, a sense of love between them is because Jenn and I feel that way about each other," Duplass continued. "If you look at the dynamic between Chip and Alex just on the page, it looks horrible. It looks like they hate each other, but we bring that sense of love because I think it is kind of the way we feel about each other."
Where to watch 'The Morning Show' Season 2
Fans will just have to wait and see to find out what happens next with Chip and Alex. The Morning Show Season 2 is available for streaming on Apple TV+. New episodes are currently being released every Friday. Season 2 will end with 10 episodes in total.
RELATED: 'The Morning Show': Reese Witherspoon and Jennifer Aniston Both Earn More Than $2 Million Per Episode