'The Morning Show' Season 2: Billy Crudup Teases His Character's 'Incredibly Unpleasant' Storyline
Although The Morning Show Season 1 boasted lead stars Jennifer Aniston and Reese Witherspoon, Billy Crudup became the critically acclaimed fan-favorite. Luckily, the 53-year-old actor reprises his role as Cory Ellison in The Morning Show Season 2 cast. However, in a recent interview, the Emmy Award winner teased a rather "unpleasant" storyline for his character in the upcoming season.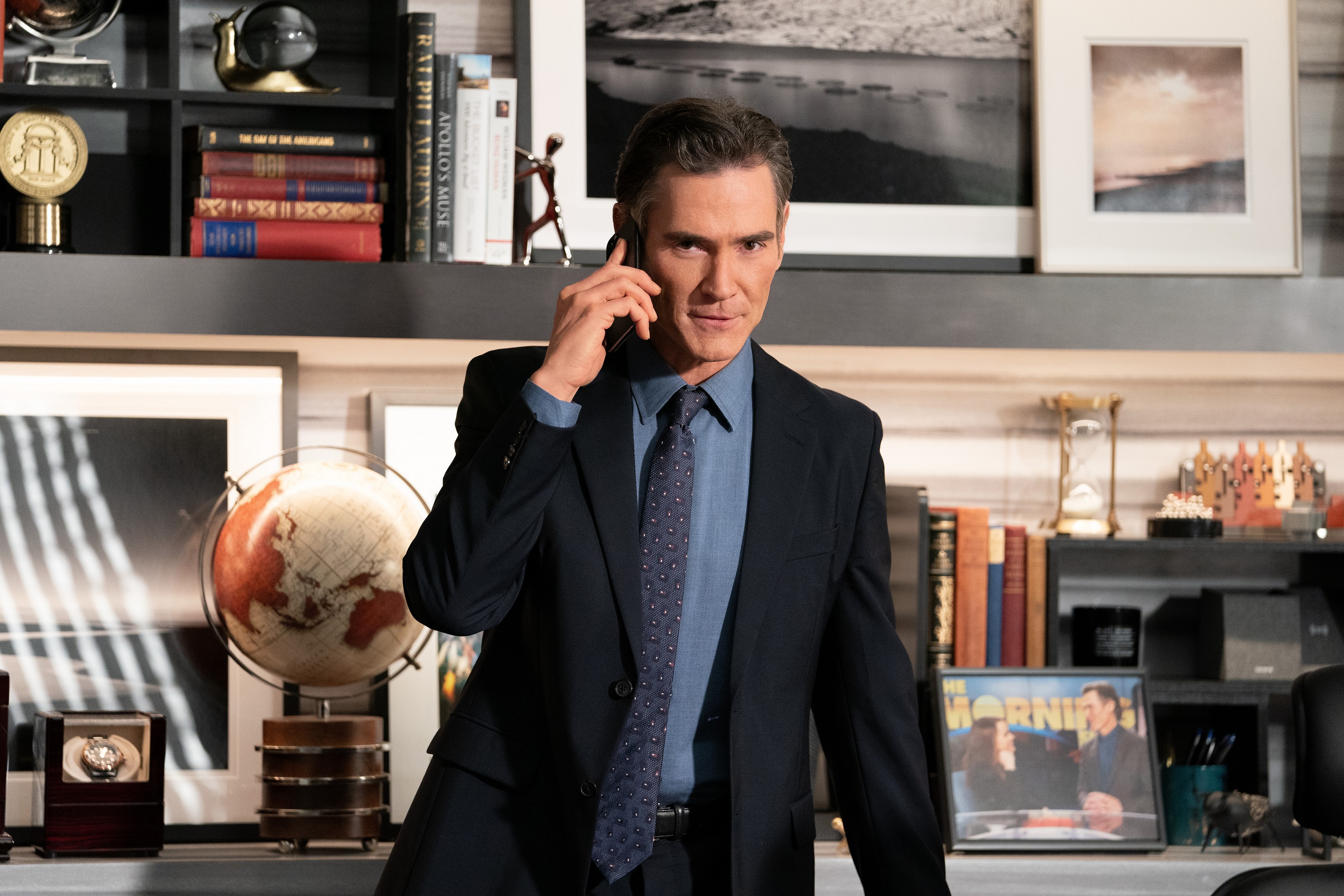 'The Morning Show' Season 1 recap of Billy Crudup's character, Cory Ellison
When viewers first met Cory Ellison in The Morning Show, he was a UBA executive in charge of news operations. He recently transferred from the network's entertainment division, and he's ready to shake things up. Billy Crudup's character in The Morning Show Season 1 was someone that many fans rooted for. He saw potential in Bradley Jackson (Witherspoon) when a video of her news report went viral.
Throughout The Morning Show episodes, Cory was the underdog pushing the unlikely Bradley to become the next great thing. Although he went through some ups and downs, he came out on top. However, it sounds like everything changes for Cory in The Morning Show Season 2.
Billy Crudup talks about Cory Ellison in 'The Morning Show' Season 2
When The Morning Show Season 2 trailer opens, Billy Crudup's character attempts to talk Alex Levy (Jennifer Aniston) into returning. He begs her and insists that the station needs Alex to save the show. Viewers also find out that season 2 tackles the coronavirus (COVID-19) pandemic and racial injustice. However, when Crudup spoke with a reporter from CNN, he admitted that things did not go well for Cory. He noted that things became "incredibly unpleasant" for Cory in season 2.
RELATED: Where Can I Watch 'The Morning Show' Season 2?
"Because he could not manipulate and manhandle a novel coronavirus," Crudup told the outlet. "He did not understand how to completely reverse the legacy of endemic racism in this country. He couldn't conceive of how to institute a world of equitable power-sharing at the drop of a dime."
Billy Crudup and Hasan Minhaj agreed that they loved being a part of season 2
Hasan Minhaj joins Billy Crudup in the cast of The Morning Show on Apple TV+ for season 2. Both actors shared their excitement over season 2 with CNN. Crudup explained to the outlet that he "absolutely loves to be a part of a show that is interested in this kind of discourse."
"And this kind of creative analysis of how people navigate difficult times together in high-pressure jobs so you can make it dramatic," Crudup added. "They are still navigating the same things that everyone else is navigating, and I can't imagine a better iteration of being an actor than getting to do that."
RELATED: Will 'The Morning Show' Be on Netflix, Hulu, or Amazon?
Minhaj shared similar sentiments about the upcoming season.
"I love that they integrated that," Minhag told CNN. "As the United States was going through and continues to go through a racial reckoning, one of the things I loved that was being addressed through the show is who gets a seat at the table and why. And I loved that they showed, really in quite great detail, how when new voices enter the fray, how that pushes against the hegemony and people don't like that."
Billy Crudup and Hasan Minhaj's characters debut The Morning Show Season 2 on Apple TV+ on Sept. 17, 2021.