'The Morning Show' Season 2 Episode 1 Recap — Changes Are on the Horizon for Alex Levy and Bradley Jackson in 'My Least Favorite Year'
Fans were left wondering about the fate of the network after The Morning Show Season 1 ended on a cliff-hanger but the wait is over. The Morning Show Season 2 of the Apple original series is officially here. Jennifer Aniston and Reese Witherspoon have already shared where Alexy Levy and Bradley Jackson are at the start of season 2 but the premiere episode has them wrapping up 2019 and preparing for changes in the new year. Without further ado, here's a recap of The Morning Show Season 2 Episode 1: "My Least Favorite Year." 
[Spoiler alert: This article contains spoilers from The Morning Show Season 2 Episode 1: "My Least Favorite Year"]
'The Morning Show' Season 2 Episode 1: Bradley Jackson wants to be on the evening news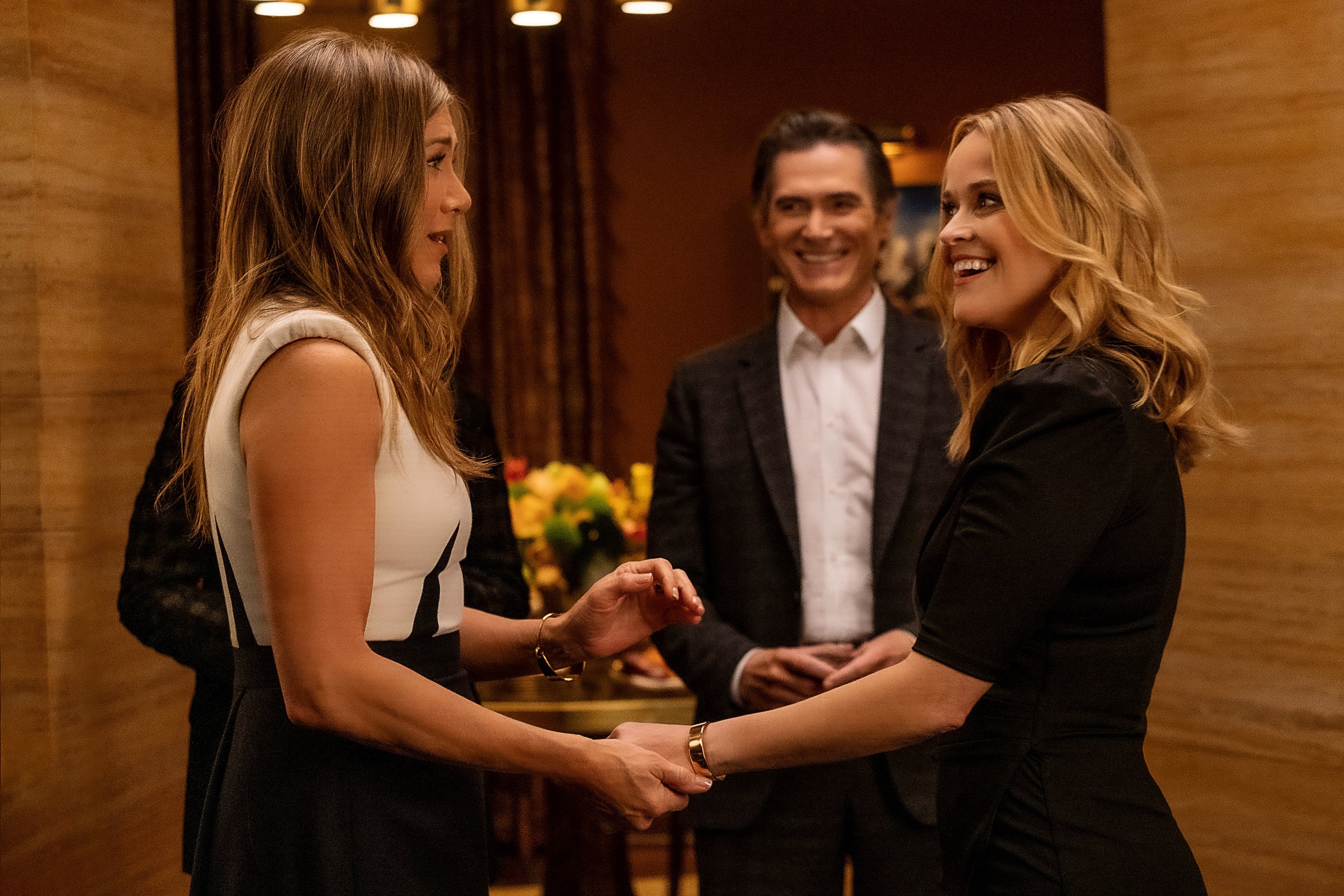 Things have changed for Alex since the events of the season 1 finale. As a result, she finds herself singing and dancing to promote the network's New Year's Eve broadcast. But who is dancing with her? Her co-host is a new addition to the season 2 cast, Eric Nomani, as played by Hasan Minhaj. 
As the episode continues, Bradley learns there's a sudden opening on the evening news desk and she wants the job. So she goes to Cory Ellison (Billy Crudup) to express her interest. However, he's not receptive to the idea. Unbeknownst to Bradley, Cory has plans to give the job to Eric. Meaning Bradley will be without a co-host and who does Cory want to fill the spot? None other than Alex. 
Fast-forward to New Year's Eve and Bradley's standing in Times Square when she learns Eric's leaving the show for the evening news. It's at that moment she realizes Cory hasn't been honest with her. So she confronts him and the two argue just before the ball drops. 
Alex Levy begins season 2 writing a book in Maine
Where is Alex while all of this is happening? Living in a secluded, sprawling home in Maine with her dog writing a memoir. When she's not sitting in front of her laptop she's chopping firewood. 
However, her isolated existence hits a snag when she sends a copy of her memoir to her editor. Their reaction isn't great. Alex is told to write her own "narrative" about Mitch Kessler, as played by Steve Carell, who earned about $1 million for season 1. 
Then Alex gets a surprise visit from Cory. He asks her to come back to the show and she refuses. 
Cory Ellison convinces Alex Levy to return in 'The Morning Show' Season 2 premiere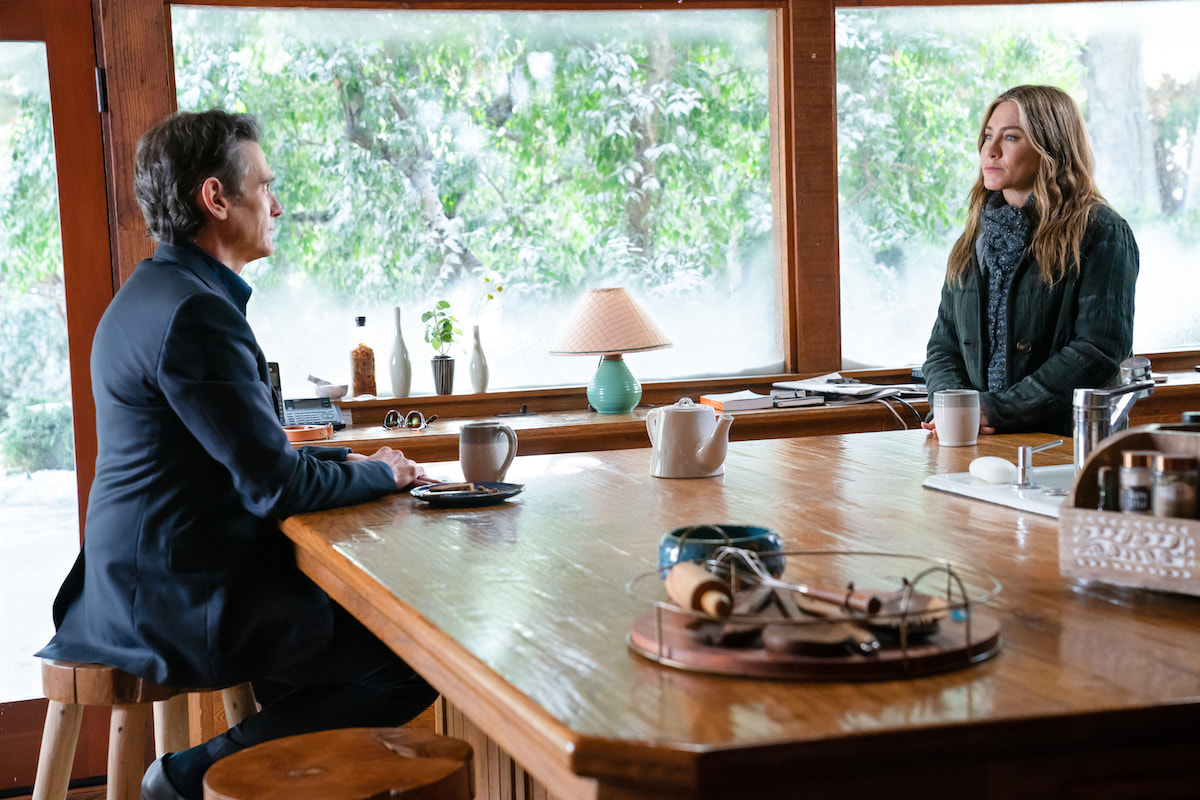 On New Year's Eve Cory makes one final effort to get Alex back on the show. While she's at a New Year's Eve party getting a tarot reading Cory leaves her one pleading voicemail. He tells Alex that she has yet to do her best work before asking her to call him within the next hour. 
As Alex is leaving the party she listens to Cory's message and returns his call. With tears in her eyes, she listens as Cory suggests she fill in as Bradley's co-host until she begins hosting her own primetime show. As the new year gets closer, Alex asks Cory one question: Can she trust him? He says yes, the clock strikes midnight, and moments later, Cory sees that Hannah Shoenfeld's (GuGu Mbatha-Raw) family is filing a wrongful death suit against the network after the #MeToo movement events in season 1.
Meanwhile, things haven't stayed the same with everyone else. Season 2 finds Claire Conway (Bel Powley) not at the network but off studying for her GRE. There's also a baby on the way for a staffer and a New Year's Eve proposal for Chip Black (Mark Duplass). 

Watch The Morning Show Season 2 on AppleTV+. A new episode drops every Friday at 12 a.m. PT, or 3 a.m. ET, on Apple's streaming service.