'The Morning Show' Season 2 Episode 10 Recap: 'Fever'
A recap of The Morning Show Season 2 finale is here. In the latest episode of the AppleTV+ original series, The Morning Show Season 2 Episode 10: "Fever," Alex Levy (Jennifer Aniston) is home with coronavirus (COVID-19). Meanwhile, Bradley Jackson's searching for her brother as everything at TMS continues to change.
[Spoiler alert: This article contains spoilers from The Morning Show Season 2 Episode 10: "Fever"]
'The Morning Show' recap: Chip Black produces a show about Alex having COVID-19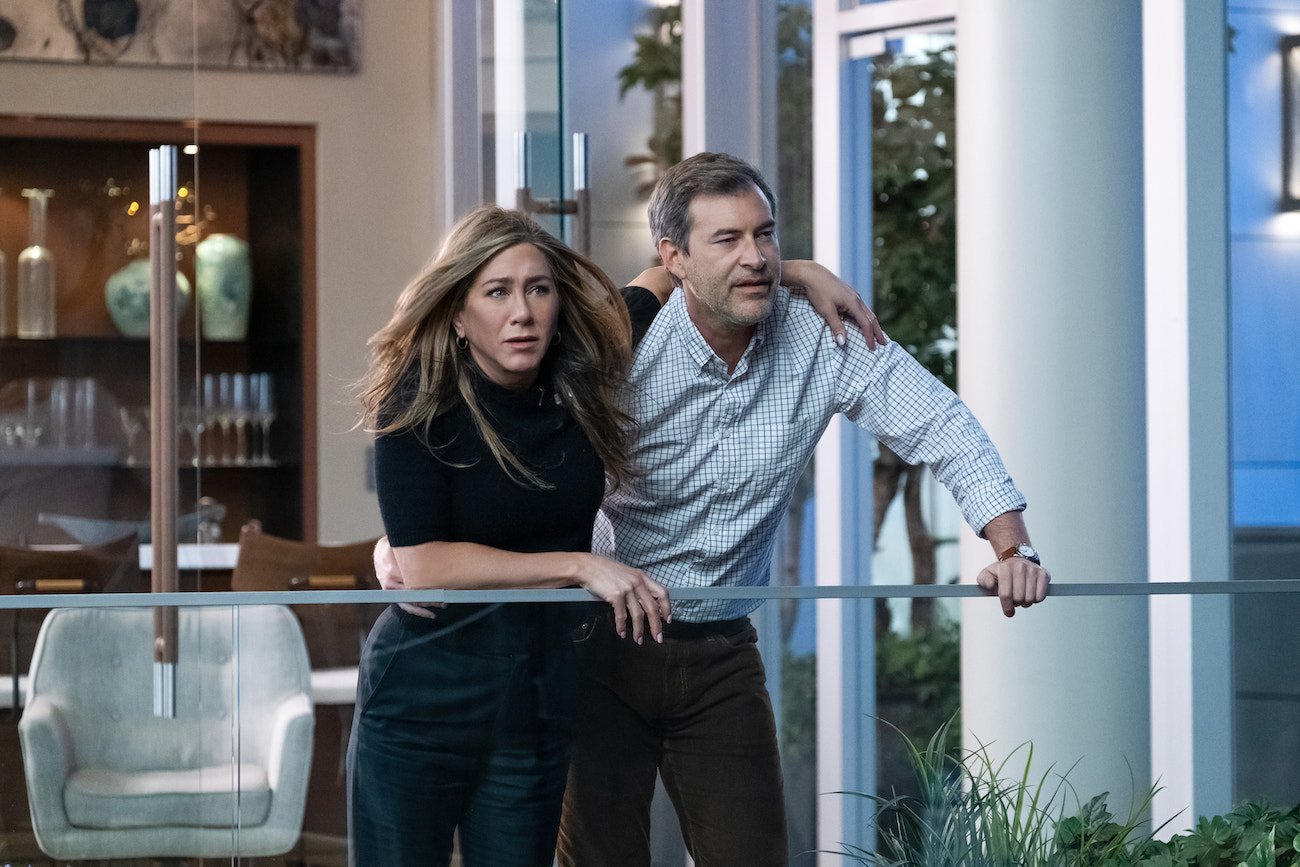 Alex has tested positive for COVID-19. Now what? Everyone at TMS is asking themselves the same question when Chip Black (Mark Duplass) pitches an idea to Cory Ellison (Billy Crudup).
Chip wants to make a show about Alex having COVID-19. Initially unsure about the idea, Cory eventually agrees to it. But there's a catch. It's going on UBA+, the network's new streaming service.
So Chip heads to Alex's apartment. He goes inside and when she tells him he shouldn't have come, the executive producer tells her he's also tested positive for COVID-19.
While Alex feels like she's "cooking from the inside out," she and Chip do the broadcast. Not sure if she can do it, Alex forges ahead. Along the way she gets candid, talking about COVID-19, Mitch Kessler (Steve Carell), and Maggie Brenner's (Marcia Gay Harden) tell-all.
The catch? Chip hasn't actually tested positive. He lied to Alex. To make the situation even more complicated, Alex shares that information with viewers. Almost immediately Chip gets a phone call from his wife-to-be, Madeliene (Katie Aselton), which he ignores.
Cory Ellison confesses to Bradley Jackson
Finally, Cory's honest with Bradley. But it's not about what The Morning Show viewers might think. Instead of coming clean about leaking Bradley's relationship with Laura Peterson (Julianna Margulies), he professes his feelings for her.
While walking around New York City asking people if they've seen Bradley's brother, Hal (Joe Tippett), Cory says he loves her. In the next moment, Bradley gets a phone call. She gets a tip from a nurse that Hal is in the emergency room. So she and Cory go to the hospital and Bradley reunites with her brother.
The future of TMS is more uncertain than ever as COVID-19 surges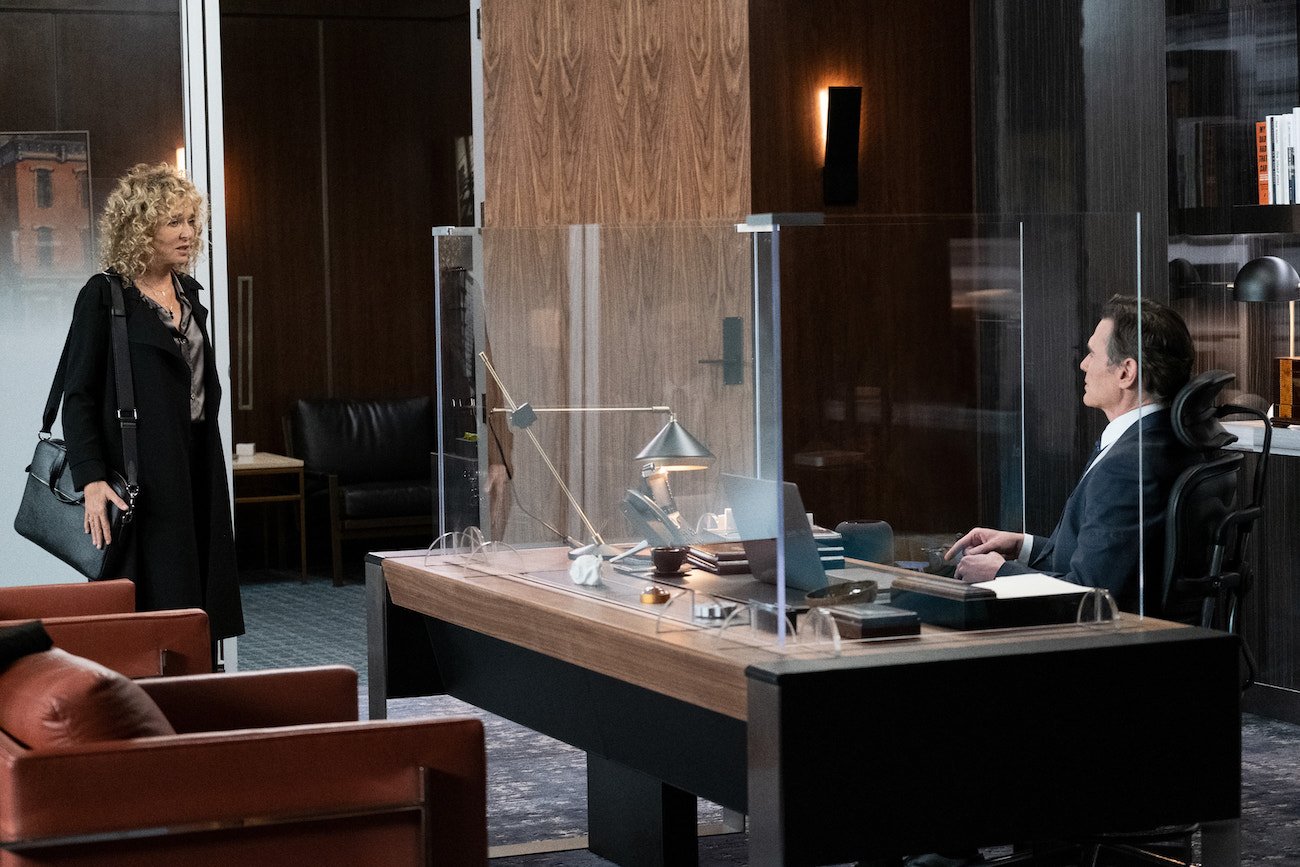 In the Morning Show episode that began airing on Nov. 19, 2021, according to Apple TV, TMS is a disaster. Alex testing positive for COVID-19 means Stella Bak (Greta Lee) and Mia Jordan (Karen Pittman) have to send everyone home. 
When Stella asks Daniel Henderson (Desean Terry) to take Alex's anchor spot he declines. Just as he's heading home Stella reminds him he's under contract. Done with being overlooked, Daniel quits.
In the midst of it all, another issue comes up for Cory. He has a brief meeting with Paola Lambruschini (Valeria Golino), the documentary filmmaker who knew Mitch in the final days of his life. Paola shows Cory Mitch's interview, where he talks about Hannah Shoenfeld (Gugu Mbatha-Raw). 
Watch The Morning Show Season 2 on AppleTV+ while season 3 remains a possibility.
RELATED: 'The Morning Show': Season 2 Bradley Jackson Is a 'Brat,' According to Reese Witherspoon