'The Morning Show' Season 2 Episode 7 Recap: 'La Amara Vita'
Another week, another Morning Show episode recap. The Morning Show Season 2 Episode 7: "La Amara Vita," lets viewers in on Alex Levy's (Jennifer Aniston) whereabouts. As fans of the AppleTV+ original series might recall, the previous Oct. 22 episode didn't feature the character at all. Now viewers know why. While Bradley Jackson (Reese Witherspoon) and Julianna Margulies' Laura Peterson host TMS Alex has been visiting someone from her past. 
[Spoiler alert: This article contains spoilers from The Morning Show Season 2 Episode 7: "La Amara Vita"]
'The Morning Show' episode recap: Alex makes a surprise visit to Mitch 
Alex is the focus of the Oct. 29 episode of The Morning Show. It begins with her standing outside of a sprawling mansion. Where is she but none other than the home of her former co-host, Mitch Kessler (Steve Carell). Meaning Alex traveled from the U.S. all the way to Italy while coronavirus (COVID-19) continues to spread. On top of that, Mitch is still quarantining with Paola Lambruschini (Valeria Golino). 
Alex's reason for the trip? To find closure, according to Apple TV, involving journalist Maggie Brenner's (Marcia Gay Harden) forthcoming tell-all. Following her conversation with Maggie in Las Vegas, Nevada, she asks Mitch to deny that they ever had sex. Spoiler alert: That's a lie. Standing in Mitch's Italian villa it becomes clear their relationship has, at least in the past, extended well beyond being co-workers. So Alex asks Mitch to release a statement saying they were never romantically involved. 
Once Mitch agrees Alex heads to the airport. But she ends up sleeping in her car and, thanks to Italy's lockdown, winds up back at Mitch's house. The two drink, dance, argue, and cry until Alex has to leave. One of the most memorable moments? When Mitch says he doesn't want Alex to think he's evil.
Mitch's relationship with Paola changes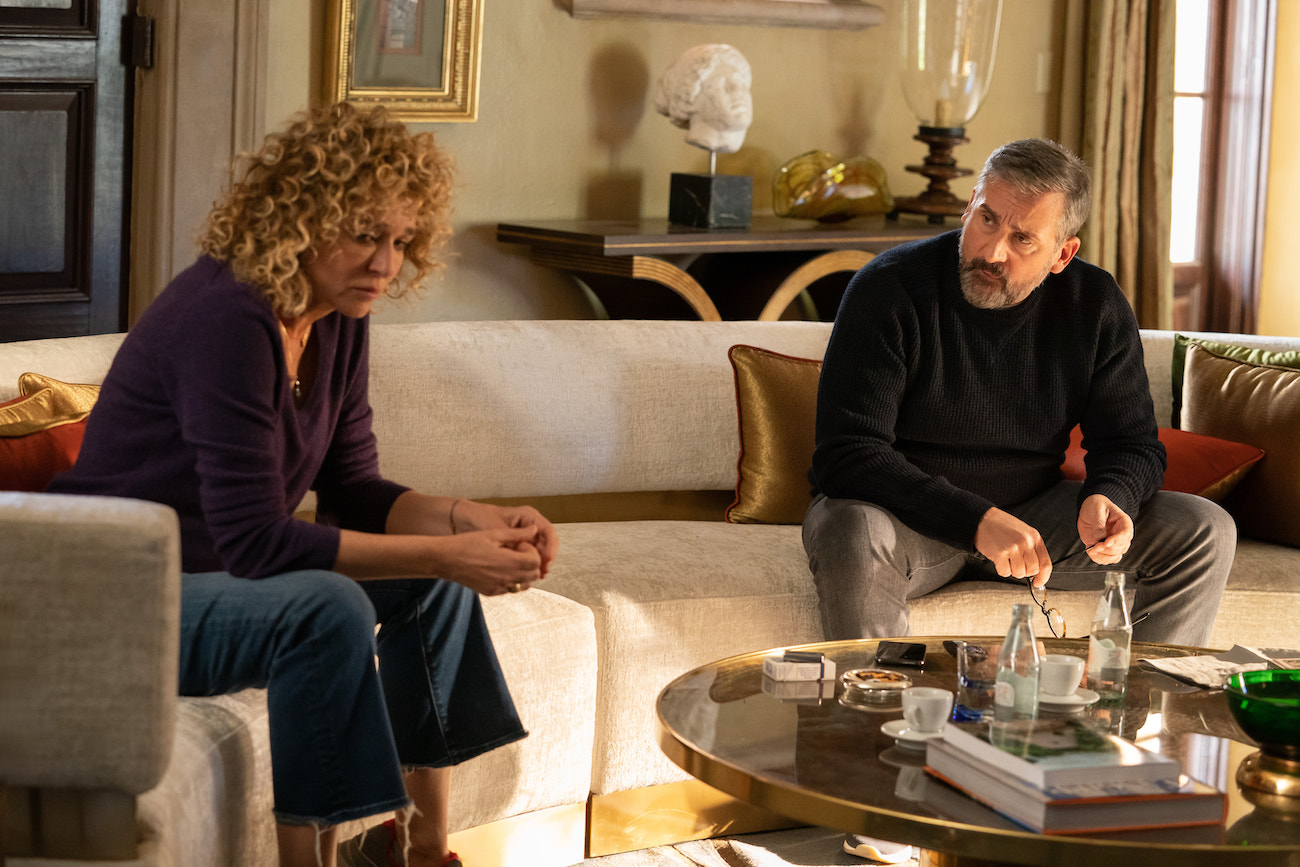 After spending two weeks together Mitch and Paola's relationship shifts. Once hesitant to get romantic with his Italian friend — remember that awkward moment with the kiss on the cheek? — Mitch finally embraces the fact that he likes Paola. 
After Paola leaves Mitch's house when Alex shows up, the disgraced morning show anchor goes to her house. They share a kiss which leads to more. Meanwhile, the two have continued to work on Paola's documentary after the professor they interviewed died of COVID-19.
Mitch's future is uncertain as Alex heads back to New York City
Just before Alex leaves to go back to New York she and Mitch hear about an excerpt from Maggie's book. They turn on the TV to see that Maggie claims Mitch targeted Black women during his days at TMS. After sharing a tense moment they each hop in their cars and go their separate ways. Mitch went to Paola's house and Alex to the airport. But as Alex makes her journey stateside something happens to Mitch. On his way home from Paola's his car goes off the road. And, as it happens, the moments he spent with Alex flash before his eyes. 
Watch The Morning Show Season 2 on AppleTV+. A new episode is released every Friday at 12 a.m. PT, or 3 a.m. ET, on Apple's streaming platform.