'The Morning Show' Season 2 Episode 9 Recap: 'Testimony'
Here's another Morning Show episode recap. In The Morning Show Season 2 Episode 9: "Testimony," Alex Levy (Jennifer Aniston), Bradley Jackson (Reese Witherspoon), and everyone else at TMS prepares for the release of the much-talked-about tell-all. It comes after confirmation of Mitch Kessler's (Steve Carell) death in the Nov. 5 episode of the AppleTV+ original series. Meanwhile, coronavirus (COVID-19) brings changes. 
[Spoiler alert: This article contains spoilers from The Morning Show Season 2 Episode 9: "Testimony"]
'The Morning Show' recap: Alex Levy decides to leave TMS because she expects to be canceled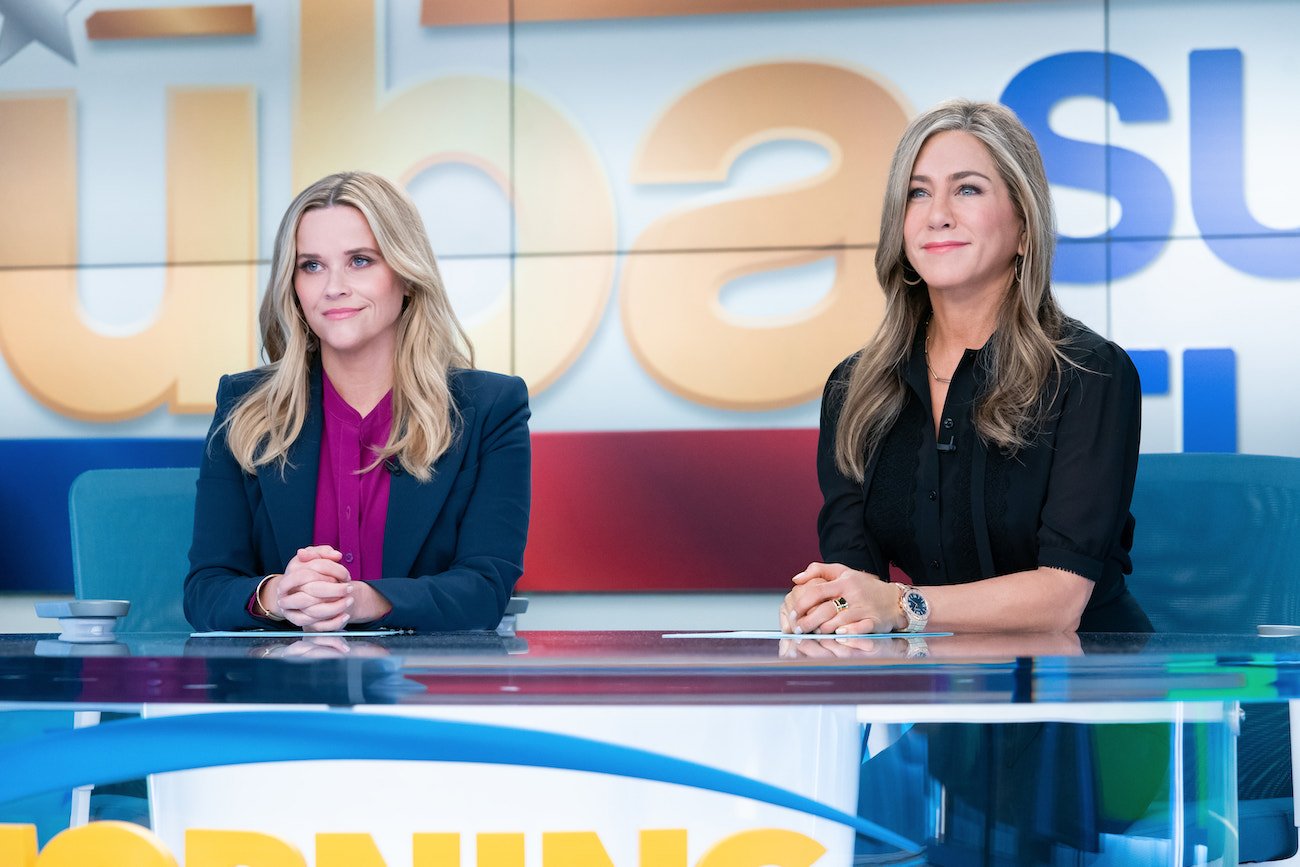 Alex is finally back in the studio after going to Italy to see Mitch the day he died. But she doesn't plan on staying long. The co-anchor expects to be cast out of her successful job hosting morning television the moment Maggie Brenner's tell-all is published. Why? Because among the shocking revelations in its pages are details about her and Mitch having sex. 
In the latest episode that began streaming on Nov. 12, 2021, according to AppleTV+, Alex tells Cory Ellison (Billy Crudup) and Stella Bak (Greta Lee) she will return the hefty sum the network gave her to come back to the show. Ultimately, she felt her return to TMS was a mistake. Insisting her mind's made up, Alex says she'll host the show a few more times before signing off the day before Maggie's book is published.
Bradley Jackson defends her co-anchor in an interview with Maggie Brenner
Bradley gets the opportunity to do what she wants, more hard-hitting news, when she's tasked with interviewing Brenner. She sits down with the author and, much to the surprise of Alex and Laura Peterson (Julianna Margulies), she defends her co-anchor. 
Bradley grills Maggie on the details in the book. If the book's about everything that Mitch did why is Alex on the cover? When Maggie reveals she refused Alex's plea to leave out the fact that she and Mitch and sex, Bradley says she wrote a book about the "old" Alex, the one who had sex with Mitch twice 10 years ago. While the interview airs Alex checks Twitter. People are rallying around her and gone are her fears about being canceled. 
Alex Levy is hospitalized, tests positive for coronavirus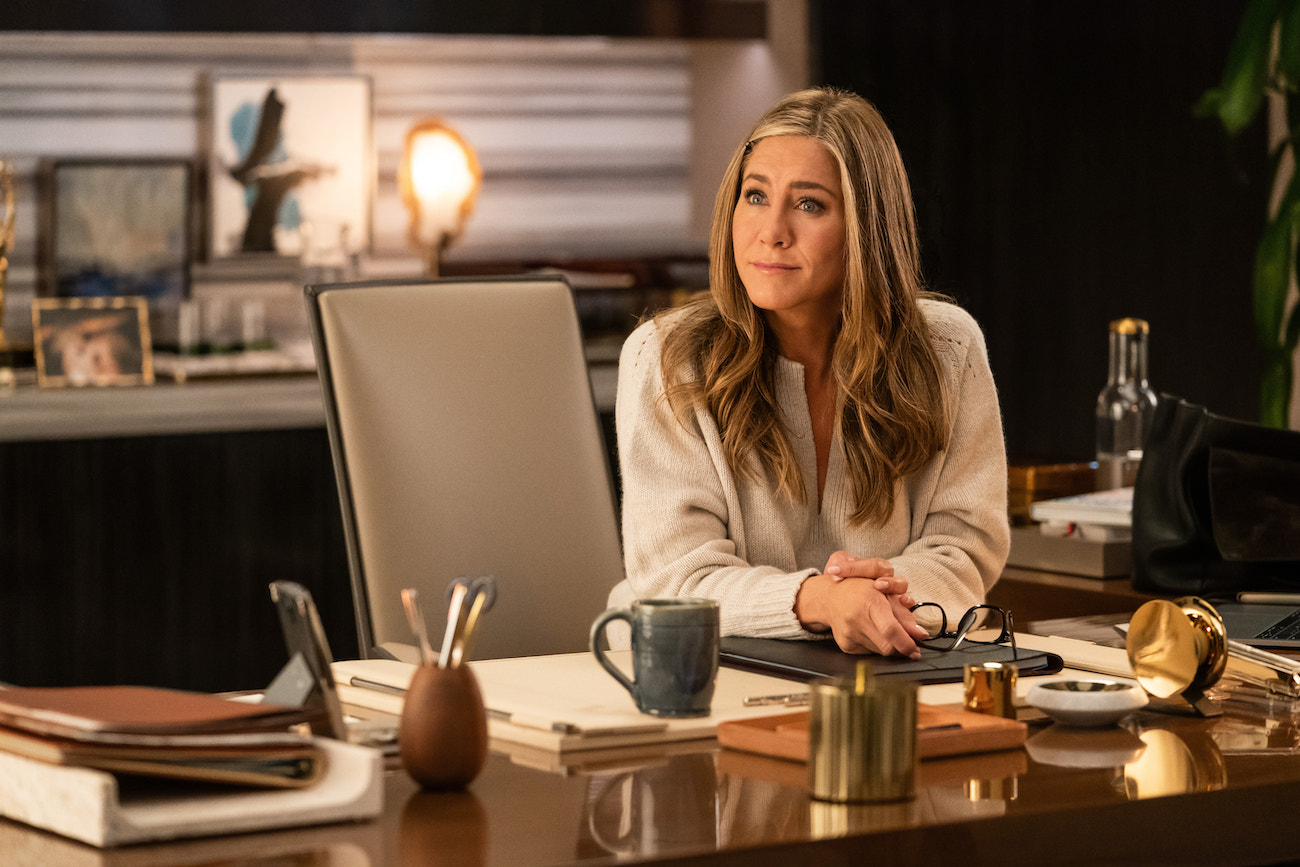 The relief Alex feels about Bradley's interview with Maggie doesn't last long. Videos of her speaking at Mitch's memorial are circulating online. Now the world knows she saw Mitch before his death. So maybe their relationship wasn't a thing of the past? Not only that but people are criticizing Alex for traveling to Italy in the midst of COVID-19. Taken aback by the development, Alex is stumbling around at home in the dark. She trips over her high heels and falls.
Next thing she knows Alex is waking up alone in a hospital. Confused and scared, she answers her phone to discover she's sustained a mild concussion from her fall. But, more importantly, she's tested positive for COVID-19. 
A few more moments to note from The Morning Show Season 2 Episode 9: Yanko Flores (Nestor Carbonell) doesn't have to wonder where Claire Conway (Bel Powley) is because he randomly crosses paths with her. Bradley takes her brother to rehab and, after an argument, gets an envelope of cash that could spell trouble. 
Watch The Morning Show Season 2 on AppleTV+. A new episode is released every Friday at 12 a.m. PT, or 3 a.m. ET, on Apple's streaming platform.