The Most Alarming Difference Between Kim K and Kylie Jenner's Parenting, According to Fans
Anyone with even a passing knowledge of the Kardashians and Jenners knows the children grew up in the spotlight. The youngest, Kylie Jenner, wasn't even a teenager when Keeping Up With the Kardashians first aired in 2007. Kim Kardashian was 27 at the time, and had already been in the spotlight thanks to her famous father, Robert Kardashian. Now the two, along with several of their siblings, are raising a whole new generation of rich and famous children, and some fans think Kim Kardashian is doing it better.
Kim Kardashian got a new view on priorities after her Paris attack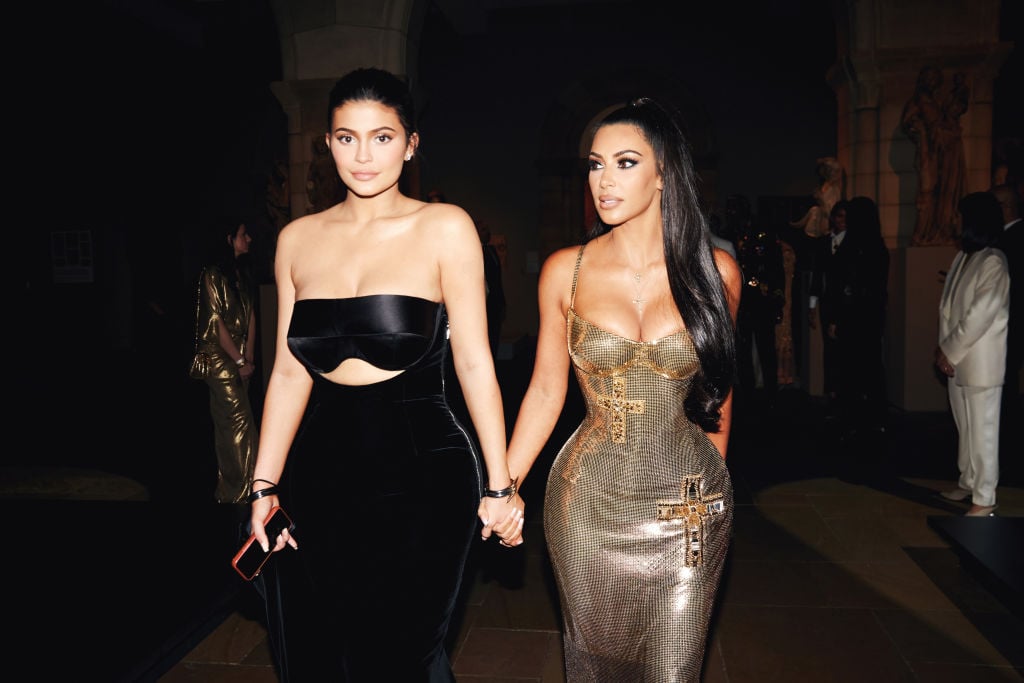 One thing can be said for both sisters — they live a life of privilege and excess. It seems they have no desire to have it any other way for their children. From extravagant birthday parties to lavish vacations, these children will probably grow up with an uncommon understanding of "normal." Kardashian, however, may have a different perspective on all this material wealth than her little sister, thanks to one traumatic experience that changed how she views the world.
In 2016, while on vacation in Paris, France, Kardashian was robbed at gunpoint at her hotel. Kardashian reflected on the experience in her appearance on Ellen saying: "Not that there's anything bad with having things and working hard to get those things and I'm really proud of everyone around me that's successful, but I'm so happy that my kids get this 'me' and that this is who I am raising my kids because I just don't care about those things anymore. I really don't."
Kendall Jenner once ranked her siblings' parenting
Kendall Jenner, the second youngest of the family doesn't have any children of her own yet, but was put in an odd position when on the Late Late Show with James Corden: She had to drink 1,000-year-old egg nog or rank her siblings as parents.
The young model ended up choosing the latter. She said that all her siblings are amazing parents but ranked them: Rob, Khloé, Kim, Kylie, Kourtney.
The move was not well received, especially by Kourtney Kardashian. Kim Kardashian was the one to speak out, saying Kendall Jenner should have "drank or eaten a tarantula, whatever she had to do."
Some fans think Kim K is a better mom than Kylie Jenner
In a recent discussion on KUWTK subreddit, fans of the show discussed whether the Kardashian-Jenner moms would soon start competing with their daughters. During the discussion, some strong opinions came out about the women's respective parenting styles.
"Kim's a better mom than [Kylie and Khloé]. The other two use their daughters as accessories for Instagram," one user wrote.
Another user commented, "I get the vibe that Kim doesn't view her kids as accessories or things to dress up and take photos of and then hand them off to the nanny. She seems like a great hands-on mom to her kids despite having nannies unlike Kylie."
Kylie Jenner knows that Stormi doesn't have a normal life
"Hands-on" is a phrase often used when talking about celebrity parents. Observers from the outside often wonder if celebrity parents truly spend time with their children, or leave the parenting to paid help.
Jenner herself used the term to describe her own parents: "I think about [my parents] in situations with Stormi, what they would do. They were very hands-on with me, and I want the same for Stormi."
She has also said: "Sometimes I take some time off, let the nannies take days off, and hang out at home with Stormi."
Jenner, to her credit, is aware that their lifestyle is beyond the average. She has said that although Stormi is little, she reminds her "how blessed we are and that this isn't normal, the way we live."
Whether Jenner or Kardashian is the better parent will really never be known to fans, it's best to hope all of the kids involved end up happy, healthy, and with a little humility.