The Most Embarrassing Thing Mick Jagger Ever Recorded
When you're a rock star whose recording career goes back over 50 years, you're going to have some duds along the way. Take Paul McCartney, who'd had such a triumphant run with The Beatles in the '60s. When he went solo in 1970, his records didn't exactly knock everyone out.
In fact, McCartney's early albums with Wings really brought the knives out, with one critic describing his tunes as "third-rate suburban pop." Though he may have brushed off the reviews at the time, he definitely heard them.
We're not sure what (if anything) Mick Jagger does with criticism. You could argue that Mick feeds off it. He certainly didn't seem to care what anyone thought filming the video for SuperHeavy's "Miracle Worker."
Ah, but this is Mick Jagger in his 60s, you'd reasonably point out. In his peak Rolling Stones years, he'd never do anything like this. But with Mick, there never was such a thing as "a thing he'd never do."
He proved that with the video for "Dancing in the Street," his 1985 duet with David Bowie. While you might take issue with the song the pair chose to cover — and its execution — nothing prepares you for the video. It's in the annals of all-time embarrassing moments for rock royalty.
Jagger's 'Dancing in the Street' performance is historic on several levels.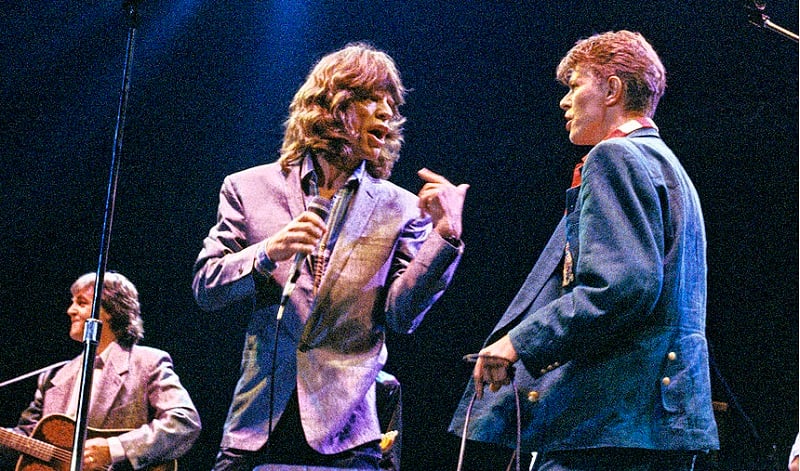 When the 1985 Live Aid was approaching, Mick and Bowie decided they would cover "Dancing in the Street," the 1964 classic recorded by Martha and the Vandellas. They also thought they would shoot a video for the occasion.
Being a charity event, the pair wasn't going to spend too much time on the track, but (according to Bowie Songs) they barely put in a half-day's work on the vocals for "Dancing." A producer at a later session summed up his reaction after hearing the horns (Mick's idea): "fu*king awful, like a cabaret band."
But a horrendous cover by fading rock stars was only one part; the video was something else entirely. This part of the affair also received the quickie treatment. But you probably picked that up by the abandoned warehouse set and opening shot of Mick's little feet hopping around in white sneakers.
It gets worse from there. Mick's flowing green shirt, baggy pants, and bulging eyes don't look any better when the aging Stone starts his dances. Bowie's flying entrance adds some comic relief, but things deteriorate quickly. At one point, we watch Mick sip from a soda can while Bowie takes a verse.
Of course, there's a lot of screaming/singing into each other's faces in a spot that looks like a place hitmen drop off bodies for processing. (These are "the streets" Martha and the Vandellas sang of?)
Just when you think the worst is over, the two synchronize their butt-wagging for the video's final moments. Discussing the video in a great Family Guy bit, Peter Griffin spoke for many when he said, "That happened, and we all let it happen."
It topped Mick's wiggle/hop combo in a Peter Tosh video.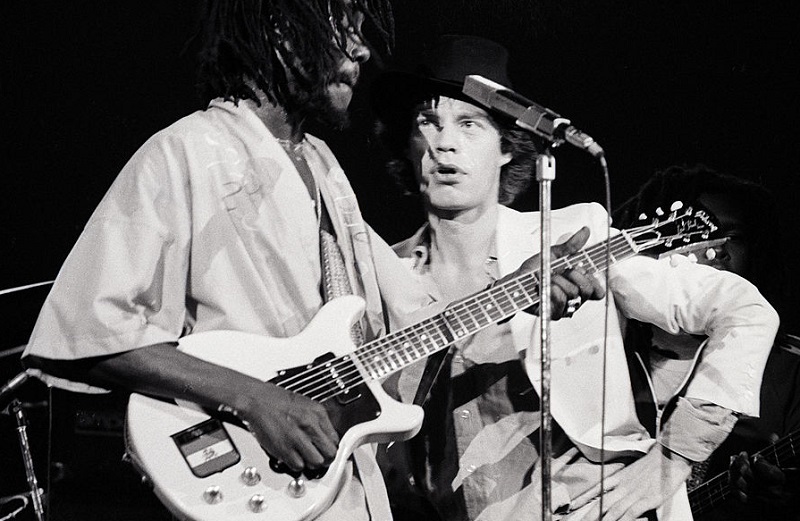 By 1985, fans were very familiar with Mick's antics, even if they hadn't seen them taken to such ridiculous levels. In the late '70s, a collaboration with reggae legend (and former Wailer) Peter Tosh set the bar fairly high (or low, depending) for Mick.
You get an idea of what we mean in the "Walk and Don't Look Back" video. While it starts out as a signature track by the great Tosh, things immediately get weird when we get a shot of Mick from behind.
By the middle of the tune, Mick gets way too close to Tosh as he searches for new ways to use his hips. Even as the keyboard player seems entertained, this video became a study in "which one of these things doesn't belong?" long before.
As we learned a few years later, Mick had not yet reached bottom.
Check out The Cheat Sheet on Facebook!