The Most Expensive 'Star Wars' Memorabilia Sold For Nearly $3 Million
No doubt every Star Wars fan wishes they hung on to the ten tons of merchandise they likely had when kids. So much of merch from the original trilogy days are worth a fortune, depending on how rare they are. Many action figures in pristine quality generally bring thousands of dollars from those astute enough to realize they stowed away some of those toys in safe places.
Don't think action figures are the only things going for big money in the Star Wars marketplace. Many other rare items are still being sold into the seven figures.
One such item went for almost $3 million a couple of years ago. However, because it was something from the original trilogy set, it's all the more set aside from the usual. Not that the kids of those who worked on the original films aren't probably looking in their attics.
What are the most valuable 'Star Wars' items on the lower end?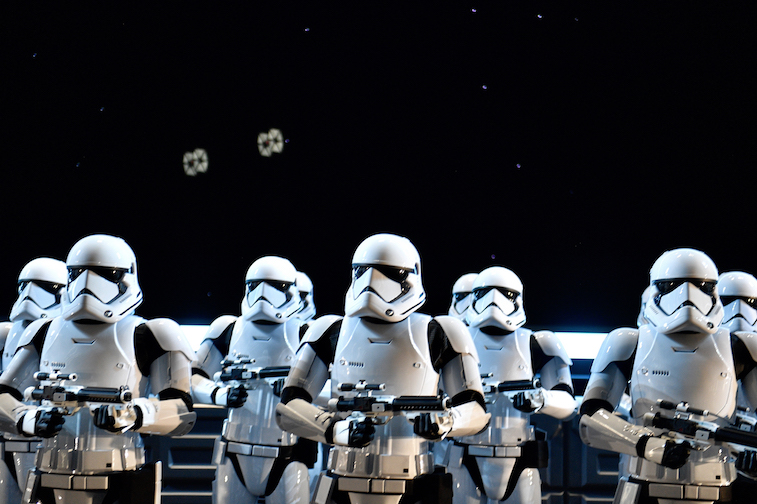 Many smaller items from the mammoth list of Star Wars merch are going for substantial money, albeit in the four figures. For some people, that's still a lot of money. For instance, an old R2D2 lunch box/thermos from 1977 is currently the lowest end item, still going for $2,600.
Big money for an old lunchbox seems kind of incomprehensible until realizing how rare it is to find this item in pristine condition. No doubt about 99% of them out there were either thrown out or rusted to smithereens due to the materials and excessive handling.
Not that more recent items in small sizes aren't also going for big bucks. A LEGO version of George Lucas from 2010 currently has a value of $2,700. A number of Star Wars LEGO items are going for major price tags, products often released after the prequels and before the new trilogy.
Then there are all the original action figures Kenner released in the late '70s and early '80s. Some of the rarest ones are going into the $4,000 range. If anyone has the original Darth Vader TIE fighter toy from 1978, it'll land them four grand at full auction price.
The most expensive items are only reserved for the lucky few
Back in 2017, an original R2D2 droid from A New Hope sold at auction for $2.75 million, making it the most expensive Star Wars item ever sold up until then. Most people aren't going to have an original R2D2 hiding away in a storage room.
Considering hundreds if not thousands of people worked on the original Star Wars trilogy, there may be similar items stored away in homes around the world. Maybe a number of items are stored away and someone in one of those families haven't discovered them yet. Or, they may have and just hanging onto them as a retirement fund.
There could almost be an investment fund made using a Star Wars title based on the value continuing to stay steady for the rarest items. Only second to the above R2D2 was an original Han Solo blaster selling for $550,000.
Will the merch from the new trilogy be worth as much as the older items?
According to recent reports, prices of standard Star Wars merchandise from the old days are starting to level off a tad. Also, because so many people are buying into this type of merch with the new trilogy out, it makes the rarity aspect reduced.
This is why the older items will always go for the biggest money because no one knew Star Wars was going to become such a long-running, global phenomenon in 1977. More people didn't save their toys as a result…maybe not by decree of the kids, but the parents instead.
Apparently only LEGO items are sustaining the most worth of the more recent items. One reason is the quality of their construction, proving they'll hold up for decades compared to anything still made from plastic. Yes, even a cheaply made Baby Yoda.