The Mother of Cardi B's Stepdaughter Just Asked for Financial Support via a Local Newspaper Ad
Offset and his wife Cardi B share an adorable baby girl together, Kulture. But as it turns out, Offset has a daughter who is a few years older than Kulture. He has a five-year-old daughter named Kalea with another woman and the two have had several public bumps in the road in terms of co-parenting.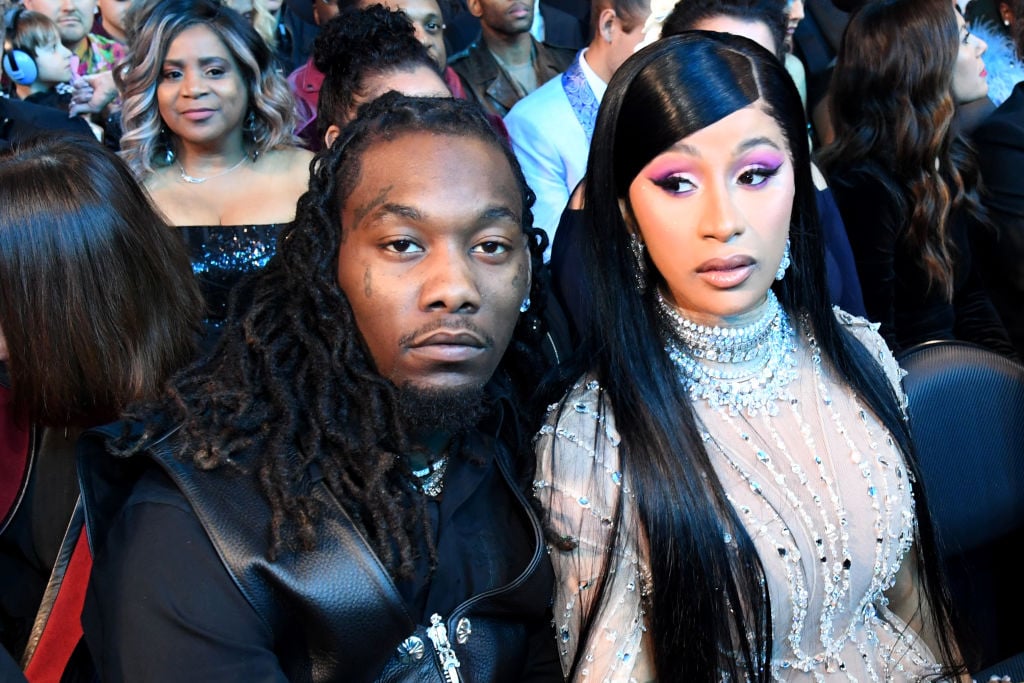 Kalea's mother, Shya L'amour, recently served Offset court papers via her local newspaper after claiming she'd been unable to contact him. L'amour says she needs additional help from Offset as she struggles to raise their daughter during the coronavirus pandemic.
Offset says he did not meet his daughter Kalea until she was five months old – Shya L'amour says Offset chose to be absent
According to Offset, he did not meet Kalea until she was five months old, revealing how the discovery came about during a 2019 interview with The Breakfast Club. 
"That was one of the hardest moments in my life to be honest. I was hearing I had a kid. Then when I see the kid I know it's me. But she's five months and I don't even know her. This my first daughter," he said.
Offset admitted that he had a paternity test completed to confirm that Kalea was his daughter and revealed that he does not regret doing so, adding that there is nothing wrong with a man "making sure" a child is biologically his before becoming emotionally involved.
Still, Offset told the morning show hosts that after taking one look at Kalea, he instantly fell in love with her.
"But even before making sure, I knew. And she's so beautiful I couldn't even do her like that," he said.
But L'amour disagrees. She took to Instagram to give her take on Offset's comments, claiming that he had ample time before meeting Kalea at five months old to confirm paternity, but that he "chose to remain ignorant."
L'amour did confirm that Offset built a bond with Kalea but even after that, L'amour and Offset's relationship was contentious at times.
Offset served to appear in court via local newspaper – daughter's mother says she's struggling amid coronavirus pandemic
Like other mothers around the globe, L'amour says she is the victim of work shortages due to the coronavirus pandemic and is in need of more financial assistance from Offset to care for their daughter during this time.
MadameNoire reported that L'amour appeared in court on Apr. 14 and offered proof to a judge presiding over her case that she served Offset a notice via the local newspaper. The notice ran for several weeks and she was permitted by the court to take such a creative measure after she alleged that Offset was unable to be found when she tried to serve him prior. 
Bossip reported that L'amour's attorney says she's struggling to care for her two children, one of which is with Offset, as her work situation has changed since the pandemic began. 
"She's like all of us, she's struggling," he told the outlet. "She's an hourly wage worker, she's got two beautiful little girls…she's not doing well in terms of resources people need."
She's only requesting support for her daughter with Offset. L'amour and Offset are due in court in May 2020.
This isn't the first time Shya L'amour has requested additional child support from Offset
According to legal documents obtained by People Magazine in 2019 in which L'amour requested more child support from Offset, the two have battled over finances for Kalea before. 
L'amour filed paperwork alleging that Offset has only "provided limited financial support," and asked a judge to calculate a court-ordered monthly sum from Offset for Kalea based upon his income. Along with the request, L'amour submitted DNA results to prove that Offset is Kalea's father. 
In addition to child support, L'amour requested that Offset have a regular visitation schedule with Kalea, including weekends, holidays and in the summer.
Offset is the father to three other children, which includes the daughter he shares with Cardi B. He dedicated his 2019 album to his children and rapped about life as a father.