'The Neighborhood': Beth Behrs Reveals Why She Peed 'a Tiny Bit' During a Scene With Max Greenfield [Exclusive]
Actor/comedian Beth Behrs recently spilled that she "peed a tiny bit" during a hilarious moment on CBS's The Neighborhood.
On The Neighborhood Season 4 Episode 16, Behrs character Gemma arrives home, dishing and laughing hysterically on the phone with the new soccer coach and husband Dave (Max Greenfield) is uncomfortable and a bit jealous. Behrs later revealed on Instagram that she laughed so hard on the phone that she "peed a tiny bit."
Why did Beth Behrs pee a tiny bit while shooting 'The Neighborhood'?
Behrs told Showbiz Cheat Sheet she peed from a combination of drinking too much water and going hard on the laugh.
"I don't even know which take they use, but we did so many takes of that," she recalled of the scene. "And honestly, one of the hardest things I've ever had to do was laugh that hard just on 'action.' So my stomach, it actually felt like an ab workout because I had to laugh as hard as you've ever laughed. Try it! It's a great ab workout, ladies!"
"And then, you're doing it over and over again," she continued. "And at some point, I was drinking water and had to pee. And then I laughed so hard that I was like, 'Hmmm, peed my pants a little bit. You know, but what can you do? Not a lot. Just like, that's what I do for comedy."
What makes Beth laugh?
What exactly cracked her up so much? No one was on the other end of that phone call during the scene. So Behrs had to think of something funny.
"I actually did [think of something funny]," she said. "And, honestly, I had Max Greenfeld, who was my scene partner. So, just thinking about making his character feel uncomfortable made me laugh. Like the bit itself, I thought was funny. So yeah, and sometimes you just have to like bodily … You just do it. Especially on take 10. Like, I can make myself laugh, and at some point, I'm just like, you know, contorting my abs to laugh as hard as possible."
So what makes Behrs laugh? "I mean, I laugh all day with my husband. He's pretty funny," she remarked. "And then like my animals make me laugh. And RuPaul's Drag Race."
Beth Behrs definitely could have peed during this funny spot
Behrs also could have peed "a tiny bit" while filming her hilarious new spot for Schick Intuition Bamboo. She starred in a funny bone tickling commercial aimed at taking some of the "green shaming" pressure off of people. Behrs is shown as an "earnest, yet slightly out-of-touch celebrity/influencer" who shows off her composting toilet, spin-powered shower, and other over-the-top energy-saving contraptions.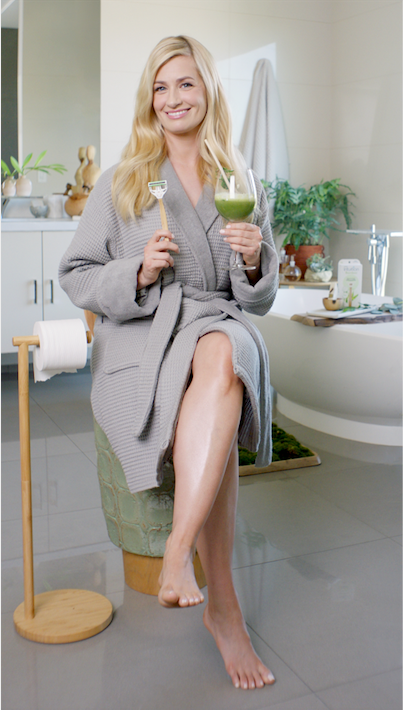 She sips some thick green juice while she "greens up" her personal care routine. Behrs who is an environmentalist at heart loved the message. "This whole campaign is so close to my heart because of using laughter and also that feeling we all have of like, 'Oh, I'll never be as good as the celebrity influencers with their green tastic.' But it's like, 'No, I don't have to be. I can make small choices that have a big impact.'"
The Schick Intuition Bamboo features a handle made from 70% renewable bamboo, 75% recycled steel blades, and recyclable and certified sustainably sourced paperboard packaging. With this new razor, Schick hopes to inspire pride in small acts of sustainability one shave at a time.
RELATED: 'The Neighborhood': Tichina Arnold and Beth Behrs Rocked Sexy Halloween Costumes During a Haunted Episode