'The Neighborhood': Tichina Arnold and Beth Behrs Rocked Sexy Halloween Costumes During a Haunted Episode
Halloween for the CBS sitcom The Neighborhood came a bit late. However, that did not stop Tichina Arnold and New Girls' Beth Behrs' Tina and Gemma from donning their sexy Halloween costumes for a haunted episode. Who says you're ever too old to dress up?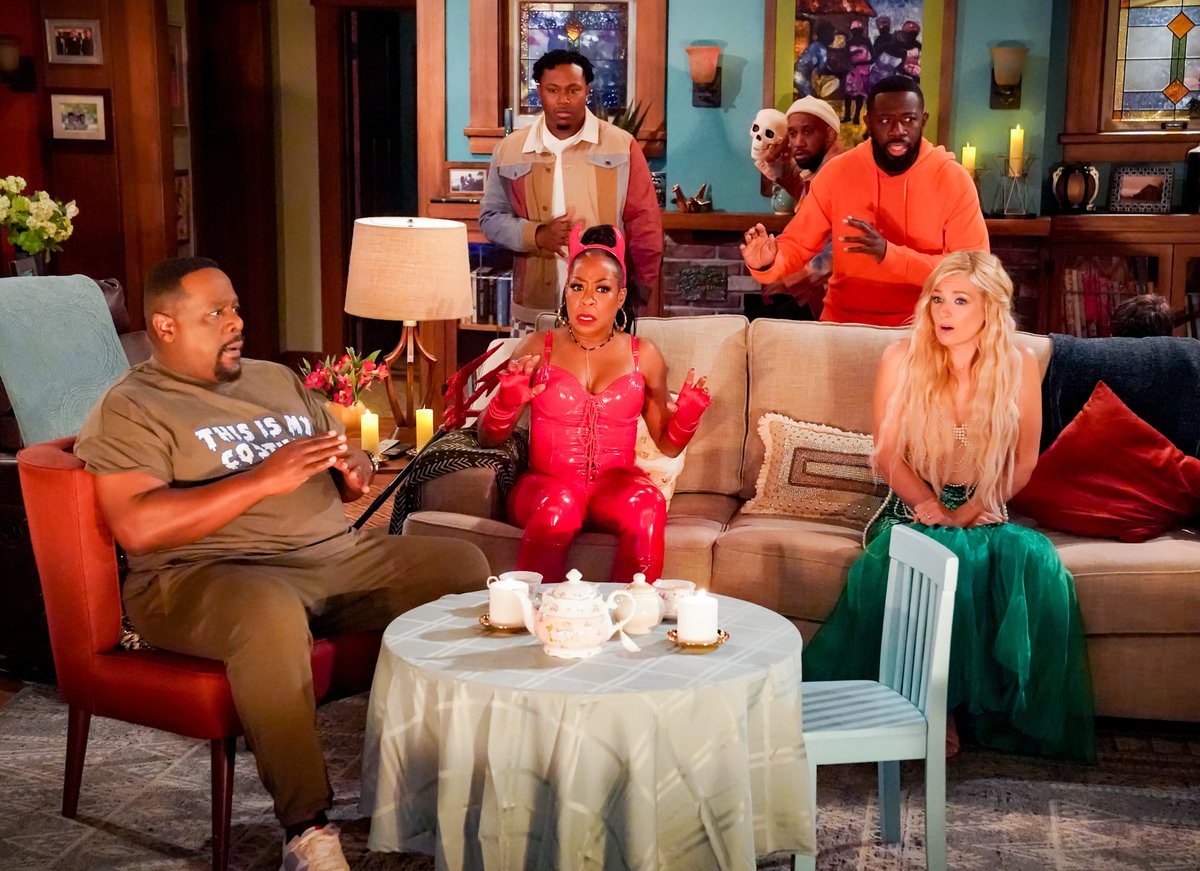 Tichina Arnold and Beth Behrs questioned if they were too old for sexy Halloween costumes
Halloween tends to revolve around trick-or-treat and candy for kids. For adults, the spooky holiday marks an excuse to show off.
On Monday, November, The Neighborhood Season 4, Episode 6 aired after Bob Hearts Abishola. Gemma (Beth Behrs) broke out all her sexy Halloween costumes for Tina (Tichina Arnold) to choose.
Arnold sports a lowcut, skin-tight Devil's costume, while Behrs wears a mermaid outfit. However, their kids Grover (Hank Greenspan) and Marty (Marcel Spears) suggest that they might be too old for that kind of thing.
"Our characters get into the 'am I too old for sexy Halloween?' debate," Behrs told TV Insider in an interview with her and Arnold, "and we say we're worth it, we can be 'sexy Halloween' as long as we want and look good. We had a lot of fun, Tichina and I get to dress up in very fun costumes."
Cedric the Entertainer's Calvin saw his 'Prank King' title challenged in the Halloween episode
While the girls deal with possibly aging out of the Halloween tradition, Cedric the Entertainer's Calvin continues his own. He prides himself on pranking the entire neighborhood.
However, he suspects that someone might try pranking him.
He notices strange happenings around his house. Dave (Max Greenfield) says that he thinks the Butler house might have a ghost. Calvin brushes it off.
When Miss Kim (Sloan Robinson) tells him about a spirit that haunts the neighborhood named Emily, Calvin gets a little shaken.
The families gather in the Butler house (Arnold and Behrs back in their sexy Halloween costumes) to try cleansing the haunted house.
Calvin finds himself face-to-face with a specter, and he tries to believe it is an elaborate prank. However, he realizes that it could be an actual ghost. The Neighborhood might have borrowed the scene from another CBS show, Ghosts.
Tichina Arnold and Beth Behrs embraced their sexy Halloween costumes
With friends and family gathered to solve Cedric the Entertainer's ghost problem, Arnold and Behrs reappear in their sexy Halloween costumes.
When a trick-or-treater came to their door, they saw his mom dressed as a sexy witch. Inspired by her boldness, they tossed aside what everyone else thought. If they wanted to have their sexy Halloween, then they would have it.
"Let's just say I still have stomach cramps from holding my stomach in," the Everybody Hates Chris actor Arnold laughed while talking about the episode.
"I'm still finding the hair extensions all over my house from my costume, too," Behrs added. "But it was a really fun episode."