'The Northman' Faked Iceland's Iconic Scenery While Filming in an Entirely Different Country
Robert Eggers' movies often blur the line between historical documents and works of fictional storytelling. For the writer-director of The Witch and The Lighthouse, partaking in deep archaeological research is a fundamental part of his process. So far, the results are worth it. His first two movies recreate the intense reality of ancient worlds down to the finest details. They incorporate a surrealist take on mythology that gives these stories a grander sense of scale.
Eggers' third project, The Northman, follows in that lineage. He and his production team spared no expense in simulating the appropriate scenery to make his Viking revenge story feel as real as possible. 
'The Northman' tells a violent story in front of a gorgeous backdrop
The Northman is Eggers' biggest project to date, both in terms of budget and the world it seeks to portray. The protagonist of this movie is Amleth — not coincidentally an anagram of Hamlet. The would-be heir to a throne aims to avenge his father and save his mother after his uncle Fjölnir murders his way to power.
After a short childhood sequence, Amleth is played by Alexander Skarsgård, who dreamed of being in a Viking movie his entire life. There won't be many movies in 2022 with a better cast on the call sheet: Ethan Hawke, Nicole Kidman, Anya Taylor-Joy, Claes Bang, Willem Dafoe, and Bjork are all excellent in their roles. 
A drug-induced quest to Valhalla demands a wider lens than Eggers has used previously. There are moments of genuine beauty in The Northman. Endlessly lush forests, mountaintops, and boat journeys on bright, blue water could be downright romantic in the hands of another director. But in this movie, these moments are brief and quickly give way to the brutalities of Viking life. 
The pandemic forced Robert Eggers and 'The Northman' team to rethink shooting plans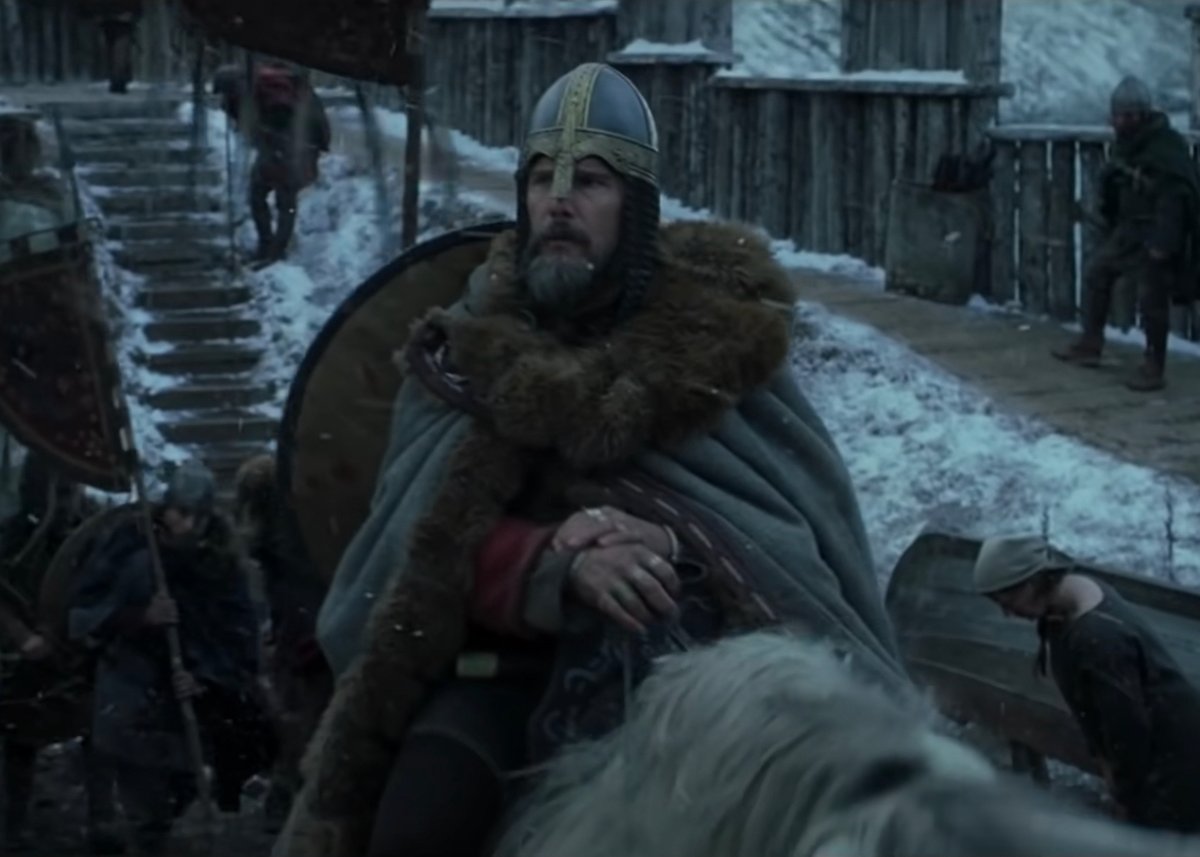 Finding the right place to shoot The Northman became a harder proposition thanks to the pandemic. At the start of 2020, production was set to begin in Iceland. But once COVID-19 emerged, the idea of bringing a sizable cast and crew to the country was no longer feasible. They ended up shooting parts of the movie in Northern Ireland and Ireland.
In an interview with Condé Nast Traveler, production designer Craig Lathrop explained what they looked for in filming locations for The Northman:
"There were three different vibes that we're trying to do: Hrafnsey, which is a fictitious island in the North Atlantic; Iceland; and then the Land of the Rus, which would be sort of Kievan Rus' — what's now Ukraine. Rob sent me the script really quite early, so I had a couple of months to dig in and do a lot of research and familiarize myself with the period and the locales."
One of the most striking scenes in The Northman shows Amleth and Olga on a black sand beach. This scene was meant to be shot in Iceland, where black sand occurs naturally. But Lathrop revealed that they ended filming the sequence at Five Fingers Strand in County Donegal, Ireland. They replaced some of the landscape with digital photographs of black sand beaches to get the images they wanted. 
"It was really a shame but I thought that they did a fantastic job. I think it looks beautiful — and I don't know that anybody notices." Lathrop is correct on both statements. 
'The Northman' production team had to create an entire Viking farm compound from scratch 
One of the main locations in the movie is a farm where Amleth is enslaved while he plots revenge on Fjölnir. That entire location was situated in an area of Northern Ireland called Knockdhu. It was built specifically for The Northman, and unsurprisingly, building the set quickly became an arduous task. 
"Naomi Liston, our fantastic location manager, found a spot on this hill in this little valley in Knockdhu and she helped us build a road into it, which was a pain because I had to cover it over so it didn't look like there was a road there," Lathrop said.
The production designer explained that building the compound involved redoing the ground each time equipment was transported to the property. Lathrop called it "quite an ordeal," but said the crews were "fantastic" and pulled it off.
The natural ecosystem in Ireland made maintaining the compound difficult. Turf structures had to be placed under the filmed buildings to keep them from sinking into the marshy ground. Even then, the production team wasn't entirely happy with their initial results. Lathrop said the set  "wasn't quite as lived in as I would have liked it to be."
It feels weird to say, but the pandemic actually helped The Northman achieve its aesthetic ambitions. So much grass and foliage grew over the buildings during the postponement that they had to mow the roofs prior to shooting. The more pronounced presence of nature made it feel more organic and real than it would've been otherwise. At least something good came out of that time. 
RELATED: 'The Northman' Star Alexander Skarsgård Doesn't Remember Filming the Movie: 'It's a Muddy, Bloody Haze'