The Odds of Will Smith Losing His Only Oscar Just Went Up
Will Smith won his first Oscar moments after he slapped Chris Rock in front of a live audience. Now, he's at risk of the Academy revoking the award.
It was the slap heard 'round the world, or at least to those watching the Oscars 2022. At the 94th Academy Awards, Will Smith took offense to a joke comedian Chris Rock made about his wife, Jada Pinkett Smith. Right before the show announced Smith's win for Outstanding Actor, he slapped Chris Rock in front of a live audience, shocking everyone watching. Now, the Academy plans to open a formal investigation regarding the altercation and Smith is at risk of losing his Oscar.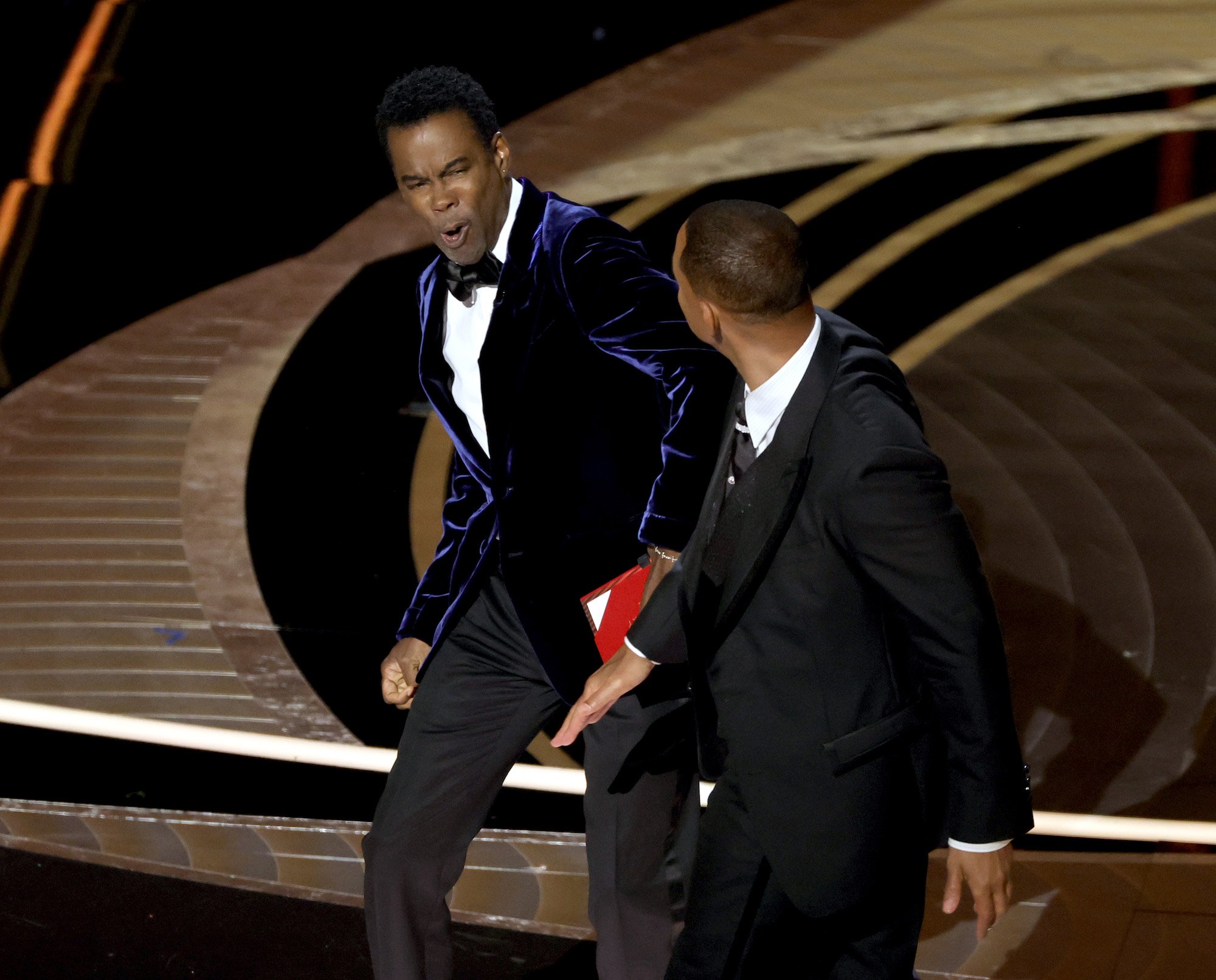 Will Smith assaulted Chris Rock on stage at the Oscars 2022
Most celebrities expect to be the butt of the joke when a comedian takes the stage at the Oscars. Rock cracked jokes about a few people in the audience before landing on Pinkett Smith. 
"Jada, I love you. G.I. Jane 2, can't wait to see it, all right?" Rock said, referencing Pinkett-Smith's shaved head.
The movie Rock referred to is a play on the 1997 film G.I. Jane starring Demi Moore as Jordan O'Neil, the first woman to participate in Navy SEAL training. In the movie, Moore shaves her head for the iconic look.
However, Pinkett Smith's hair loss is due to alopecia. In December 2021, Pinkett Smith posted a video on Instagram of her saying she would embrace the disorder that causes hair loss, according to Billboard.
The video posted to Instagram shows Pinkett Smith fingering through her hair at the time and bringing attention to the balding areas. "Y'all know I've been struggling with alopecia and just all of a sudden one day, look at this line right here. Look at that," she said.
"So it just showed up like that and this is going to be a little bit more difficult for me to hide," she added. "So, I thought I'd just share it so y'all are not asking any questions."
The Academy condemned Will Smith's actions in a statement on Monday, March 28, 2022
The Oscars 2022 continued, despite the bizarre altercation between the two men. Moments after the slap occurred, the Academy's official Twitter account posted a lackluster statement that drew criticism from fans.
"The Academy does not condone violence of any form. Tonight we are delighted to celebrate our 94th Academy Awards winners, who deserve this moment of recognition from their peers and movie lovers around the world," the tweet read.
However, on Monday, March 28, 2022, the Academy released a new statement (via TMZ) regarding the incident.
"The Academy condemns the actions of Mr. Smith at last night's show. We have officially started a formal review around the incident and will explore further action and consequences in accordance with our Bylaws, Standards of Conduct and California law."
Chris Rock declined to file charges against Will Smith
Reports quickly surfaced that Rock declined to file charges against Smith for the assault at the Oscars 2022. However, the Fargo star has up to six months to change his mind. Under California law, if Rock chooses to file charges eventually, Smith could face up to six months in jail and fines totaling up to $100,000.
Stay tuned to Showbiz Cheat Sheet for updates about the incident, the Oscars 2022, and much more.