'The Office': 1 Star Used to Be the Voice of Their Local Moviefone Hotline
"Hello and welcome to Moviefone!" If you were a moviegoer in the 1990s, you probably remember dialing 777-FILM to get local movie times. But you might not know the voice behind Moviefone. Learn more about the original voice of Mr. Moviefone and the one cast member from The Office who did voice work for the former movie hotline.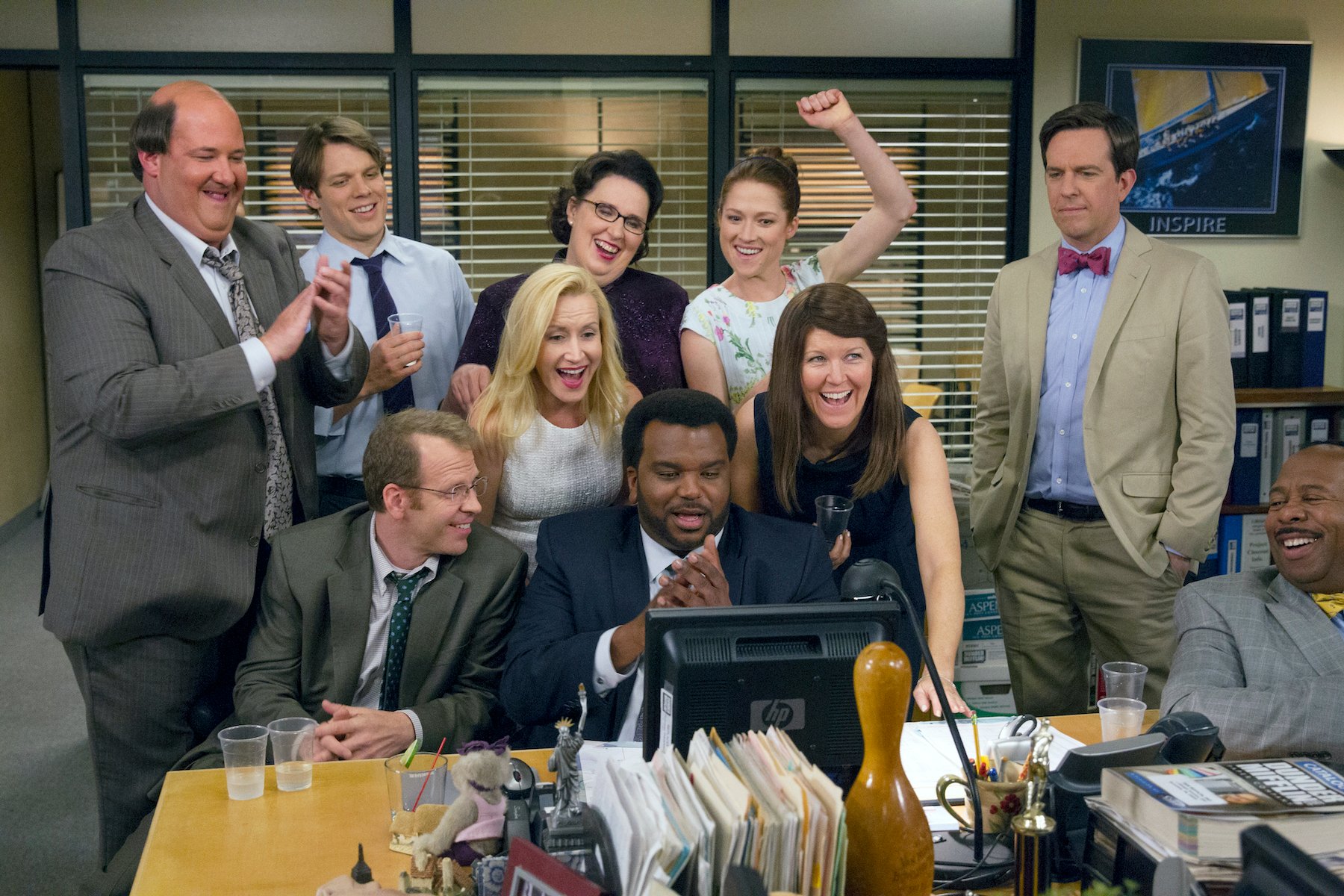 Moviefone is a movie information service 
When Moviefone first came about, movie lovers would call a phone number to hear the movies playing in their area. The service would list the movies playing at a theater near the caller and the movie times for that day. 
Now, fans can find movie times with a simple search thanks to the internet. But Moviefone is still a company.
Today, the service provides more than just movie times. Moviegoers can access cinema information, read film reviews, and buy advance tickets through Moviefone. The site also offers information about TV and streaming content. 
'The Office' cast member Brian Baumgartner used to work for Moviefone
Most people know Brian Baumgartner as Kevin Malone from The Office. But before he landed a part in the NBC comedy series, he was the voice of his local Moviefone affiliate. 
"One of my first audio jobs [was] before the internet was a big thing," Baumgartner explains on his podcast The Office Deep Dive. "When you were trying find out what movies were playing, you would call a line that was the movie line. It would be like 'Hello! Here are the movies listed for AMC Galleria Theater." 
Baumgartner explains how Moviefone used to work, listing the movies playing at a local theater and at which times. "Someone had to read [the times] once a week for all the movies — I did that for a little while," Baumgartner reveals during a "Mailbag" episode. "I was the movie line guy for my local area." 
Moviefone's voice was originally one of the creators 
Moviefone was launched by Russ Leatherman, Rob Gukeisen, Andrew Jarecki, Pat Cardamone, and Adam Slutsky. Ironically, Leatherman became known as Mr. Moviefone when he started voicing the calls. 
"When I started doing the voice years ago, I never did it intending for it to become anything," Leatherman says in an interview. According to Mr. Moviefone, it was between his voice and another man who "sounded like Donald Duck."
"I was elected simply because I was the best of the worst," Leatherman adds. Part of Moviefone's premise was to be memorable, and that's what Leatherman's voice was.
"We thought when you called 777-FILM, you would either think it was the happiest guy in the world or the most annoying voice you had ever heard in your life, but you'd probably remember it," Leatherman told Today in 2014. "It seemed to have stuck." 
Brian Baumgartner is lending his voice to 2 'Office' podcasts 
While most people recognize Leatherman's voice as Mr. Moviefone, it's funny for Office fans to think about hearing Baumgartner reading off movie times. Baumgartner's days of listing local movie times are over, as are his days playing Kevin Malone. But the actor is still celebrating everything that makes The Office unique with his two podcasts: An Oral History of The Office and The Office Deep Dive. 
In both podcasts, Baumgartner talks with his former Office cast and crew. Together, they break down why audiences continue to love the show today, sharing behind-the-scenes moments along the way. The Office fans can listen to Baumgartner's voice anywhere podcasts are found.