'The Office': Amy Ryan Felt 'Melancholy' When Michael Scott Proposed to Holly Flax
Amy Ryan says she felt 'melancholy' playing Holly Flax in 'The Office' scene where Michael Scott proposes - find out why.
The Office is a show about a failing paper company wrapped up in the tale of a man who wants to find his person. That man is Michael Scott, played by Steve Carell. When Amy Ryan's Holly Flax came into Michael's life, The Office fans knew she was the one. The episode Michael and Holly get engaged in is a favorite among many, but the episode evokes a feeling of melancholy for Ryan. Find out why.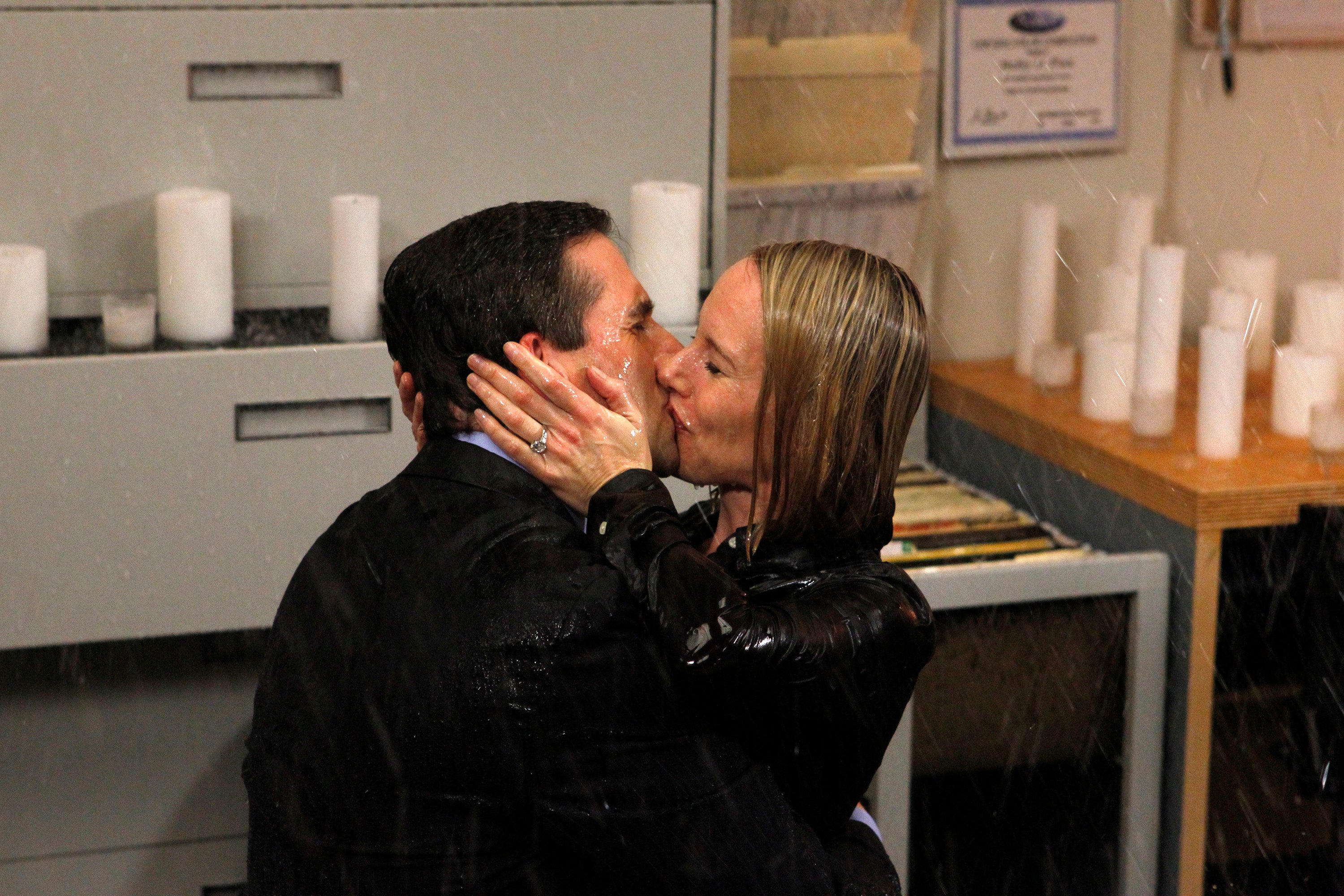 Michael Scott and Holly Flax get engaged in Season 7, Episode 19 'Garage Sale' 
Carell directed the episode in which Michael proposes to Holly — his third director credit on The Office. In the episode, Dunder Mifflin's Scranton Branch hosts a garage sale in the warehouse. Meanwhile, Michael decides he's ready to propose to Holly. 
In search of the grandest gesture possible, Michael eventually enlists the help of Ryan Howard (B.J. Novak), Jim Halpert (John Krasinski), and Pam Beesly (Jenna Fischer). But not before attempting to spell out "Will you marry me?" in flames in the parking lot. 
After calling Holly's parents for permission, Holly starts to catch on to the idea. She tries to propose to Michael, but he runs off so his plan can come to fruition. 
At the end of the episode, Michael walks Holly through the office, pointing out where significant moments in their relationship took place. As they walk through the kitchen, Holly is proposed to by several Dunder Mifflin employees. She politely declines each person until she and Michael reach her desk, where he gets down on one knee to propose amidst dozens of candles. 
As Michael begins his speech, the sprinkler system in the office goes off. Michael proposes as water drenches everyone, and Holly accepts. Delighted, Michael shares he and Holly are moving to Colorado to be with her aging parents. 
'The Office' episode where Michael proposes to Holly was Amy Ryan's last 
"I thought [the proposal scene] was beautiful and sweet," Ryan explains on That Scene with Dan Patrick. "[But it was] a bit melancholy for me." 
"Garage Sale" was Ryan's last episode of the series. "I believe that was Steve's last episode, [too]," she says, adding: "But it was just a joyous, beautiful, loving way to end that arc on that show for me."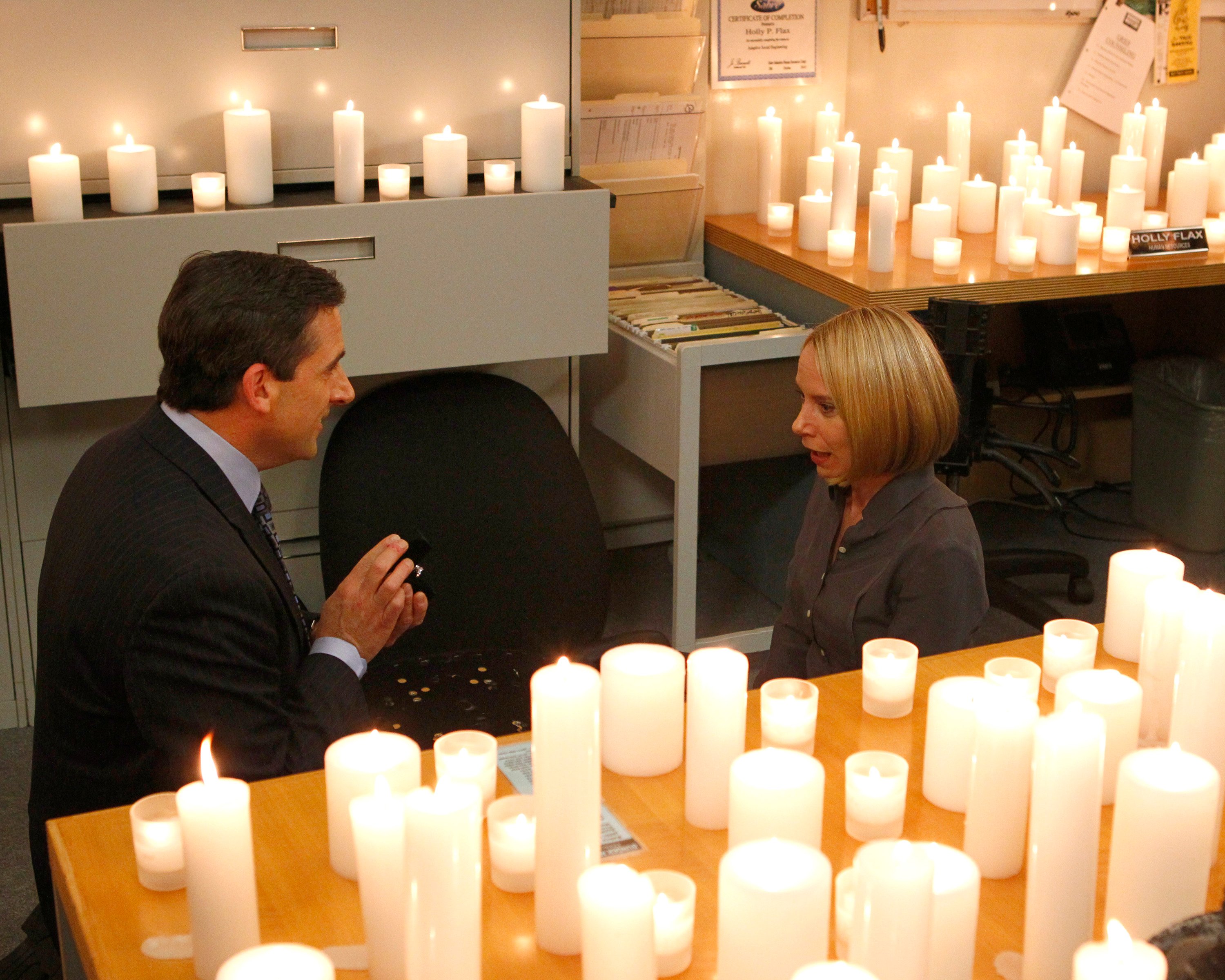 Many Office fans feel the same way Ryan does about the season 7 episode. "We're moving to Colorado," Michael tells his colleagues in the final scene. "All of us?" Kevin Malone, played by the hilarious Brian Baumgartner, inquires. As beautiful as it was to see Michael Scott find his person, the episode is also quite the emotional rollercoaster. 
Michael Scott's proposal was shot in one take 
During her conversation with Patrick, Ryan mentions how long filming the wet-and-wild proposal took. "I think we did that in one [take] because of all the water," Ryan recalls. "I'm not sure who it was, but some producers asked to do it again. And Steve said, 'No, that's fine. We got it.'"
Behind the scenes, the proposal wasn't as romantic as showrunners made it seem. "We were laughing and our hair [was] kind of crazy," Ryan explains. "It didn't have this sweeping, romantic, Hollywood, kiss [with] the water and the light hitting their eyes. It was messy and goofy like those characters are." 
Stream episodes of The Office on Peacock.