'The Office': Angela Kinsey Said Steve Carell Was 'a Little Sadistic' by Getting Co-Stars to Break While Filming
Actors love Steve Carell just as much as The Office fans it seems. However, there is one way he made things hard for his co-stars while filming. Angela Kinsey joked about his sadistic side and Ken Jeong revealed why he admires Carell so much.
Steve Carell was cast for 'The Office' by standing out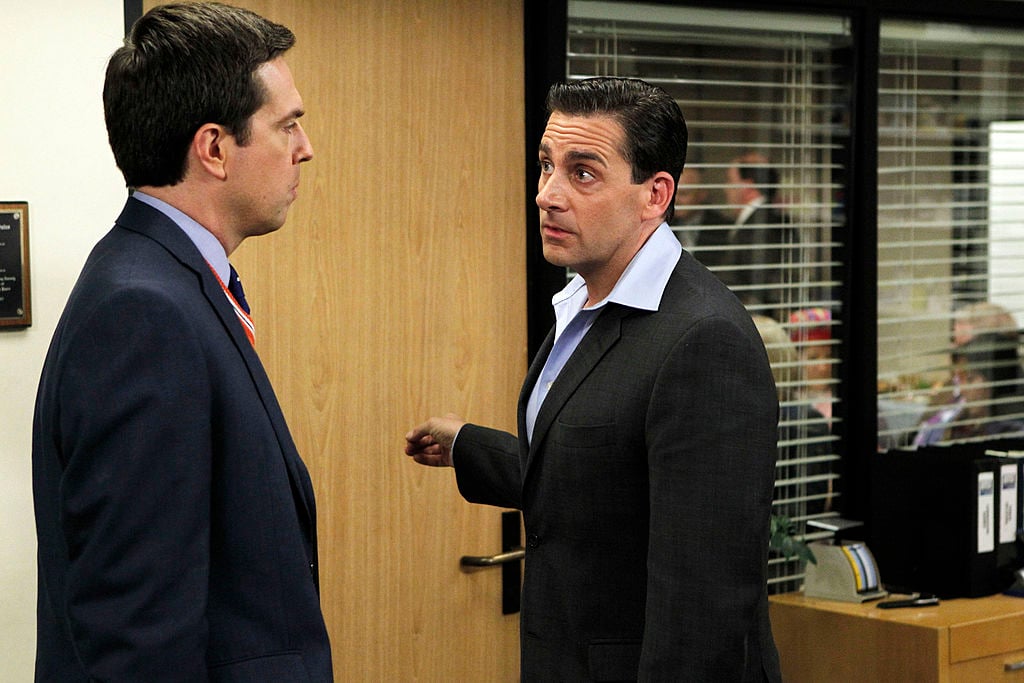 There were many actors who were being considered to play Michael Scott. Carell got the role because he stood out by not playing the character like Ricky Gervais did in the original series. The character continued to change as they filmed the show.
Director, Paul Feig noted that the "Office Olympics" episode was pivotal for the role because Carell decided to play things out in a sympathetic way. "I don't know if you remember that kind of got found on the set. Because remember we were doing the whole thing where you guys are presenting Michael with the medal and Steve just made this decision to kind of start crying you know getting all choked up," Feig said on the Office Ladies podcast.
He then said, "And I remember just going like 'Oh my god, Steve that's so great like keep going with that.' And I think that was kind of the turning point where his character took that left turn from Ricky Gervais' character and became more sort of the lovable misfit who is trying too hard for everybody to like him."
Angela Kinsey said he was a little sadistic
Jenna Fischer and Kinsey talked about the episode "Email Surveillance" on Office Ladies podcast. There is a scene where Michael does the robot that the actor changed.
"Oscar's trying to get a word out and Steve just keeps doing the robot thing," said Fischer. "I remember shooting that. So in the script, that was not supposed to go on that long. That was supposed to be like a quick little thing but Steve really dragged it out and that was an example I think of some of his just brilliant comedic timing."
Kinsey then said, "I honestly think that Steve would drag things out like that to see when he could get all of us to break." Fischer added, "And we would break."
Kinsey then shared her perspective on him doing this. "He's a little sadistic that way. He would be like 'Oh you haven't broken yet? How about this?" She said he would keep going until people fell apart.
Ken Jeong and Jenna Fischer shared what they learned from Carell
Ken Jeong was a guest on the podcast episode because he guest starred in the show. He talked about learning from how Carell treated other people on set.
"He really is a role model to me 'cause he really is just a professional, elegant, classy actor who he has no weakness in his game either on or off screen," said Jeong. "He's just someone I really look up to."
Fischer also praised Carell. "I always remember. I look back on how Steve treated people and I think 'That's how I want to be.'" She later said, "I want to behave like he did. I want to be generous and thoughtful and giving and warm and inviting of this actor who is brand new to the system."
Jeong talked about getting advice from Carell once he got his own show. "He had said, 'You know you can't go wrong with just leading by example.' Just 'Hey, if you're not going to act difficult then nobody's gonna act difficult.'"
It sounds like multiple actors enjoyed working on The Office because of Carell. Now they try to be like him on other sets.