'The Office': Angela Kinsey Says Creed Would Make John Krasinski 'Disintegrate'
John Krasinski had a favorite character and episode of 'The Office.' Find out what they are and more about the show.
The cast of The Office is made of multiple wonderful characters so fans tend to have a favorite. John Krasinski, who played Jim Halpert, also had a favorite character that would make him laugh. Find out about his love for Creed (Creed Bratton) and his favorite line.
John Krasinski's favorite episode of 'The Office' is 'Diversity Day'
"Diversity Day" is the first episode with an original story instead of being based on the original British show. Krasinski talked about it being his favorite episode at the 92Y Talks, according to Vulture.
"If I'm honest, I remember the pilot of The Office was word-for-word the British show at the time," said the actor. "It made no sense to any of us because I think there are actually British jokes in there that don't even apply [to Americans]." He then talked about the next episode.
"B.J. Novak wrote 'Diversity Day,'" he said. "I remember that day when [the diversity sensitivity counselor played by Larry Wilmore] comes in and says, 'My name is Mr. Brown,' and Michael says, 'I'm not gonna call you that.' It was that moment combo'd with Kelly slapping him [for his impression of a bodega owner] where I said, 'Oh my God, we're a part of something totally unique — and I don't think anyone will watch this."
He continued, "But I knew it was really good and I [remember thinking] we were a part of something special."
Steve Carell tried to get other actors to break
Many actors on The Office talk about how kind and funny Steve Carell, who played Michael Scott, is on set. However, there is one downside to working with him.
Angela Kinsey and Jenna Fischer talked about Carell doing the robot in the episode, "Email Surveillance" on Office Ladies. "I remember shooting that. So in the script, that was not supposed to go on that long," said Fischer. "That was supposed to be like a quick little thing but Steve really dragged it out and that was an example I think of some of his just brilliant comedic timing."
Kinsey added, "I honestly think that Steve would drag things out like that to see when he could get all of us to break." Of course, he wasn't the only actor to have a character that would get actors laughing.
Creed says Krasinski's favorite joke in the show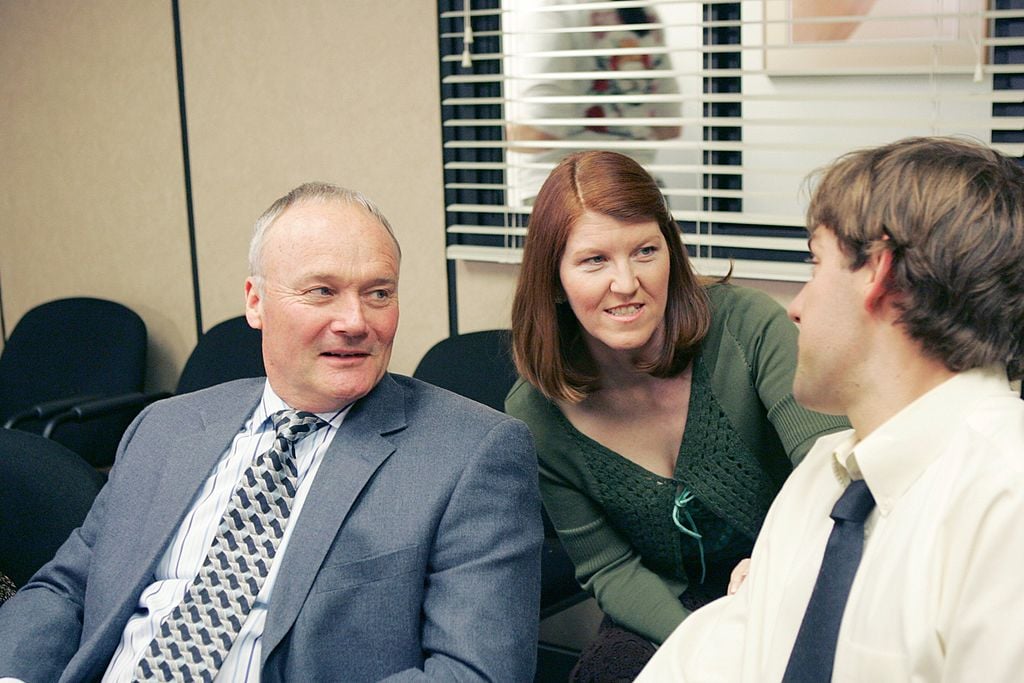 Office Ladies covered the episode "The Secret" where Jim is scared Michael will tell someone that he likes Pam. Everyone in the office is also doing some spring cleaning.
The secret eventually does come out and Kevin Malone (Brian Baumgartner) tells Creed, "Jim has got it bad for Pam." Creed seems to understand at first then he asks, "Which one is Pam?" The line definitely sheds light on Creed's involvement in the office.
"This is John Krasinski's favorite line of the entire series. He lost it when he saw it. When Creed says 'Which one is Pam?'" Fischer revealed. Kinsey then added, "John loved Creed, the character Creed." She then said, "The character Creed would make John disintegrate."
Fischer revealed that Lee Eisenberg is the person who wrote the joke and said it was his favorite joke he ever wrote on the show. I guess we can assume Creed wasn't as invested in Jim and Pam's relationship.