'The Office': Why Angela Kinsey Was Surprised to Find Her Character 'in a Photo With Adele'
Angela Kinsey, who starred as Angela Martin in 'The Office,' was linked to Adele because of a scene from the show. Here's what happened.
Actor Angela Kinsey is best known for her role in the popular sitcom The Office. While it's been years since the show went off the air, she still finds herself occasionally trending due to its popularity or new information revealed about the series. Here's why Kinsey and her character were linked to famous singer Adele in August 2020.
Angela Kinsey portrayed Angela Martin in 'The Office'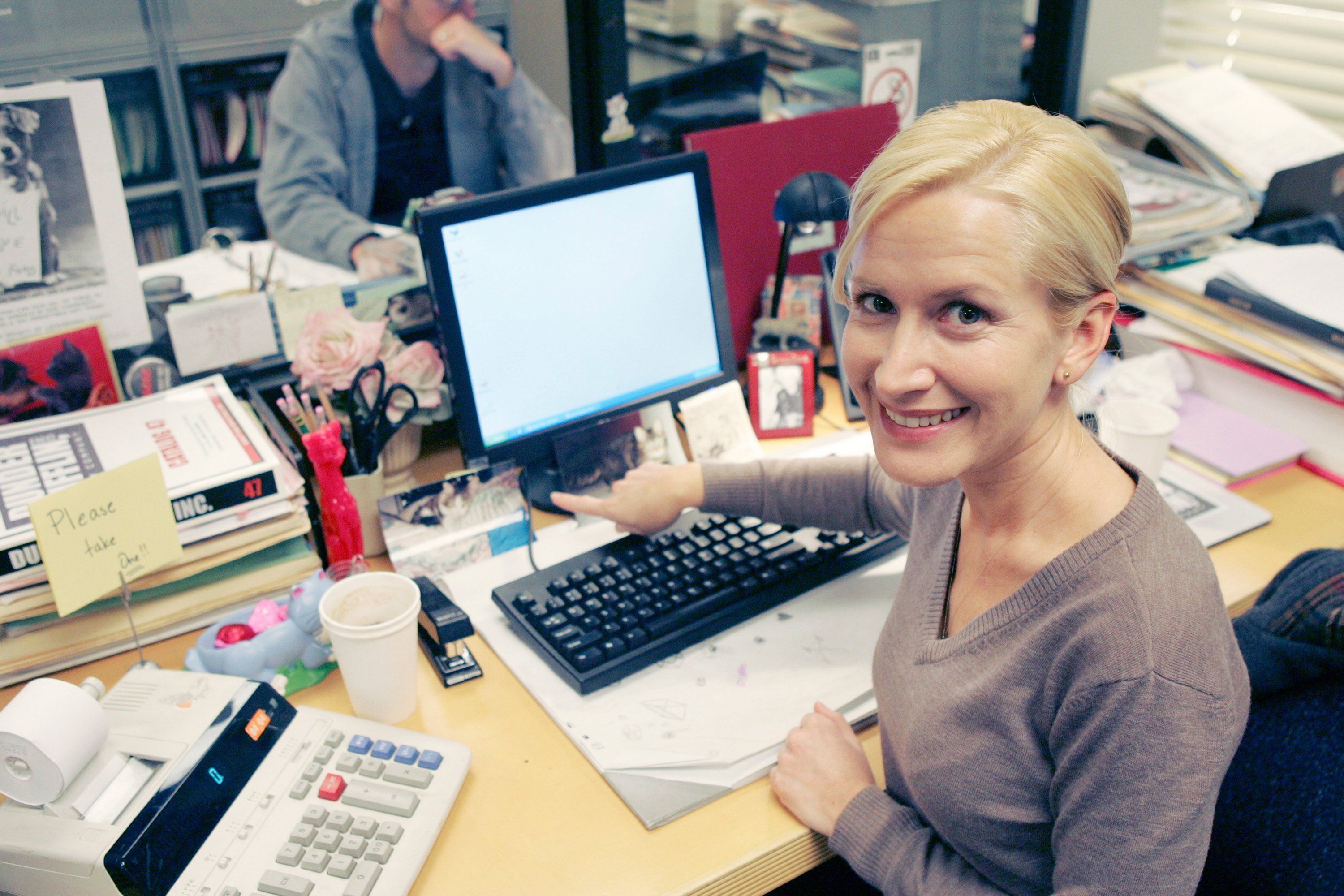 Kinsey is among the original cast of the U.S. version of The Office. She began portraying Angela Martin in season 1, and remained a member of the cast through season 9. Kinsey is also known for roles in such shows as Haters Back Off and Never Have I Ever.
Angela (the character) is one of three accountants at the Scranton branch of Dunder Mifflin. She's a no-nonsense woman who often clashes with more light-hearted co-workers like Pam. Angela has an on-again, off-again relationship with Dwight throughout the series, culminating in their wedding in the series finale.
She co-hosts the podcast 'Office Ladies' with Jenna Fischer
Years after the series came to an end, Kinsey is affiliated with The Office in another way. In 2019, she — along with friend and former co-star, Jenna Fischer — started a podcast, titled Office Ladies. It's a rewatch podcast, which means that each episode, the actors talk about a different episode of the series.
Thus far, they've covered all of season 2 and are working their way through season 3. Kinsey and Fischer have touched upon such fan-favorite episodes as "Diversity Day," the series' second episode in the Dunder Mifflin crew all wear index cards on their foreheads and must guess their identity based on what others will tell them about themselves.
A photo of Angela from 'The Office' made the rounds on Twitter
Here's where Adele comes in. In late August 2020, the singer shared a photo of herself in which she's wearing a Jamaican flag bikini top and Bantu knots, a traditionally Black hairstyle with South African roots. A screenshot of Kinsey with "Jamaican" on her forehead from "Diversity Day" was paired with it to make a point about white women culturally appropriating.
Amid the social media onslaught, Kinsey took to Twitter to ask, "Okay why are my friends telling me that I'm in a photo with @Adele??" Fans shared the composite image with her, and the actor quickly understood that they were referring to her character. Kinsey didn't comment on the nature of the photo, simply replying, "Got it!!"
What Kinsey has said about 'Diversity Day' 
In the episode of Office Ladies in which they discussed the season 1 episode in question, Kinsey clarified that she had no say in what card with on her head. And she was aware of how strange it looked, saying that she had to wear the card around all day during filming, at the direction of those in charge.
"Once they taped it on, they were really like, guys, please don't take your notecard off your forehead," she said. "So imagine being like oh, we have a fifteen-minute break. I'm going to get some pretzels and a cheese stick, but I'm eating the cheese stick and pretzels while wearing a notecard on my head that said 'Jamaica.' That's how we went to the bathroom. Oh, my lord."