'The Office' Turns 15: Celebrate With the 15 Best Episodes to Watch While You're Stuck Inside
March 24, 2020, marks the 15th anniversary of the pilot episode of the American TV show The Office. Adapted from the British series of the same name, the NBC sitcom launched an entirely new style of workplace comedy, and none of us have been the same since. Many of us may be self-quarantining right now, which gives you the perfect excuse to watch an episode…or 15. Here are our suggestions. (All nine seasons are on Netflix through the end of 2020.)
"Pilot"
You have to start at the beginning. Michael shows the camera crew around, as an easy way to introduce the characters and their dynamics. Everyone feels a bit different than later: Michael is more of a jerk, Jim is more checked out, Dwight isn't as bizarre, and Pam is more reserved.
"Diversity Day"
Though The Office is ultimately an ensemble comedy, we don't really meet anyone aside from the aforementioned main characters in the pilot, along with Ryan and Jan. So the second episode of the first season is also one that's good to go back to, as it introduces many of the supporting characters we come to love.
"Office Olympics"
At the start of the second season, the friendship between Jim and Pam becomes even more of a focal point. When they hold an office Olympics, it really shines through. And Michael getting the gold in the "closing ceremonies" is a shining example of the show's heart.
"Casino Night"
Everyone who's ever seen the show knows why this episode is a big deal. Yes, there are a lot "event" episodes on this list, but this one is special because Jim tells Pam he loves her, and they share their first kiss. It's quite a way to end season 2.
"The Merger"
It takes less than half a season for Jim and Pam to end up back in the office together. "The Merger" in season 3 brings new characters Andy and Karen into the Scranton office, which really changes up the dynamic. Plus, there's a ridiculous and offensive rap video starring Dwight and Michael.
"Product Recall"
This season 3 episode is the one that features the infamous "bears, beets, Battlestar Galactica" cold open. It also comes back around in the end. Plus, there's a giant paper disaster (which for once, isn't really Michael's fault).
"Local Ad" (Season 4)
Season 4 starts off with a bunch of double episodes which, while fun, aren't really where they show succeeds (with a few exceptions). The first single episode of the season, "Local Ad," is a really strong one. They make a commercial, and it really shows off the touching side of the show.
"Dinner Party" (Season 4)
One of the most popular episodes of season 4, if not the entire show, is when Michael and Jan have a dinner party, and their colleagues learn what their life together is really like. It's a simultaneously dark and hilarious gem of an episode.
"Goodbye, Toby"
Season 4 ends with Michael finally meeting his match. Toby's replacement, Holly, comes into the picture. Their chemistry is obvious, but Michael is distracted when he learns Jan is pregnant. And it ends with quite a cliffhanger.
"New Boss"
Season 5 is primarily known for the storyline involving Michael starting his own paper company. But we also have to call out "New Boss," which features Idris Elba in a guest appearance that we'll never forget. Plus, Michael celebrates his 15th anniversary at Dunder Mifflin, so it's perfect for this list.
"Niagara" parts 1 and 2 (Season 6)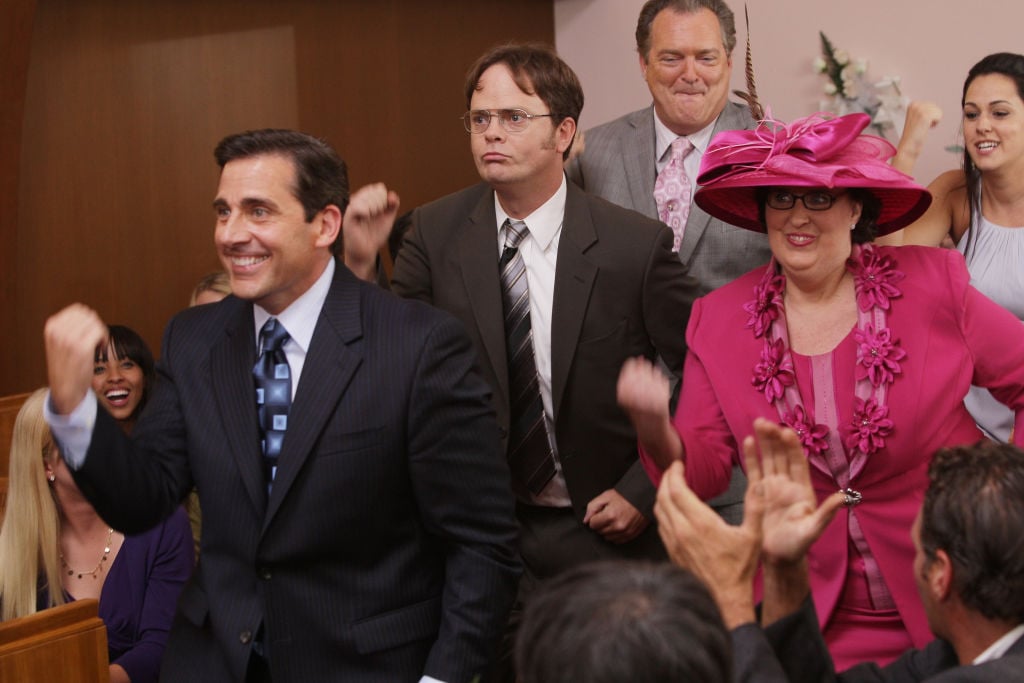 For some fans, season 6 was where things started to go down hill. The entrance of the Sabre storyline wasn't exactly well-received. But before that, there's the two-parter "Niagara," where Jim and Pam get married. This episode is worth rewatching simply for Jim's story of his plans and the "Forever" dance.
"Garage Sale" (Season 7)
It took Michael and Holly a while to finally come together. Once they did, fans were hooked on their romance. And their best moment was in the Season 7 episode "Garage Sale," when Michael and Holly decide to move to Colorado together and he proposes with a room full of candles, setting off the sprinklers.
"Garden Party" (Season 8)
As the first season with Michael and the one featuring the oft-maligned Florida storyline, Season 8 doesn't have a lot of bright spots. But the fourth episode, "Garden Party," is one of the better ones. Josh Groban plays Andy's adored brother, and Dwight throws an over-the-top party.
"Finale" (Season 9)
If you start with the pilot, you have to end with the finale. The hour-long series ender features Dwight and Angela's wedding, the return of Michael, countless celebrity guest stars, and a fitting conclusion to the show as a whole. Happy anniversary, The Office!