From 'The Office' to 'BlackAF', These Are Rashida Jones' Best TV Roles
Actor Rashida Jones has had a prolific career. Not only has she risen to prominence in front of the camera, but she is also writer (Toy Story 4, the Black Mirror episode "Nosedive"), director (the documentary Quincy, about her father, Quincy Jones), and producer (Hot Girls Wanted and its spinoff docuseries, Hot Girls Wanted: Turned On).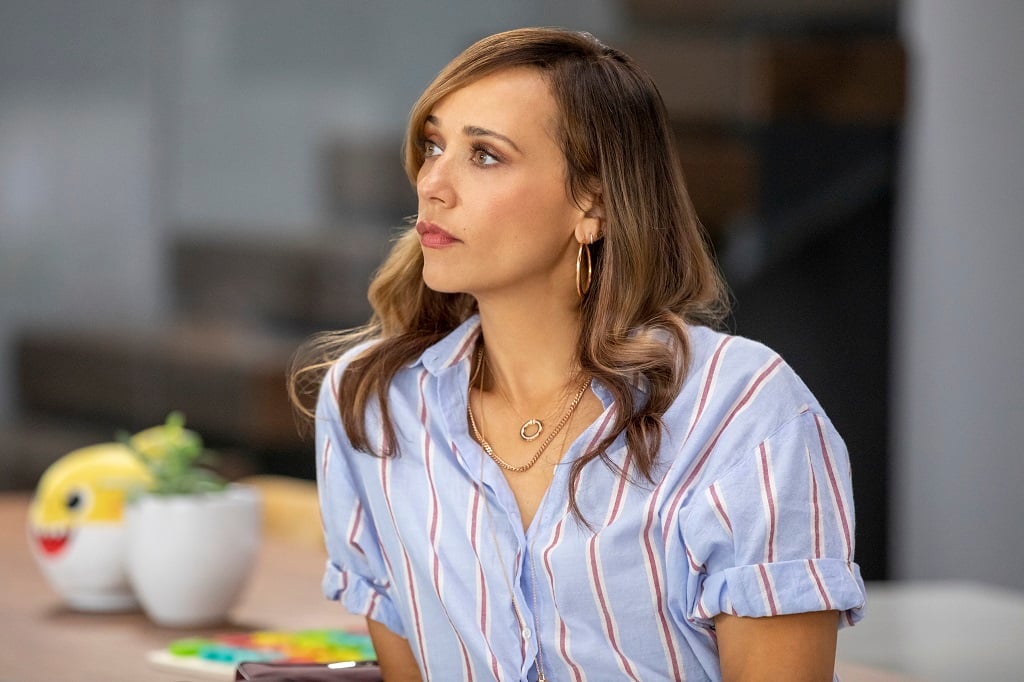 Now, Jones stars in, executive produces, and directs on the new Netflix sitcom BlackAF. She portrays Joya Barris in the series, which was created by Kenya Barris (who plays a version of himself). In preparation, take a look back at some of Jones' best comedic TV roles.
Karen Filippelli 'The Office'
Towards the beginning of her career, Jones actually did a bit of dramatic work, starring in procedural Boston Public for two seasons and in the short-lived Wanted. However, she was really cut out for comedy, and that became apparent when she landed the recurring role of Karen Filippelli in The Office.
Karen is introduced Season 3, as an employee at the Stamford, Connecticut branch of Dunder Mifflin. She and Jim date, but he breaks up with her in the season finale and begins a relationship with Pam. Karen transfers to the Utica, New York branch. Jones has a guest appearance in Season 4 and Season 5, resolving her character's arc.
Ann Perkins in 'Parks and Recreation'
Jones is the only The Office cast member with a full-season tenure to make the jump to Parks and Recreation. The series, which was initially planned to be a "spin-off" of the The Office, took on a life all its own, running for seven seasons. Jones portrayed Ann Perkins, a nurse who befriends local government worker Leslie Knope in the pilot.
Jones remained on as a main cast member for almost the entire season run, departing midway through season 6. Her character married Rob Lowe's Chris Traeger, and the two leave to raise their child elsewhere. The actors later return for the series finale.
Angie Tribeca in 'Angie Tribeca'
Jones crossed into leading woman territory as the titular character in the comedy Angie Tribeca. The series, which is a parody of the kind of procedurals she got her start on, aired on TBS for four seasons. Created by Steve Carell and his wife, Nancy, Jones also served as a producer.
Angie is a member of the Los Angeles Police Department, leading the RHCU (Really Heinous Crimes Unit). The over-the-top ridiculousness of the show is only matched by the incredible guest stars it brought in, including Jones' past co-stars like Adam Scott and Ed Helms.
Santamonica in 'Black-ish'
Before she played his wife, Jones had a guest role in another show created by Barris, Black-ish. This series is also loosely based on Barris' own life. Rainbow Johnson (Tracee Ellis Ross) is inspired by Barris' ex-wife, Rania Barris. The character has two siblings, one of whom is her younger sister Santamonica, played by Jones in two episodes.
Santamonica is portrayed as a bit more relaxed in morals and temperament than her big sister. Jones' portrayal was the basis for the younger version of the character, who appears on the Black-ish spinoff, Mixed-ish, about Rainbow's childhood.