'The Office': Brian Baumgartner Says the Aftermath of Filming Kevin's Chili Scene Was 'Brutal'
One of Kevin's funniest moments on The Office shows him accidentally dropping his famous chili all over the floor. It's a quick cold open, and we don't get to see the chili for the rest of the episode. Brian Baumgartner, who played the character, talked about what was so "brutal" about filming the scene.
John Krasinski and Brian Baumgartner of 'The Office' reunited
The Office ended in 2013, so it's pretty exciting when former cast members meet up. John Krasinski, who played Jim Halpert, and Baumgartner met up back in January.
Baumgartner posted a picture with him and Jenna Fischer, who played Pam Beesly on Instagram. "So fun running into @johnkrasinski today," he captioned the photo. "Here's an old picture of him and I and @msjennafischer at @backyardalehouse back during The Office Wrap Party in Scranton. Such fond memories. I'm doing it I've decided I am detouring from NYC to Scranton and will see you tomorrow night! #Ain'tNoParty #Scranton2020."
Baumgartner is still keeping busy with acting. He is in a movie called Las Pildoras De Mi Novio, which was released in February. Plus, he still keeps in touch with his Office co-stars, including Angela Kinsey, who played Angela Martin, and Oscar Nuñez, who played Oscar Martinez.
Kevin spills his famous chili
The episode "Casual Friday" opens with Kevin walking into the office with his famous chili, a family recipe. He can't take the elevator, so he has to use the stairs carrying the huge pot.
We hear him explain all the hard work that went into it. "The trick is to undercook the onions," he says. "Everybody is going to get to know each other in the pot. I'm serious about this stuff."
Kevin says he stayed up the previous night pressing garlic. Then, he accidentally drops the pot, spilling the chili, and he scrambles to get as much back into the pot as possible.
Baumgartner said the smell from filming the scene was brutal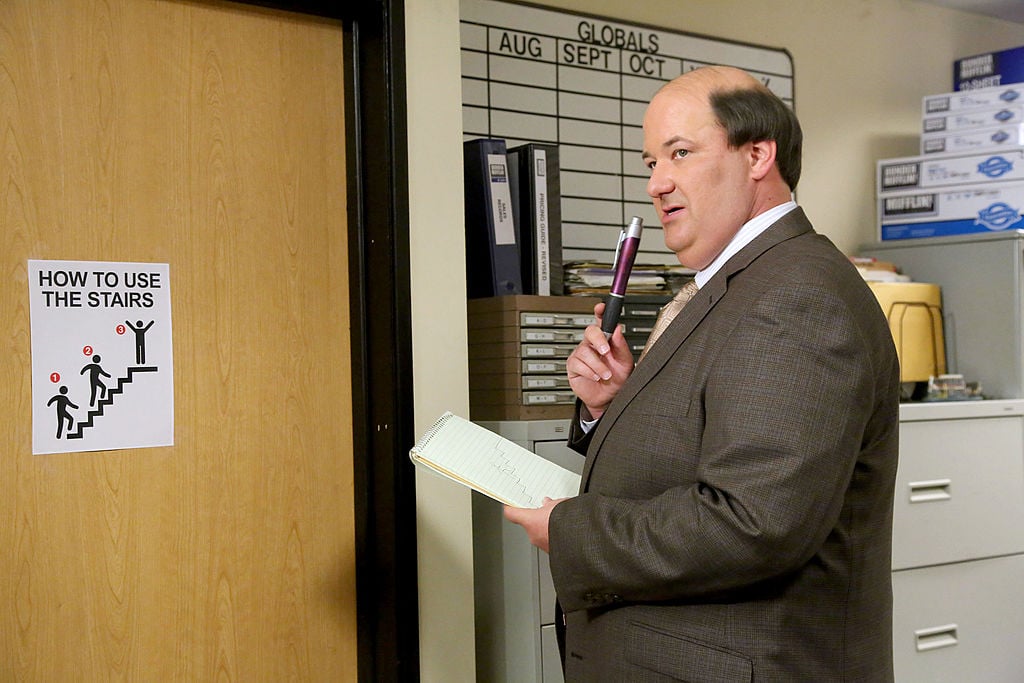 Baumgartner talked to Us Weekly about what it was like to film the memorable scene. There were three chances to get the scene. However, the actor didn't have to do it multiple times.
"One take. They call me the 'One Take Wonder.' Everyone calls me that," he said. "They had three pots. They had to put a piece of carpet over the other carpet. And so they had gigantic pieces because it was a mess and they knew it was gonna be a mess. So three gigantic pieces."
He continued, "The hardest part was the actual spilling. Making sure that that looked real and it was. How filthy I was, like my hands were stained kind of [with] that chili brown color."
Angela Kinsey said she had plans with Baumgartner after he filmed the scene. Baumgartner got a shower before meeting with her, but she said he still "reeked." Baumgartner added, "It was just brutal." But it was worth it, given that fans still go back to watch that cold open.