'The Office': Brian Baumgartner Shares the Secret to Kevin's Famous Chili
Brian Baumgartner is best known for playing Kevin Malone on The Office. To celebrate National Chili Day, The Office star shared the secret to making Kevin's Famous Chili. It involves an invention Baumgartner created, which he explained during a phone call with Showbiz Cheat Sheet.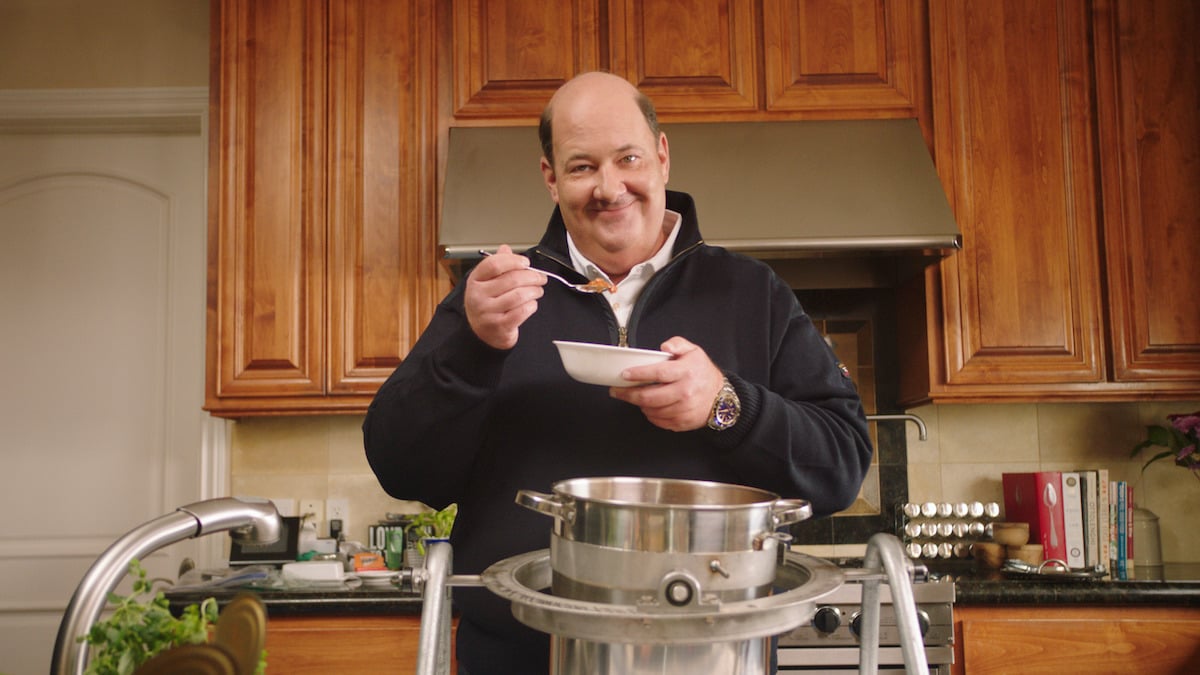 Brian Baumgartner infamously spilled Kevin's chili on 'The Office' 
In one of the most anxiety-inducing cold opens on The Office, Kevin Malone brings a giant pot of his famous chili in for his colleagues. "At least once a year, I like to bring in some of my Kevin's Famous Chili," he tells cameras before walking into the building to find the elevators out of order. After climbing the stairs successfully, Kevin dumps the pot's contents all over the reception area. 
Does Brian Baumgartner really make chili? 
During our call, The Office star admitted he got more into cooking chili after filming the iconic scene from the series. "I do cook quite a bit," Baumgartner explained to Showbiz. "I enjoy a lot of those types of foods that take a long time — [the kind] that change the way a house feels and smells — your experience of the space." Baumgartner's love of chili and his iconic role on The Office sparked a partnership with Bush's Baked Beans. 
Brian Baumgartner invented a 'spill-proof' chili pot 
Who better to come up with a no-spill chili pot than the actor who played Kevin Malone on The Office? "My crack team of engineers and myself, we have designed and constructed a pot that is impossible to spill," Baumgartner explained to Showbiz.
The "No Spilly Chili Pot" makes it virtually impossible to spill chili. The gyroscope model keeps your chili stable, even when stirring. The welded frame helps protect the pot from "dramatic gestures" — or tripping over your own two feet. Other safety features of Baumgartner's "No Spilly Chili Pot" include gate latches to keep the pot secure, padlocks to ensure the chili stays in the pot where it belongs, and of course, a seatbelt.
How to make Kevin's chili from 'The Office' 
Ironically, the chili seen in The Office is actually canned Hormel chili. Here's the actual recipe for Kevin's Famous Chili.
Ingredients
1 can (16 ounces) BUSH'S® Pinto Beans in a Mild Chili Sauce, undrained
1 can (16 ounces) BUSH'S® Kidney Chili Beans in a Mild Chili Sauce, undrained
1 pound lean ground turkey (or lean ground beef), undrained
2 cloves garlic, pressed or minced
1 tablespoon butter (or cooking oil)
1 cup shallots, chopped
1 cup green peppies (or as some call them, peppers), chopped
1 can (14.5 oz) diced tomatoes
1 can (6 oz) tomato paste​
1/2 cup water
1/4 teaspoon black pepper
1 teaspoon salt
2 teaspoon chili powder
1 teaspoon ancho chili powder​
2 teaspoon oregano​
1 teaspoon sugar
Shredded cheddar cheese — measure with your heart
Cooking Instructions
"It's a recipe passed down from Malones for generations." Over low heat, sauté chopped shallots and green pepper in butter or oil in a large pot. Once the onion and green pepper "get to know each other in the pot," add the turkey or beef and garlic. Cook until the meat browns, then drain the excess grease. Add the remaining ingredients, minus the cheese. Bring to boil, then cover and simmer on low for 20 minutes. Garnish with cheddar cheese and any other toppings, then enjoy! Serves eight.