Jenna Fischer's Real Life Husband Hilariously Guest Starred in 'The Office'
The Office is known for its outstanding cast. From Steve Carell's ridiculous yet lovable Michael Scott to Rainn Wilson's militant Dwight K. Schrute, there are some heavy hitters in the brilliant ensemble cast. But, there are also some incredible recurring guest stars in the show. Who could forget Idris Elba's depiction of Charles Miner, the …
The Office is known for its outstanding cast. From Steve Carell's ridiculous yet lovable Michael Scott to Rainn Wilson's militant Dwight K. Schrute, there are some heavy hitters in the brilliant ensemble cast. But, there are also some incredible recurring guest stars in the show. Who could forget Idris Elba's depiction of Charles Miner, the no-nonsense manager who was always at odds with Michael? Or Kathy Bates as the hilarious Jo Bennett?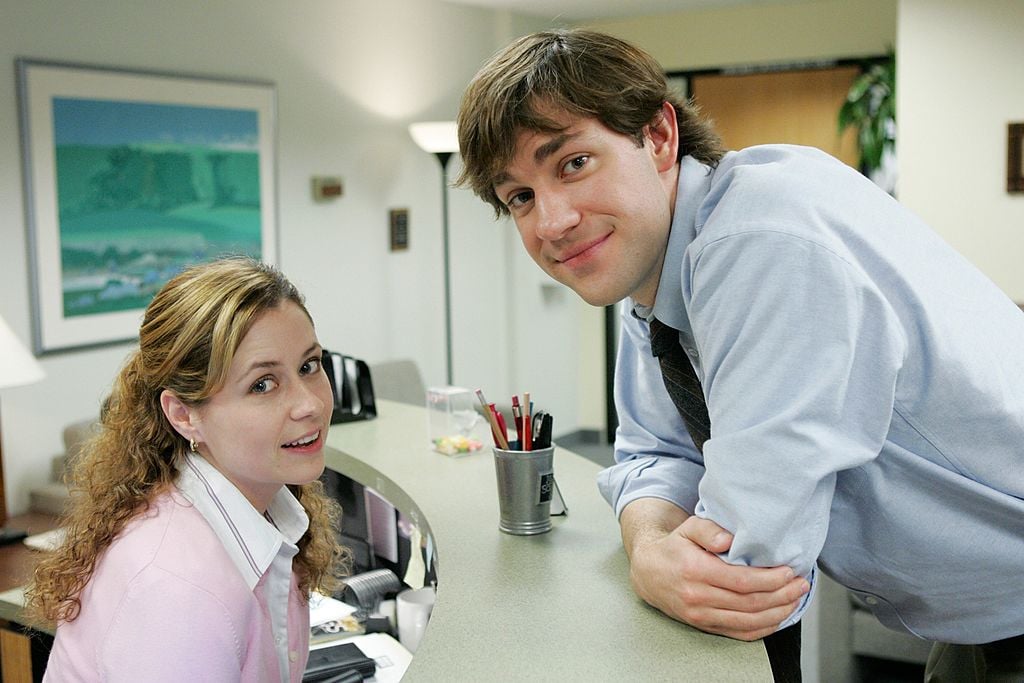 But, there are also some talented actors in The Office who only show up for a scene or two but manage to serve the greater narrative. One example of this is Lee Kirk in season six of the show. Kirk was cast as the lactation specialist in the "Delivery" episode. In his scene, he shows Pam the proper way to hold her breast in order to produce milk for baby Cece.
Jenna Fischer's real-life husband was cast in an episode of 'The Office'
What makes this scene of The Office particularly fun to watch is Jim's discomfort with the situation. This is especially true after Kirk's character tells Pam to "really get in there" and Jim gives one of his trademark faces to the camera. In fact, Jim is so uncomfortable with the lactation specialist that he's hesitant to ask for help again when Pam needs it. He even offers his own help but Pam turns him down saying "I think it would be weird if you did it."
What makes this scene even more hilarious is Fischer (who plays Pam) would later marry Kirk. Though she was married to James Gunn at the time that Kirk was cast in the role of the lactation specialist, she would eventually marry Kirk a few years later. When speaking about her husband's cameo in The Office, Fischer revealed that Kirk was not at all shy about how up close and personal he had to be in this scene.
Fischer debunks a rumor about her engagement ring
Kirk and Fischer don't talk about their relationship publicly in the media a lot, but they have both cited how proud they are of one another and how much they love one another. In fact, Fischer recently squashed a rumor that she still wore the ring given to her by her Office castmate John Krasinski, who famously played Jim.
"Yooo do you still wear that ring John Krasinski gave you??? It's a weird question but I kept hearing that you do. Or did," a fan of The Office wrote to Fischer on her Instagram page. Fischer was a good sport about the rumor, but was also quick to shut it down. "What a terrible rumor! Of course not! I wear the ring that my actual husband of 10 years gave me!" she exclaimed with a crying laughing emoji.
Steve Carrell's wife also plays an integral character on 'The Office'
Of course, Fischer isn't the only member of The Office cast to have their spouse star alongside them on the show. In fact, Carell's character, Michael, dated his real-life wife on the show. Nancy Carell played real estate agent turned girlfriend, Carol Stills, on the show. It's great to see how natural chemistry translates on film. Fischer has found her real-life Jim, and it seems she couldn't be happier.