'The Office': Jenna Fischer Couldn't Get Through Scenes With This Character
There are many brilliant, comedic, tv shows in existence, but many of them pale in comparison to The Office. Packed with the most outlandish characters, intelligent humor, and an incredibly tight cast, The Office is truly the comedic gift that keeps on giving. But fans of the sitcom aren't the only ones who find the show downright hilarious. Even the cast has been candid about struggling to get through episodes because of the absurd situations and humor. Jenna Fischer (who plays everyone's favorite receptionist, Pam Beesly Halpert), in particular, has been forthcoming about how challenging it was to do scenes with her fellow castmates.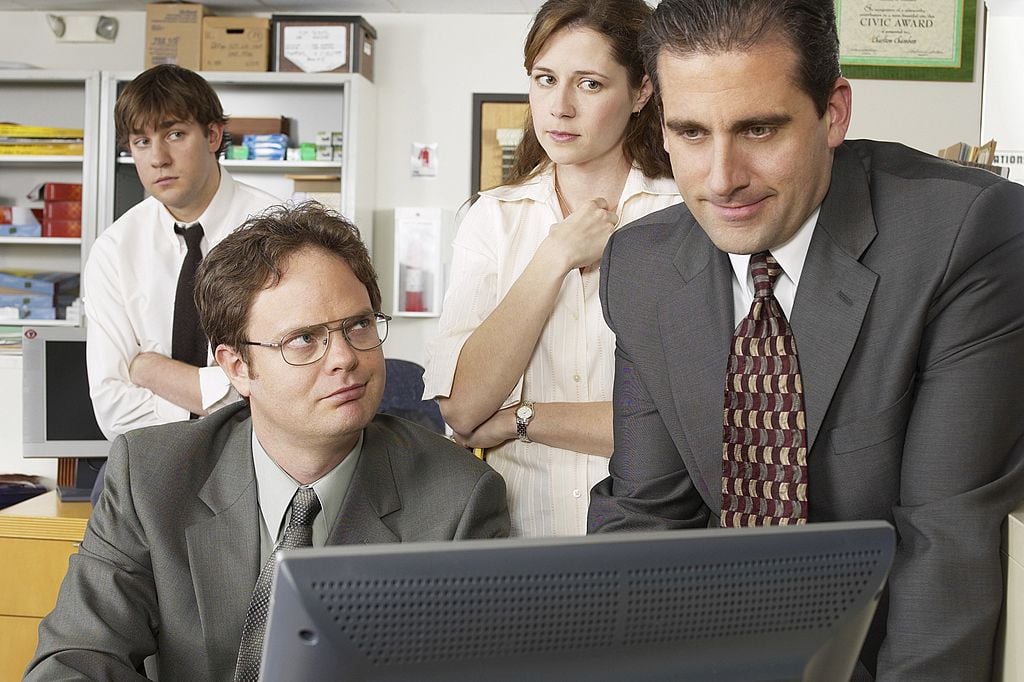 Fischer, who was a part of The Office from day one of filming, utilized incredible comedic timing to perfectly embody the role of Pam. At the start of the series, Pam is meek, yet still thoroughly uninterested in her job or entertaining the hijinks caused by some of her more ridiculous coworkers. However, Fischer herself sometimes struggled to stay in character as she found her fellow actors' portrayals of their characters to be so incredibly hilarious. Though this happened quite a few times throughout her tenure on The Office, Fischer admits that for the first year of filming, she really struggled to get through her scenes with Rainn Wilson. Wilson, of course, played the strangely lovable Dwight Schrute.
Jenna Fischer was positively tickled by castmate, Rainn Wilson
"You know what happens is, I seem to every year get tickled by a new actor in a way where I just, I cannot do a scene with them. And the first year it was Rainn Wilson. You know, Pam and Dwight did not have a lot of interaction so anytime we did have a scene one-on-one, I just couldn't get through it. Rainn Wilson – he has this weird way that he stands, where he pushes his pelvis and his gut sort of out," Fischer hilariously recounted about The Office in an interview with NPR.
The making of Dwight K. Schrute
In a later interview, Wilson recounted that the particular stance that Fischer was referring to was actually crucial to building his character of Dwight. Since the beet farmer is completely oblivious to personal boundaries, it makes sense that he is constantly standing far too close to his coworkers. But, the stance wasn't the only thing that helped The Office alum bring his character fully to life. He also used things like clothing, accessories, and grooming choices to add levity and absurdity to the unique role.
"My haircut for Dwight was very important. It was very important to me that I have the least flattering haircut possible to my head – which I designed specifically, thank you very much. And also the fact that he still wears a beeper, which is about eight years after beepers have been completely discontinued because he probably has some number that someone might still have," Wilson confessed, explaining how these decisions helped him to bring his character to life.
One of the series' best characters
The Office alum then went on to explain how all of these choices coalesced into making the phenomenal character of Dwight K. Schrute. "But all of these things put together, and then it kind of comes into your body. And I think your job as the actor is to let these impulses flow through you, and not stifle them," Wilson said thoughtfully. With all the intricate work, thought, and detail that Wilson put into Dwight, it's no wonder the character is so strong. We can hardly blame Fischer for struggling to get through scenes with him without laughing. Personally, we struggle to watch scenes with Dwight without bursting into humor-induced tears.