'The Office': Did Jim and Pam Date in Real Life?
The Office is one of the funniest, laugh-out-loud shows to ever be broadcast, but it also featured the sweetest love story- Jim and Pam (played by John Krasinski and Jenna Fisher).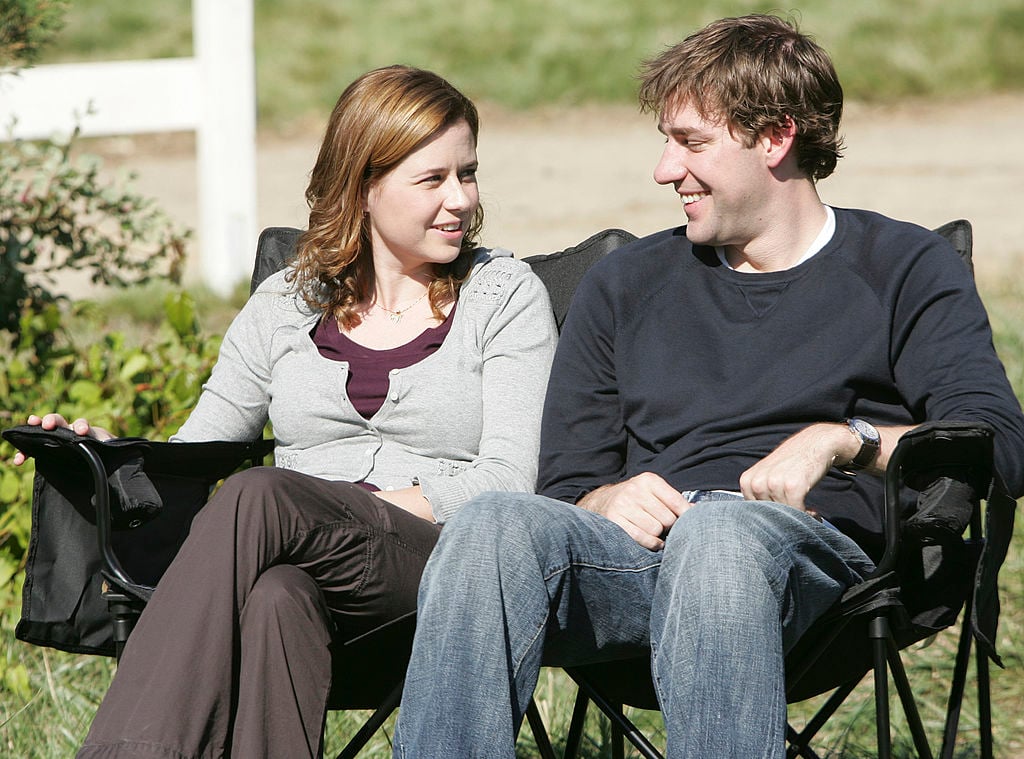 Fans will tell you that there was real chemistry between the pair. After watching their love story for nine seasons, how can they not be a real couple? But did Jim and Pam ever date in real life? Here's what the actors themselves have said about their on-screen, and possible off-screen romance.
Jenna Fisher knew John Krasinski was the one
In her book, The Actor's Life: A Survival Guide, Fisher gave some insight into how she and Krasinski felt about each other. She tells the story of meeting Krasinski for the first time at The Office interviews and knowing right away he was the perfect actor to play Jim.
She writes, "As I was being shown to the actor's holding room, he was just being called in to read with another potential Pam … As he passed by, he introduced himself, and we shook hands. It was as if lightning struck through the center of the room."
Krasinski must have felt the connection too, because later, she writes, "John and I were walking out of an audition scene, and he suddenly turned to me and whispered, 'You're my favorite Pam. I hope you get this job.'" Fisher responded to him with, "'I'm so glad you said that, because you're my favorite Jim and I don't think anyone could do it except for you.'"
The book also gives the inside scoop to their first smooch. It was Fisher's first on-camera kiss, and plenty of planning went into the scene because everyone wanted it to be perfect. When they were finished, Fisher and the rest of the crew knew that they had just, "filmed one of the best kisses on television."
Jim and Pam had real chemistry
In an interview on Watch What Happens Live, Fisher commented on the chemistry the pair shared. "John and I have real chemistry," she said. "There's like a real part of me that is Pam and a real part of him that's Jim and those parts of us were genuinely in love with one another."
When fans heard this, the world went crazy. Everyone was saying that Fisher and Krasinski were really in love. Don't get too excited yet, though. There's another part to her interview. To give more clarification, she continues, "But in real life, we aren't totally Pam and totally Jim, so in real life, we're not the perfect match. He was like a type of spouse that I had for a long time, he was my partner and we will always be close because of it."
Krasinski responded to The Daily Beast, about Fisher's interview. "I think that was wildly misquoted or taken out of context. I'm sure she was trying to say something nice about how genuine the acting relationship was, of being in a relationship that became that popular on screen- and I think we both feel it's such an honor to be a part of that relationship. As far as how she was quoted about saying we were 'genuinely in love,' I think that was taken wildly out of context and I feel bad for her."
Did Pam and Jim date in real life?
Sorry to disappoint, but both Fisher and Krasinski have stated multiple times that they never dated. While filming The Office, Fisher was married to her first husband, James Gunn. Krasinski had just met his future spouse, Emily Blunt, and he was focused on building that relationship.
Fisher has now moved on to husband number two, Lee Kirk, and the pair have two children together. Krasinski married Blunt in 2010 and the pair have one of the cutest marriage in Hollywood. Last year, Krasinski went on The Ellen Show, and said the sweetest thing about his wife.
"It's one of those things where as soon as you meet someone, you kind of know. I wasn't really looking for a relationship… then I met her and I was so nervous. I was like, 'Oh god, I think I'm going to fall in love with her.' And then as I shook her hand I went, 'I like you.' So if anyone's looking to pick up a girl, that's the way to do it. You don't need any pick-up lines; just be weird. I Guess she was charmed by my totally being an imbecile."
Even though it's disappointing that Jim and Pam never dated in real life, look how cute Krasinski and Blunt are! If Krasinski had been dating Fisher, we never would have gotten to see the adorable way he is with his wife. Their romance is real, not an on-screen fling- and that's the best kind.