'The Office': Did Kevin Actor, Brian Baumgartner Really Sing and Play Drums in 'Casino Night'?
It's eventually revealed that Kevin (Brian Baumgartner) is in a band on The Office. Jim (John Krasinski) and Pam (Jenna Fischer) stumble upon him playing the drums and singing in "Casino Night." But is Baumgartner really singing and playing the drums in the episode? Here is what Fischer revealed and more.
Brian Baumgartner said the smell from Kevin's chili scene was brutal
Many fans of The Office probably remember the episode where Kevin makes a big pot of chili and brings it to the office in "Casual Friday." "The trick is to undercook the onions," he says. "Everybody is going to get to know each other in the pot. I'm serious about this stuff."
Sadly, all of that hard work doesn't pay off because things go horribly wrong. He accidentally drops the pot and tries to get as much of it back in as possible.
Baumgartner talked about what it was like filming that scene with Us Weekly. "One take. They call me the 'One Take Wonder.' Everyone calls me that," he said. "They had three pots. They had to put a piece of carpet over the other carpet. And so they had gigantic pieces because it was a mess and they knew it was gonna be a mess. So three gigantic pieces."
He continued, "The hardest part was the actual spilling. Making sure that that looked real and it was. How filthy I was, like my hands were stained kind of [with] that chili brown color."
Baumgartner met up with his co-stars after filming the scene. He said even after a shower he "reeked" and said "It was just brutal." 
He was dubbed in 'Casino Night'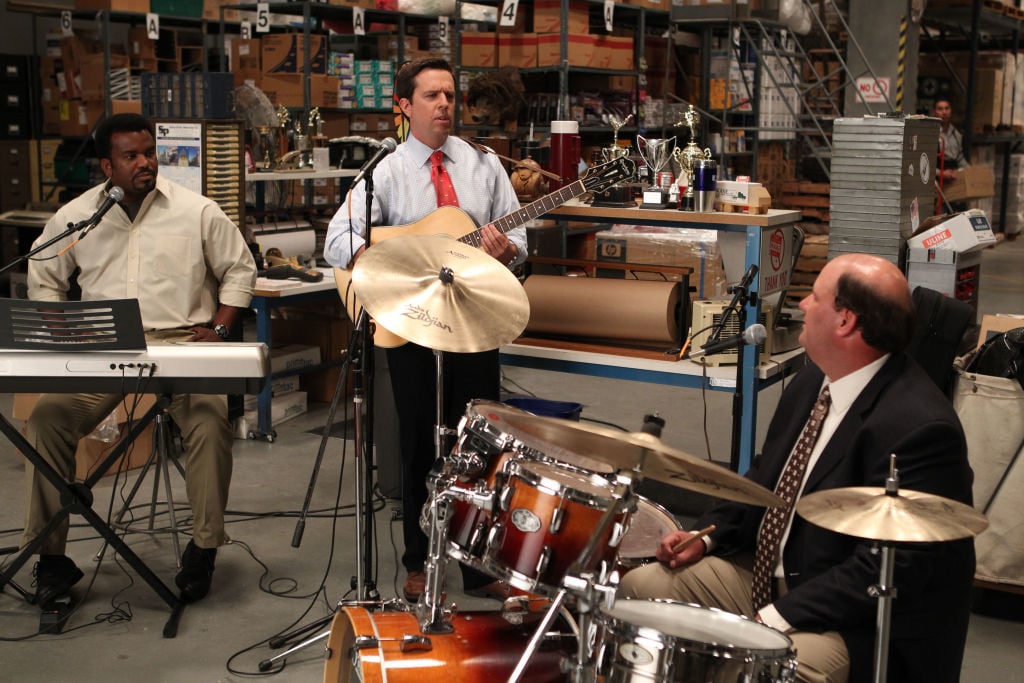 Jim and Pam find out Kevin plays the drums by watching a tape in "Casino Night." Fans wondered if Baumgartner was really playing the drums and singing in the episode. Fischer answered this question on Office Ladies.
"Brian told me that he is actually playing and singing a Steve Miller song in the video," Fischer said. "And he says he's playing but he's really kinda faking it because he didn't really learn to drum until later when his band had to play, was it at Phyllis' wedding?"
However, that's not what fans get to see. "So after they shot this whole scene of him and his band, they could not get permission from Steve Miller to use the song. So in post they turned it into a Police tribute band and that's when they changed the name to Scrantonicity," she continued.
"And Brian had to dub his voice singing 'Don't Stand So Close To Me' and that's what they ended up playing. So if you watch that video the lyrics do not match his mouth," Fischer explained.
Mindy Kaling came up with the band name, Scrantonicity. This also means Krasinski had to shoot putting the tape in again, which later read "Scrantonicity."